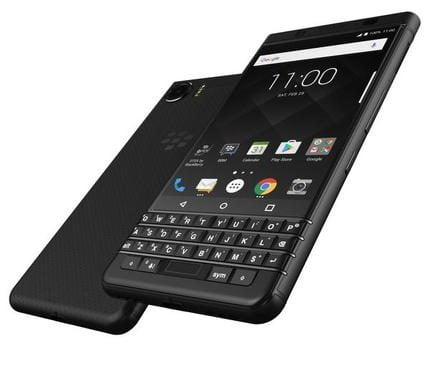 The KEYone has BB's strengths — great keyboard, Hub, security — in an Android handset with a good camera
"What! You still use a BlackBerry?" this senior government chap asked me.
"Yeah, but this is new, launches next month…" I said, holding out the KEYone.
"No! Really? They're still around? I thought they were long dead?"
"They wake up from the dead once in a while and come up with something terrific that's always too late and always overpriced."
"What does this cost?" He flicked a few icon screens, then took a selfie.
"Well, going by their eternal optimism they'll price it higher than the most expensive iPhone they can find."
"Nice keyboard! Worth the price?"
"Very good camera too, and great battery… but if it's over 50k? Nah."
"BBs were good… I had a Curve. That keyboard!"
"That keyboard is back. What else do you miss?" I asked.
"Email, definitely. Even our NIC mail sometimes worked on it, which is quite something — you ever try it? NIC mail? Don't. And the abbreviations! You know, I wrote myadd and it filled in my full address…"
"AutoText. Yes. What was your favourite?"
"Mmmm…definitely 'Nah'. I'd write 'Nah' and my BB would change it to 'In this regard, the undersigned is directed to say that the matter has been examined in the Department and with the approval of the Competent Authority, it has been decided that the Proposal is Declined.' I'd use that all the time."
The return of BlackBerry (BB) from long stretches of coma is always an exciting event for its shrinking community of fans.
BlackBerry now licenses out its brand and software — to, among others, TCL in China, which is making the initial KEYone handsets for India, including the one I've been using for two weeks, and to Optiemus Infracom, which will make this model in India.
The KEYone, available from August 8 in India exclusively on Amazon, ticks the right boxes — as did the Passport and the Priv in recent years — and does that without a silly price. This India model is dual-SIM, and it's in a limited-edition all-black matte finish, though that begs the question: Aren't all BBs limited edition?
The ₹39,990 pricetag is unexpected for a new BB with good specs. The Priv, BlackBerry's first Android phone, launched early last year at ₹62,990. The solid three-year-old Passport — I still use mine occasionally as a second phone — was ₹49,990. Neither created a ripple in India.
Unlike its predecessors, though, the 4 GB/64 GB KEYone doesn't boast flagship specs or processor, though it's snappy and responsive. Similar-spec handsets are cheaper: The very capable and popular One Plus 5 is ₹32,999 for the 6 GB/64 GB model. So unless the keyboard or BlackBerry brand matter to you or the security and manageability to your organisation, this BB may not excite you.
The keyboard does excite me. I type faster on it than on a soft keypad, even though the latter, on a BB, is very good. And as with modern BBs, including my Passport, the keyboard is touch sensitive — supporting scrolling and flick-to-select predicted words. And it leaves more screen-room available than on my S7 Edge, when typing.
The KEYone had the quickest setup of any Android or BB handset I have used. I entered my Gmail and password, and in minutes all my apps were up and running — Google Maps, Uber, Ola and Paytm included.
The fingerprint sensor built into the spacebar is the fastest I've come across, beating my S7 Edge. A touch of my thumb, dry or wet, and the phone wakes up instantly. In apps where fingerprint input is awaited, the spacebar shows two blinking lights in a spacey kind of way.
The 12 MP, large-pixel rear camera is among the best in phones in the ₹30,000 to ₹40,000 range. It doesn't quite match up to my S7 edge in low light, close up or for difficult shots, but it's very good.
The 12 MP rear camera uses the large-pixel Sony IMX378 sensor that Google also uses in the Pixel. But in difficult light, the S7 or iPhone 7 (upward) are ahead, even though the KEYone's f/2 aperture does help. It also shoots 4K video at 30 fps. Autofocus is snappy.
The 8 MP front camera works well. As with most new phones, the claimed "front flash" is merely the screen lighting up bright white — more of a gimmick. Not that I'd ever use flash on a selfie. Or with any shot.
For the record, Samsung's plain old S7 is now exactly the same price as the KEYone, and its 12 MP f/1.7 primary camera is clearly ahead in difficult light. Battery life on the KEYone is great. I mostly got two days, but with heavier use as my primary phone, it would still last a full day. Qualcomm's Quick Charge 3 takes it from zero to half-charge in 36 minutes.
BB is unbeatable for its invaluable, integrated view of all email, messaging and notifications, through the Hub dashboard. And for its security (something few users give a damn about, though they should). The DTEK dashboard keeps you updated on security and privacy, including warning you when an app is quietly sending an SMS. Or if the NSA is accessing your camera or mic.
Would I buy this BB? Probably, if I were looking at replacing my primary phone, an S7 Edge. But I'm hanging on to that for its better camera. So then, perhaps, as my second phone. Not at this price though. At ₹5,000 lower, the KEYone would make a good replacement for my ageing Passport. At the ₹40,000 level, though, I don't see this BB shaking up the market.
The writer is a veteran tech journalist
Price: ₹39,990
Pros: Great design, keyboard, software, battery life, performance, stock Android with BB security and convenience.
Cons: Screen a bit small for video, price a little high for these specs, average low light camera performance
["Source-thehindubusinessline"]