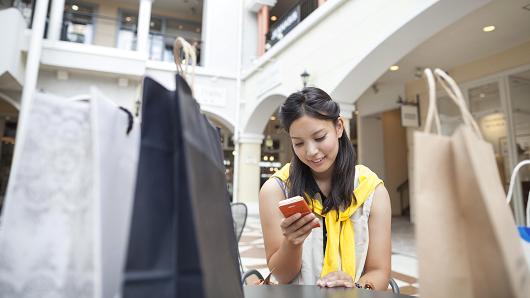 Imagine getting a soft drink from a vending machine using only your smartphone. Or scanning a QR code to buy goods from a newspaper ad.
By harnessing these innovations — and more — China mobile shopping is barreling ahead of the United States. China is still the world's largest smartphone market, even though growth is slowing. It accounts for about 30 percent of the global smartphone market, and Chinese smartphone users are expected to jump from 526.8 million to 640 million in 2018, according to eMarketer. And its shoppers are using their gadgets to snap up a wide array of goods and services.
Nearly half of all China's e-commerce sales, totaling $505.7 billion, are made with mobile devices, versus roughly one-quarter in the U.S., according to eMarketer. By 2019, China's mobile sales will account for 71 percent of those sales.
"We don't see mobile buying plateauing for the next five years," said Monica Pearl, eMarketer's director of forecasting. "They'll increase because consumer behavior has changed." Feature-rich, cheap smartphones are also helping fuel the boom, she added.
China is, after all, a mobile first market, explains Brian Buchwald, CEO of consumer intelligence firm Bomoda. So it has been able to leapfrog past other markets, which mainly used PCs for purchases.
Sophisticated mobile payment apps are partly fueling the mobile boom. To grease buying, purchases are smooth and nearly seamless, since goods are bought in a few seconds with just one click. And an intense fight for market share between payment titans WeChat Pay and Alibaba's Alipay is fueling even more innovation. Apple Pay has only just recently stepped into the competitive arena.
Meanwhile, the Chinese government has allowed a free-flowing retail and payments marketplace.
"There are no restraints," said Michael Zakkour, vice president of China/Asia Pacific practice at Tompkins International.
["Source-cnbc"]