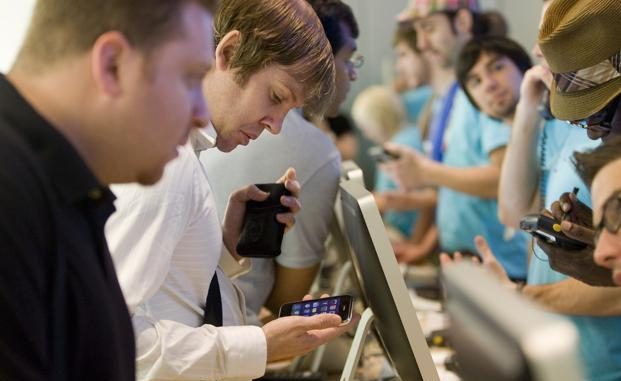 Frankfurt: Deutsche Bank AG is bowing to the inevitable and replacing the BlackBerry devices that were issued to its staff with Apple iPhones.
A Deutsche Bank spokesman confirmed that the lender is phasing out the BlackBerry devices, without commenting further. The company's employees were increasingly giving up their BlackBerry phones in favour of ones they'd bought themselves under a Bring-Your-Own-Device policy, according to two people briefed on the matter. Some clients had made fun of the bank for still using BlackBerry phones, another person said.
Deutsche Bank kept BlackBerry devices for longer than many of its competitors, but even the company's chief executive officer, John Cryan, conducts much of his business on an iPad. BlackBerry devices were once ubiquitous at banks, but their popularity began to wane when Apple started selling its first iPhone in 2007.
BlackBerry Ltd ended the production of smartphones last year after sales collapsed. It sold the license to manufacture BlackBerry-branded phones to a Chinese company, TCL.
The Waterloo, Canada-based business is now focusing on selling software, which it claims are particularly good at helping companies to tighten control over corporate-issued phones and meet stringent compliance requirements.
"Deutsche Bank's decision to use other devices has been expected and doesn't change our relationship," BlackBerry spokeswoman Sarah McKinney said in an email. The new iPhones use BlackBerry's device-management software, she said.
A strong push at Deutsche Bank to renew its IT and boost its compliance capabilities, spearheaded by Chief Operating Officer Kim Hammonds and Chief Regulatory Officer Sylvie Matherat, saw it disable various messaging functions on corporate phones, including text messages and WhatsApp. Bloomberg
["Source-livemint"]