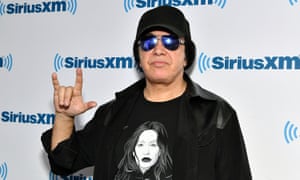 Kiss frontman Gene Simmons has been banned for life from Fox News after claims that he insulted and taunted staff members.
Simmons was appearing on a pair of shows on the conservative news network – Fox and Friends, and Mornings With Maria – to promote his new book, On Power. According to a Fox News source speaking to the Daily Beast, Simmons barged in on a staff meeting, unbuttoned his shirt and exposed his torso, shouting: "Hey chicks, sue me!"
He also told jokes about Michael Jackson and paedophilia, and made mocking remarks about the intelligence of staffers. His behaviour has now seen him banned from the building and from further Fox News shows. He has not commented on the claims.
Simmons had previously condemned Harvey Weinstein's harassment, saying: "Men are jackasses. From the time we're young we have testosterone. I'm not validating it or defending it." In another interview earlier in the week, he had said: "I want all the jackasses to go to jail for being improper."
He recently caused more controversy by claiming women had to choose between a family and a career: "Get over your biological urges … It's natural to want to have kids, but, sorry, you can't have it both ways. You have to commit to either career or family. It's very difficult to have both."
The ban comes as Fox News is trying to repair its reputation in the wake of the sexual harassment scandal around former host Bill O'Reilly. The anchor was ousted from the network in April, following news that he had paid out $13m (£9.8m) to five women in settlements over sexual harassment; another paymentof $32m was revealed in October. Despite knowing of the various cases, Fox had renewed his contract earlier this year, before eventually cancelling it.
In July 2016 meanwhile, the network's then chairman and CEO, Roger Ailes, resigned from the company following sexual harassment claims.
source:-theguardian