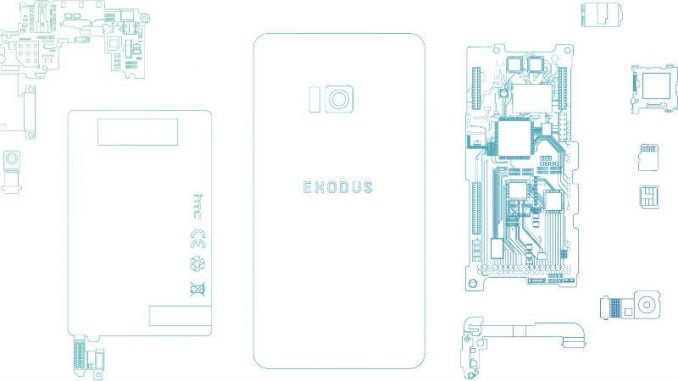 HIGHLIGHTS
HT Exodus will have hardware support for cryptocurrencies
It will support Bitcoin and Ethereum
Specs and price of the phone has not been revealed
With just a week left for the launch of HTC U12+, the company has announced another new handset. While the Taiwanese company has consolidated its smartphone offerings in recent times, it has now announced the HTC Exodus. The HTC Exodus will support Bitcoin, Ethereum, and other cryptocurrencies, with a universal wallet, secure hardware, and decentralised apps. It is the first smartphone by a major brand that is dedicated to blockchain encryption. To recall, Switzerland-based startup Sirin Labs had recently claimed to have launched the world's first blockchain-powered smartphone called Finney.
The HTC Exodus is intended to be the "world's first phone dedicated to decentralised applications and security," Phil Chen, a co-founder of HTC Vive, notes in a blog. Decentralisation, as made possible by blockchain, is the key to what the company announced today. Chen says, "I want to see a world where the end consumers can truly own their data (browsing history, identity, assets, wallets, emails, messaging, etc) without the need for central authorities. There is a lot of work ahead of us, but I believe the mobile hardware layer can contribute significantly to our new decentralized world."
Touting two decades of smartphone manufacturing experience, HTC says that the Exodus will have hardware support for cryptocurrencies. It foresees the phone as a node for Bitcoin and Ethereum, with plans to support "the entire blockchain ecosystem." The smartphone will leverage APIs and a hardware stack including the kernel and secure enclave, to connect to various wallets. The company says that the handset users will have their 'identity and data' on the smartphone, instead of a centralised cloud.
With Exodus, HTC also unveiled DApps. HTC hopes that the smartphone will increase the user base of Decentralised Apps by featuring a "streamlined user experience." Notably, the pricing and availability details of the Exodus have not been revealed by HTC. There is no information on the specifications of the smartphone either. As per the product outlines, the back of the handset looks similar to any regular HTC phone available today. The HTC Exodus has a reservation form that you can fill to show your interest in the upcoming smartphone.
["Source-gadgets.ndtv"]