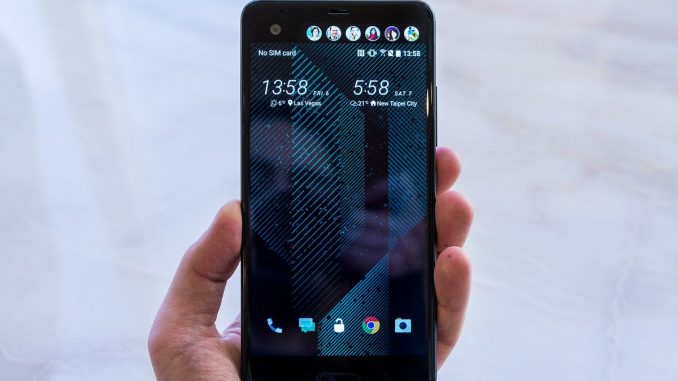 If HTC wants to get back to its former days of glory, the U Ultra flagship smartphone is probably not the way to do it. Beloved to many long-time users of Android like me, HTC is a company we'd all like to see back on top of its game. This Taiwanese company put Android on the map and then went on to make some fabulously built can't-go-wrong smartphones. But that was then. And the U Ultra is now — and the verdict is no.
The one thought that dominates the minds of anyone who's encountered or considered the HTC U Ultra is the ultra price. ₹59,990 is as unrealistic as it can get given where HTC is with market share today and the competition, which comes in the form of the iPhone, the Galaxy S8s and the LG G6. In fact, phone makers are bringing out similar specs at half the price. Even in the US and other places outside India, the reaction to HTC's pricing is pure outrage. Now it's possible that at one point the price may drop, but by then, in my opinion, HTC will have done itself enough damage. And let's call a spade a spade, the price is no less than ₹60,000 at which point most Indians will say — why shouldn't I just buy an iPhone? But let's move on to the device itself.
There are a few schemes including an exchange but that would have worked in the absence of competition.
Quite a beauty
When and if you get past the price, you can stop to admire the brilliant reflective silky glass back of the U Ultra. It's swanky and trippy, specially in the blue it comes in — availability for which one will need to check. But if you do get a blue unit, few around you will have a phone to match so you're bound to get enough attention wielding this very eye catching device.
But what you will also get is an exhibition of fingerprint smudges so prominent that HTC is actually providing a soft cloth you should carry along with the phone. This is a first — and one hopes, a last. Put it in a case and it loses one of its main attractions — its looks. Take it out, and it will probably get scratched. So too will the really protruding camera lens. Sure, we have Gorilla Glass 5 protection etc, but I'll believe it when I see a used unscratched Ultra some months down the line. Until then, you can comb your hair using the Ultra's back panel.
The shiny back of this phone does make it very slippery. Grip it with one hand and you can feel its slow elegant slide downward. I can't be sure that it was the right decision to combine the Ultra's large 5.7-inch size with that much slipperiness. Overall, the phone may be just too big for most people. There have been 5.7-inch phones around, of course, but this one is also broad, compromising the ergonomics.
A strip of screen
Much like the LG V20 — in fact very much like the V20 — the HTC U Ultra has a strip of space on top of the primary screen. It's exactly the same execution as LG has done and is a place to pin your most frequently used apps and to get notifications.
It's useful, but by no means a killer feature and one that you can simulate with certain apps, although this would not be an additional screen space but take up place on the main and only screen. Interestingly, the Ultra doesn't have an always-on display, which is more common these days. Of course, if it had, the 3,000mAh battery would have had more to struggle with, already being too little for this large phone.
Other than this, the 1440×2560 pixels screen is very nice. Unfortunately, at a time when bezels are diminishing, the Ultra's are a bit too much. Why go in for such a large screen only to have it eaten by broad bezels?
Where's that jack?
HTC decided to do an Apple with the headphone jack and scrapped it on the Ultra. While Apple supplied an adaptor with its lightning port cable so that you could at least use any existing headphones, HTC didn't, annoying fans deeply. The sound on the Ultra is great, though not what it used to be long ago, and the earphones supplied are supposed to adjust to you over time, but the omission of the 3.5mm jack is unforgivable. Also missing is a host of other things such as wireless charging (particularly beloved to US users, actually), water resistance, infrared blaster, — and a truly brilliant camera.
From the people who put together Google's Pixel, still debatably being referred to as the best camera phone, the Ultra's 12MP camera should have been a deal maker. It's certainly nice and has the requisite optical image stabilisation, phase detection auto focus and plenty of control over settings, Daylight photographs are good and reproduce colour very well but low light photography still has flaws and can lead to fuzzy, noisy and blurry images in many situations. In any round ups of the top camera phones, the U Ultra doesn't feature and at this price, it should have.
Smooth and fluid
The U Ultra is however, a very very fast performer and shows no hiccups or hesitations in anything you do with it. It works on a 2.15GHz quad-core Qualcomm 821 processor with 4GB of RAM and 64GB of storage and Android 7.0 with upgrades hopefully on the way. HTC's interface, Sense UI, has evolved into a very polished execution causing no impediments to functioning. It's fast and fluid all the way and with the loud BoomSound speaker and large screen can be a treat for watching videos and movies or gaming.
[Source:-Hindu]