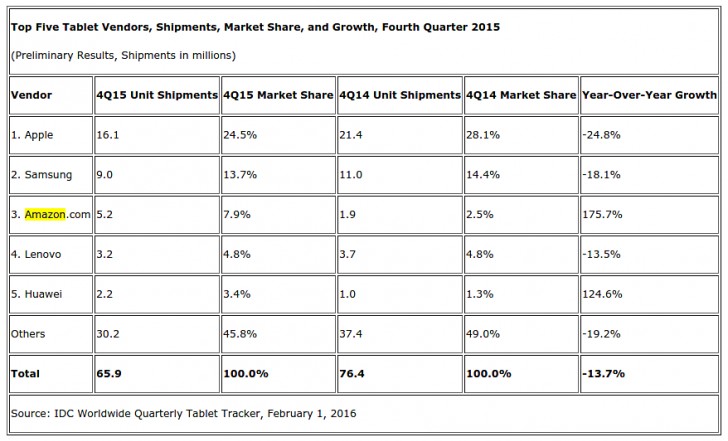 Apple retained its position as the world's No.1 tablet vendor for the last quarter, although year-on-year sales saw a 24.8% decline, according to latest data from market research firm IDC. The Cupertino-based company shipped a total of 16.1 million tablets in Q4 2015, down from 21.4 million units shipped in the same quarter of 2014.
Samsung came in second with 9 million units shipped, down from 11 million units the company shipped in Q4 2014, which is an 18.1% decline. The South Korean company's market share stood at 13.7%, compared to 24.5% share of the market Apple claimed.
Amazon, Lenovo, and Huawei rounded up the top five with 7.9%, 4.8%, and 3.4% market shares, respectively. What's worth noticing here is the Amazon's annual growth of 175.7%, something the report attributed to the company's latest Kindle iteration, which it said was a runaway hit this holiday season.
Talking about 2015 as a whole, while Apple and Samsung retained the top two spots with 24% and 16.2% market share, respectively, Lenovo climbed to the third spot with 5.4% share. Asus and Huawei rounded up the top five 3.4% and 3.1% of the market, respectively.
Overall, the worldwide tablet market – which includes slate tablets as well as detachable tablets – continued to decline, with a negative year-on-year growth of 13.7%. However, separately, the market for detachable tablets was up, with shipments reaching an all-time high of 8.1 million devices.
["Source-gsmarena"]