Easily one of the most anticipated releases ahead of us, the LG Nexus 5X is likely to be unveiled on September 29. Little has been left to the imagination, and the smartphone has shown up in benchmark listings and more than one blurry hands-on photoshoot.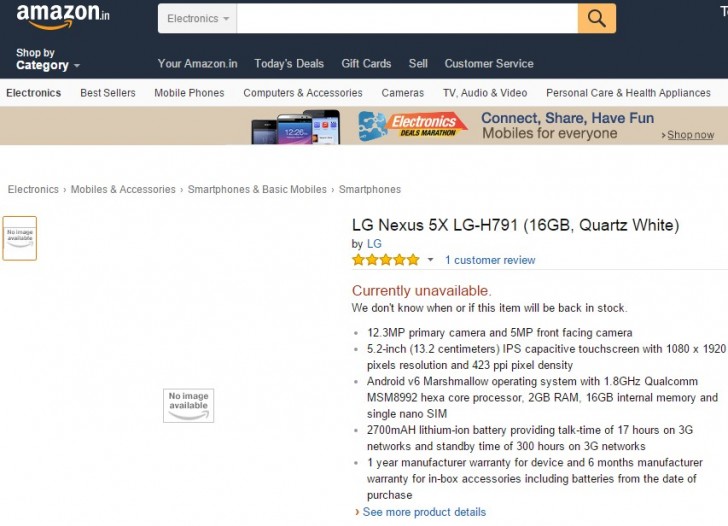 If that wasn't revealing enough, Amazon.in has now jumped the gun and listed the upcoming Nexus 5X, confirming some key specs. Yes, it is going to have a 5.2-inch FullHD display, and yes, it will be powered by the Snapdragon 808 chipset. No surprises in the imaging department, either – rumors of a 12.3MP primary camera and a 5MP front-facing one turn out to be true.
Apparently the base model will come with just 16GB of internal storage. Big brother Huawei Nexus 6P, set to launch alongside the LG model, will reportedly have versions going all the way up to 128GB, but don't be surprised if the Nexus 5X only has 16GB/32GB variants.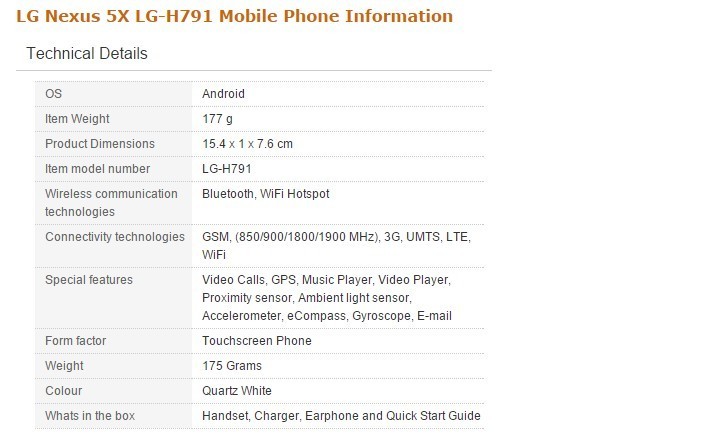 Another new bit of info is the battery capacity, quoted at 2,700mAh, and dimensions are stated to be 154 x 76 x 10mm, though we might see fractions of a millimeter added or deducted from these rounded numbers. Whether it's 175g (in the weight cell) or 177g (item weight, what's the difference?), the Nexus 5X is pretty hefty for its size.
The listing contains no images (not that we haven't seen a fair share), and the smartphone is obviously listed as "Currently unavailable". No price yet, either.
["source-gsmarena"]