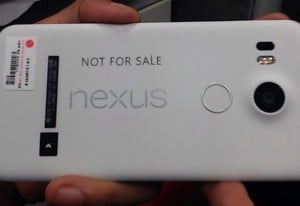 We've already heard not once, but twice that September 29 is the date when Google will finally unveil its two Nexus smartphones for this year – a Huawei-made phablet and an LG offering that's meant to be the successor to the Nexus 5 from 2013.
Up until now we've been calling this the Nexus 5 (2015), but a new rumor says that won't be its final name. Apparently Google could market it as the Nexus 5X. The caveat here is that the search giant reportedly hasn't made up its mind yet.
That seems like a good idea, and certainly a better one than simply going for Nexus 5 (2nd gen) or Nexus 5 (2015). It reads better and it should lead to less confusion among prospective customers.
The name isn't all that's been revealed today. One of the key mystery aspects about the 2015 Nexus phones has so far been the pricing, and now there's some light being shed onto that.
According to a source that's said to be reliable, the Nexus 5X will be around $50 more expensive than its predecessor. This means that, if Google will stick with 16GB of storage for the base model, you should be able to grab one of those for $400. If a 32GB iteration comes out too, then that will probably cost $450.
This will interestingly put the Nexus 5X in direct competition (in terms of price) with the Moto X Pure Edition, at least in the US. That also starts at $399, but its specs may be higher-end than what we'll see from the new Nexus. The 16GB OnePlus 2 is actually $70 cheaper than the Nexus 5X, but its dreaded invite system means your chances of actually buying one are pretty slim.
The source of all this warns that the information isn't final, and things may change. He or she also mentions that the Nexus 5X will go on sale at Google's online store the day of the announcement, on September 29 that is.
The image you can see above is also said to be an accurate representation of the device's looks. It will be offered in black, white, and light blue, it will come with a plastic build and a USB Type-C p
["source-gsmarena"]