Right on time, Motorola and Verizon announced two new Droid-branded smartphones today. The higher-end of the duo is, of course, the Droid Turbo 2, the successor to last year's Droid Turbo.
The Droid Turbo 2 has been in the rumors a lot lately, and it turns out that everything that's been leaked about it was true. So yes, it does have what Motorola claims is a shatterproof display, which it's branded ShatterShield. The company guarantees that it won't crack or shatter for up to four years.
It's a P-OLED panel (like the ones used by LG in its G Flex series), which means it's built on a plastic substrate (and not glass), and this allows it to survive in conditions in which other screens might shatter. The display system consists of a total of five layers, which all act together to prevent breaks.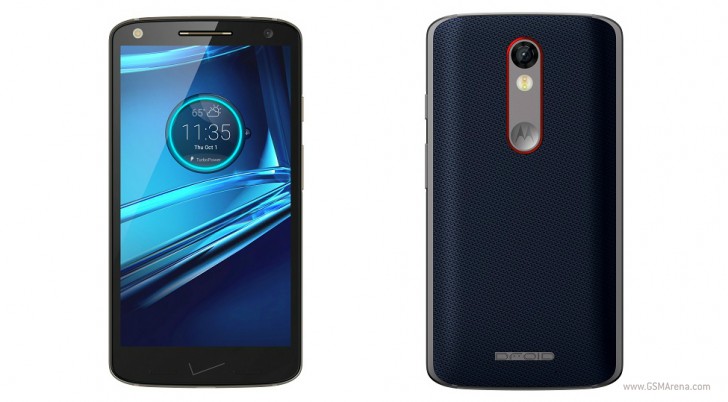 Aside from the screen, another unique selling point for the Droid Turbo 2 is its 3,760 mAh battery, much larger than any of its competitors'. This should allow it to reach a full day of use for even the most demanding of owners. The handset has fast charging support too, as well as Qi wireless charging.
The display is a 5.4-inch QHD affair, the rear camera has been transplanted from the Moto X Style so it's a 21 MP unit, there's a 5 MP selfie snapper in there too, and things are kept running by Qualcomm's Snapdragon 810 chipset, paired with 3GB of RAM. Storage versions are 32 or 64GB, and there's a microSD card slot too. The Droid Turbo 2 runs Android 5.1.1 Lollipop, with an upgrade to Android 6.0 Marshmallow already planned.
The Droid Turbo 2 will be available online and in stores on October 29, which is this Thursday. It will cost $624 in its base configuration, which can also be divided into 24 monthly payments of $26. If you pay $30 per month, on the other hand, you'll be allowed to 'refresh the design' of your handset once in the two-year period. This effectively means you'll get a new one when you want to. As for choosing a design, you can do that through Motorola's Moto Maker customization service, since this is the first Droid-branded device to be able to take advantage of that.

["source-gsmarena"]