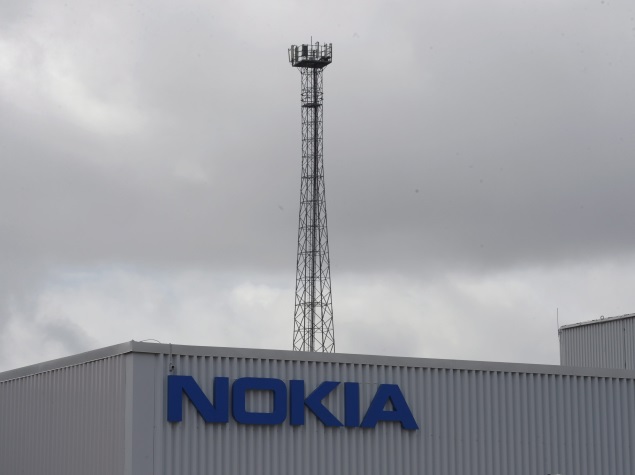 Finland's Nokia, which is set to buy French rival Alcatel-Lucent, reported quarterly profits well below market forecasts at its main telecom network equipment business, sending its shares tumbling as much as 12 percent.
Overall revenue at Nokia's network unit was slightly ahead of expectations, but profits dropped 61 percent from a year ago due to lower software sales, the need to compete for low-margin deals in China and higher research and development costs.
"The capex conditions are challenging at this point, and there is a little bit more competitive activity overall," Chief Executive Rajeev Suri told journalists on a call after Thursday's report, referring to capital spending by network operators to upgrade mobile networks in key markets around the globe.
Although Nokia said some of the negative factors contributing to its weak first quarter results would ease in the second half of the year, it took a more cautious stance on profitablity targets for the full year.
It now expects a network operating margin around the midpoint of its earlier goal of 8 to 11 percent. Analysts in a Reuters poll had been expecting a full-year margin of 11 percent.
Shares in the company tumbled 9 percent at 0733 GMT.
"The networks business has performed well in the past two years, so this drop in profits is a real surprise and a disappointment," said Mikael Rautanen, analyst at Inderes Equity Research.
"Estimates will be cut hard, and this raises concern whether this was a turning point for the worse for the unit."
The network unit, where Nokia competes with Swedish market leader Ericsson and Chinese low-cost powerhouse Huawei, saw its core operating profit fall to 85 million euros ($94 million), or 3.2 percent of sales, compared with analysts' average forecast of 226 million euros.
Nokia reiterrated that its plan to take over smaller rival Alcatel-Lucent would make it stronger.
The takeover aims to boost scale to better compete with Ericsson and Huawei, as well as wringing out cost savings of 900 million euros by 2019 amid weak growth prospects for the industry.
"These results just confirm that we are on the right track in terms of what we are aiming to do," Suri told journalists.
Nokia, once the world's largest maker of mobile phones, last year sold its former flagship handset business to Microsoft , leaving it with the network equipment unit, a mapping business and a smartphone patent portfolio.
["Source-Gadgets"]