Qualcomm held its own dedicated event today to detail its next premium chip offer as well as a couple of midrange offerings. The beastly Snapdragon 820 was hastily announced back in March, during MWC 2015, undoubtedly to draw attention away from the Snapdragon 810 overheating fiasco. Since then, Qualcomm has been feeding us bits and pieces of info on the silicon one at a time, most-probably not long after the decision themselves are made in the active development process.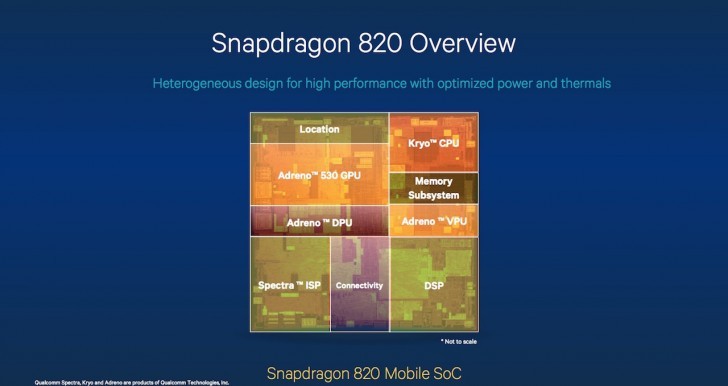 A major missing puzzle piece was connectivity and at today's Qualcomm event in China it became clear that the Snapdragon 820 will offer top-notch mobile data bandwidth – up to 600Mbps downstream and 150Mbps up over LTE-Advanced (X12 LTE). Also Wi-Fi 802.11ad will be supported for next-gen local connectivity.

The Snapdragon 820 will use four custom 64-bit Kryo cores, so no more standard Cortex solutions. The Kryo processor has been manufactured via Samsung's 14nm FinFET process, so it promises to go easy on the battery as well. And speaking of the Korean tech giant, rumors hint that it is already busy testing the Snapdragon 820 for integration inside the next Galaxy S7 flagship.
The quad-core Kryo CPU with 64-bit architecture found in the Snapdragon 820 has been integrated tightly with the Adreno 530 GPU and the Hexagon 680 DSP of the chipset. All 5-series Adrenos will support OpenGL ES 3.1 (with 3.2 coming later) and the new Vulkan API. Qualcomm claims a 40% jump in performance along with a 40% cut in power usage. The GPUs support HDMI 2.0 and up to 4K @ 60fps output, they'll even manage 4K output wirelessly (though capped at 30fps).
Other Impressive technological innovations inside the Snapdragon 820 include a new ISP. Dubbed Spectra camera Image Signal Processor it will handle small camera pixels better, hybrid autofocus (i.e. added phase detection AF), low-light performance and will lean on the GPU for software "optical zoom."

The event also saw the announcement of two brand new Qualcomm chipsets – the Snapdragon 617 and Snapdragon 430. Both use eight standard Cortex-A53 cores, clocked at 1.5GHz and 1.2GHz respectively.
The higher-end 617 comes with X8 LTE modem with Cat.7 speeds (300 Mbps download and 100Mbps upload) and an Adreno 405 GPU. The 430 is equipped with X6 LTE with Cat.4 speeds (150 Mbps down and 75Mbps up) and, interestingly enough a newer Adreno 505 GPU. Both chips also have Dual-ISPs, powering up to 21MP cameras.

The company also confirmed all new chips will support its latest Quick Charge 3.0 standard. The technology claims to be 27% faster that version 2.0, while using less power and thus preserving the health of the battery pack longer.
["source-gsmarena"]