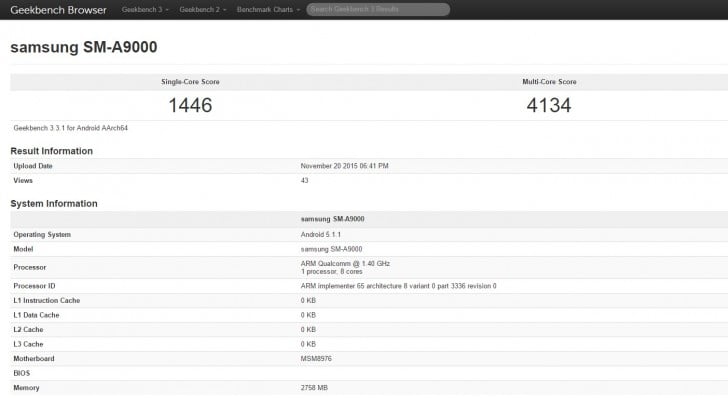 First mentioned in a trademark filing all the way back in March, the Samsung Galaxy A9 is about to materialize. Indication of that comes from a listing on GeekBench, where a Samsung SM-A9000 model has been put to the test.
Dated yesterday, the entry in the database now sees the Galaxy A9 appear with its genuine model number. Back in September another Samsung device was listed with identical specs but an unintelligible name, though it was already speculated then that it was indeed the A9. It later showed up on Antutu as well, sporting the same chipset.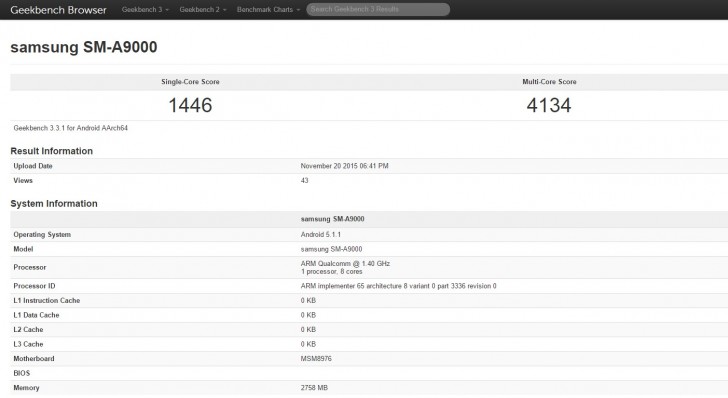 So the Galaxy A9 will indeed feature a Snapdragon 620 SoC(MSM8976), its CPU having a dual quad-core big.LITTLE arrangement with a cluster of Cortex-A72 cores and another one with Cortex-A53's. What's new this time around, is that the chip is geared towards better single core performance (1,446 points versus 1,325 in September). The multi-core result, on the other hand, is some 300 points lower now.
With the Galaxy A3 (2016) and A5 (2016) now having passed FCC certification, and live unitsof those two plus the A7 (2016) out and about, we could be looking at an all new A-series lineup any time soon, save for the only even-numbered Galaxy A8.
["source -Zeenews"]