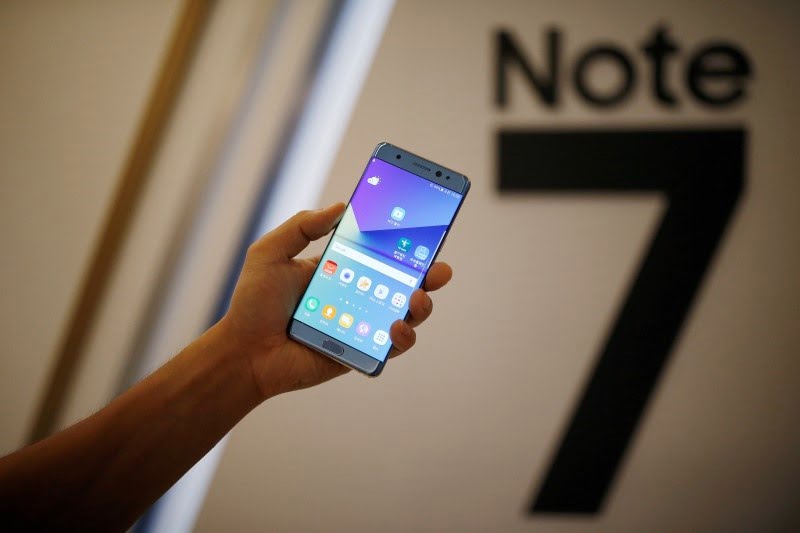 Samsung was reported to have halted Galaxy Note 7 production earlier
Major US telecom companies have stopped selling the phone
The 'replaced' Galaxy Note 7 were reported to have caught fire
Samsung's crisis with its Galaxy Note 7 smartphone hit a new low on Monday as the company confirmed that it has made changes to its production of the problem phones to ensure safety.
The move follows multiple reports that even the newly released Galaxy Note 7 phones, which had been offered as replacements for the recalled fire-prone phones, also overheated or caught fire.
In a statement and in a regulatory filing, Samsung Electronics said it is "temporarily" adjusting theGalaxy Note 7 production schedule and production volume to "ensure quality and safety matters." The company added that it will issue an update when more details are available.
But Samsung fell short of confirming or denying earlier media reports that it had halted production.
Earlier in the day, South Korea's Yonhap news agency was first to report that Galaxy Note 7 production was suspended.
The move came after decisions by US phone retailers AT&T and T-Mobile to stop giving new Galaxy Note 7 replacement smartphones to consumers.
Samsung and the US authorities are investigating reports of the new Note 7 replacement smartphone catching fire but the move poses fresh trouble for Samsung because it had promised that its new Note 7 with a green battery icon is safe.
The reports of replacement phones catching fire raise doubts whether the battery is the only problem in the fire-prone smartphone as Samsung initially said. When it issued a global recall on September 2, Samsung blamed the batteries supplied by one of its two battery suppliers and assured consumers that other parts of the smartphones were fine.

Samsung Galaxy Note7
Resolution
1440×2560 pixels
See full Samsung Galaxy Note7 specifications
Also See
Samsung Galaxy On7 Pro (Gold, 16GB) –

Samsung Galaxy J7 Prime (Gold, 32GB) –

Samsung Galaxy On5 (Gold, 8GB) – OFFER
["Source-Gadgets"]