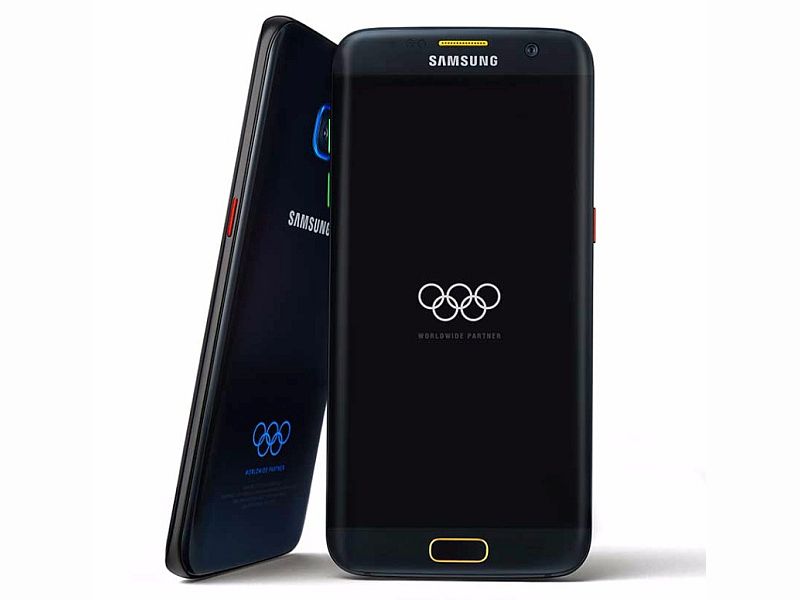 HIGHLIGHTS
Limited edition will go on sale in Brazil, China, Germany, Korea, and US
Samsung has also launched the Rio 2016 Olympic Games app
No price revealed for the limited edition
Samsung on Thursday launched the Galaxy S7 Edge Olympic Games Limited Edition ahead of the Rio 2016 Olympic Games.
The company says that with the new limited edition smartphone, fans and consumers can commemorate the Rio 2016 Olympic Games. It will be available starting July 18 in select countries including Brazil, China, Germany, Korea, and the US. The South Korean company is the worldwide Olympic partner in the wireless communications equipment category.
Samsung, in collaboration with the International Olympic Committee (IOC), will also deliver 12,500Samsung Galaxy S7 Edge Olympic Games Limited Edition and Gear IconX, which features in-ear heart rate monitor and standalone music player, to all Rio 2016 Olympians.
The new limited edition device carries the custom colourway pattern including the five official colours of the Olympic Rings. Samsung has integrated the colours of the Olympic Rings prominently in the smartphone's user interface like the home and lock screen as well as the message, dial, contact screens, and notification bar. The smartphone will also come with Rio 2016 Olympic Games themed wallpapers.
Announcing the limited edition, Younghee Lee, Executive Vice President of Global Marketing, Mobile Communications Business at Samsung Electronics, said, "Sports are all about an individual's relentless journey of challenging complacency, and the Olympic Games are the ultimate global celebration of the progress and achievement of athletes, countries and their fans coming together to unite the world'. Samsung admires the spirit of Olympians and fans across the globe who continuously push boundaries for the better."
Samsung additionally will be setting up Galaxy Studios across Rio. The company confirmed it will have several studios throughout Rio, Sao Paulo, and local cities in Brazil. Samsung in collaboration with the Rio 2016 Organizing Committee also launched the official app of Rio 2016 called "The Rio 2016 App", which will provide athletes, fans and consumers with updates on all Olympic related news.