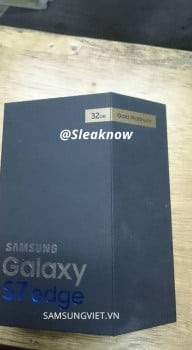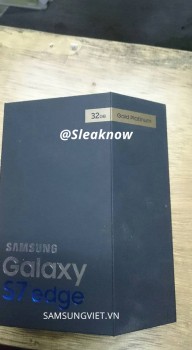 It's the last few hours before Samsung unveils the S7 family, so here are some more leaks to help pass the time. The Samsung Galaxy S7 edge retail box has been photographed and, as usual, it features a quick rundown of the most important specs.
The screen will be a 5.5″ Super AMOLED with QHD resolution (that's 1,440 x 2,560px). The phone will be powered by an octa-core processor with 4GB of RAM and 32GB storage.
The Galaxy S7 edge camera will be a "Dual Pixel" 12MP shooter. Canon has "Dual Pixel" sensors, which offers super quick, super accurate focus because 80% of the viewfinder area is used to focus instead of a fixed number of focus points. Anyway, there's a 5MP selfie camera too.
 The IP68 water and dust resistance are confirmed (again, no word on microSD, but it's pretty certain at this point). There's wireless charging and KNOX too.
We've seen Photoshopped retail boxes before, so don't take these specs as gospel. Still, a million leaks can't be wrong.
["Source-gsmarena"]