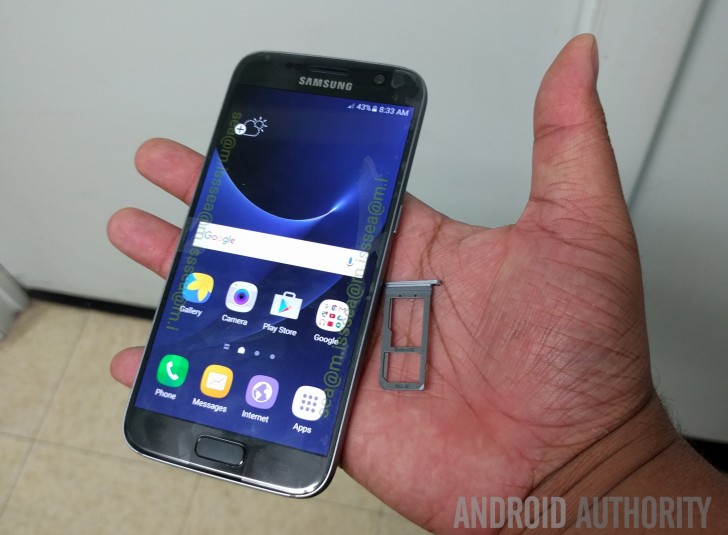 The Samsung Galaxy S7 is only 4 days away from official status, and keeping a lid on pre-launch units has become impossible. This latest report shows a black S7 front and back (which we've already seen before), but more importantly it confirms some of the smartphone's most important specs.
Their insider info states that the rumored water resistance of the S7 is indeed reality, though hasn't been established just yet whether it's IP67 or IP68. The difference being that IPx7 stands for 30 minutes submersion up to 1 meter depth, while IPx8 gets you continuous submission to a depth, specified by the manufacturer (but higher than the 7 rating). In effect, both will keep you safe in the rain.
The 12MP camera rumor also gets corroborated, and apparently the latest Nexuses have truly started a trend for lower-res sensors, with larger photosites. Samsung won't be making the switch to USB Type-C this generation though, the source says.
It will be bringing the microSD slot back, on the other hand. The lack of storage expansion was a deal-breaker for many in the previous generation, and it's good to see the Koreans have listened. The user-replaceable battery won't be making a return though, not that we should expect it to from now on, but it's gotten a bump to 2,800mAh, up from 2,550mAh in theGalaxy S6. Previously we heard of the even higher 3,000mAh so here's hoping the older info was the correct one.
The Galaxy S7 has also been featured in a brief hands-on video, revealing the latest iteration of TouchWiz, in this case on top of Android 6.0 Marshmallow. It's also pretty clear that the black version, while very pretty all by itself, is a nightmare to keep clean.
["Source-gsmarena"]