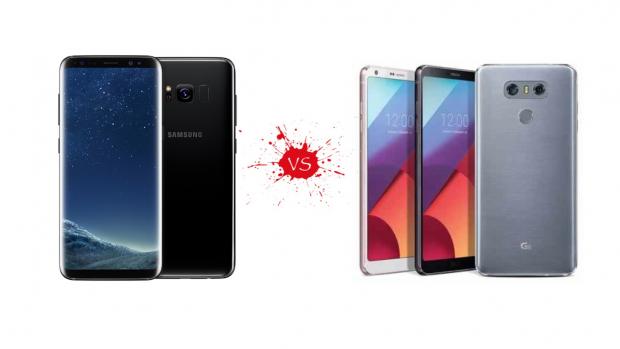 The LG G6 and Samsung Galaxy S8 are (along with the iPhone 8) the most hotly anticipated smartphones of the year; and rightly so, in 2016 the Galaxy S7 and LG G5 launched very early, again, between March and April, and remained the very BEST Android handsets for pretty much the entire year.
The only devices which came close were the Google Pixel series and the OnePlus 3T. So, there's good reason to believe 2017's new models will be just as impressive, and will be some of the most desireable devices for the whole year.
The Samsung Galaxy S8 and Galaxy S8 Plus just launched making things very different for Google's other Android partners.
Samsung is essentially the Apple of the Android space; it commands a large user base of loyal fans and these fans are always waiting for the next instalment of the company's flagship handset, the Galaxy S.
 Demand should be even higher this year too, after Samsung's Note 7 exited the market in dramatic fashion last year. This left a lot of potential customers in the lurch and many, I suspect.
The LG G6 is off to a good start by LG's previous flagship standards, it sold 30,000 units in its opening weekend with over 80,000 pre-orders following the launch event. However, while LG might break its previous records, the Samsung Galaxy S8 series has a massive hype train behind it and is sure to see massive sales too, possibly figures the LG G6 can't touch. Analysts predict Galaxy S8 series sales in excess of 45-50 million units.
LG made the LG G6 official at its keynote event at MWC 2017, Barcelona, Spain. The firm finally took the wraps off on February 26 and, lo and behold, most of the rumours proved true.
Samsung also came out guns blazing in late March with its duo of Galaxy S8 handsets. The arrival of Bixby – Samsung's new AI – could mean big things for Samsung users.
The LG G6 has now been given some prices and it's looking like it could be a good deal cheaper than the Galaxy S8 prices. The LG G6 will be priced at 899,800 won (US$796.85) in its native nation of Korea, but in the UK, retailer Mobilefun has confirmed an RRP of £699. Not exactly cheap, but that's within what we've come to expect of flagship prices and a lot less than the projected Galaxy S8 and iPhone 8 top-tier prices which could been excess of $1000/£1000.
Samsung Galaxy S8 vs LG G6: Specs
Samsung Galaxy S8 Specs
Display: 5.8in (Galaxy S8) & 6.2in (Galaxy S8 Plus) Quad HD+ Super AMOLED, 2960×1440
Processor: Qualcomm Snapdragon 835 (10nm) octa-core CPU OR Samsung Exynos 8995 (10nm) octa-core CPU – region dependent
GPU: Adreno 540 (Qualcomm Snapdragon) OR ARM Mali-G71 (Samsung Exynos) – region dependent
RAM:4GB OR 6GB – region dependent
Software: Android Nougat
Connectivity: 4G LTE, Wi-Fi, Bluetooth, Type-C USB, NFC, GPS, Fingerprint scanner,
Storage: 64GB
MicroSD: Yes
Primary Camera: 12MP, f/1.7 aperture
Secondary Camera: 8MP with autofocus
Battery: 3,000mAh
LG G6 Specs
Display: 5.7in IPS LCD "FullVision", QHD+ 1440 x 2880 pixel resolution @ 564ppi, 18:9 Aspect Ratio
Processor: Qualcomm Snapdragon 821 MSM8996 (14nm) quad-core CPU [2×2.35GHz Kryo & 2×1.6GHz Kryo]
GPU: Adreno 530
RAM:4GB
Software: Android Nougat
Connectivity: 4G LTE, Wi-Fi, Bluetooth, Type-C USB, NFC, GPS, Fingerprint scanner
Storage: 32GB/64GB
MicroSD: Up to 256GB
Primary Camera: Dual-13MP Sensors, f/1.8 aperture with OIS & f/2.4 aperture, laser autofocus, LED flash, 1/3″ sensor size, 1.12 µm pixel size, geo-tagging, touch focus, HDR, face detection, 2160p HDR video with 24-bit/192kHz stereo sound recording
Secondary Camera: 5 MP, f/2.2, 1080p video
Battery: 3300mAh, QuickCharge 3.0
In terms of crucial information, a key difference of course is that there will be two Galaxy S8 models; the 5.8in Galaxy S8 and the 6.2in Galaxy S8 Plus, both of which feature Quad HD+ Super AMOLED, 2960×1440 displays, while there is only be one flat-screen 5.7in LG G6.
In all cases it seems the respective firms are trying to cram as much screen into the front fascia of their phones as possible while keeping the bodyshell size more-or-less the same as the previous generations. This (as well as the increase in new wide-aspect 4K content) is also why both are adopting a much bigger 18:9 display aspect ratio.
On the subject of display resolution, the Galaxy S8's Quad HD+ Super AMOLED, 2960×1440 edges out the LG G6's Quad HD+ 1440 x 2880 display by a slim margin. That said, this is Samsung's well-refined Super AMOLED tech we're talking about, in most regards it's pretty much best-in-class and leagues ahead of most LCD alternatives, with better colour, contrast, sharpness, and brightness.
On the processor front Samsung appears to have literally outmaneuvered LG here (as well as most other rivals on the market) by dominating the supply of the new-gen of Qualcomm Snapdragon 835 CPUs. Samsung actually produces these chips on Qualcomm's behalf, but regardless of whether that has given it an advantageous bargaining chip or not, the firm has reportedly bought up all the CPUs it has produced so far for use inside its Galaxy S8 devices.
Samsung has now started teasing its upcoming Exynos 9 chipset, the CPU that will likely power the Galaxy Note 8 once it drops later on in 2017. The Exynos 9 will be built using Samsung's 10nm process, just like the Qualcomm Snapdragon 835. Reports suggest the Exynos 9 will feature an octa-core CPU with four custom M2 cores and four ARM Cortex-A53 ones, and the new Mali-G71 GPU.
The S8's chipset outclasses the LG G6 by a noticeable degree – Samsung's hogging of the S835 is allegedly why LG and others can't get hold of the chip for their own devices. LG has settled on a previous-gen Qualcomm Snapdragon 821 CPU on the older 14nm FinFET architecture for the LG G6.
While this is still a decent chip, it has half as many cores on an older and larger semiconductor design; the newer chips will likely offer faster performance, better battery efficiency and produce less heat. Qualcomm's line on the S835 is that, compared to earlier-gen tech, the chip is 20% faster and 25% more battery efficient. LG has optimised the S821 chip and has installed an "advanced heat pipe" and copper heatsink to aid cooling.
When it comes to RAM, there's been plenty of early hubris on most major flagship rumours, getting all excited about the prospect of 6GB and even 8GB of RAM, but by this late stage most of it seems to have boiled down to something a bit more middle-of-the-road. The Galaxy S8 was heavily rumoured to pack 6GB RAM but both models will pack 4GB alongside 64GB of onboard storage. Except in the Chinese market where you will be able to pick up a 6GB RAM and 128GB storage model, but outside China this model won't be available.
Lastly on the internal hardware spec side of things; the battery. The LG G6 no longer sports a removable battery design like its predecessor, and instead comes with a non-removable 3,300mAh battery with support for QuickCharge 3.0.
For the Galaxy S8 series, it's a sealed design too. The S8 series features a 3,000mAh – slightly less capacity than the LG G6.
Samsung Galaxy S8 vs LG G6: Design
The Galaxy S8's overall design is quite similar to the Galaxy S7. A sealed metal and glass unibody is again the order of the day with a broadly similar design language. The curved edges push further around towards the back of the phones to give a truly edge-less appearance, but at the same time the curvature is slightly less pronounced than the Galaxy S7 EDGE, allegedly in order to reduce inadvertent touch input.
Contrary to earlier rumours the Galaxy S8 retains the 3.5mm headphone jack, which is good news, and it also has USB Type-C. The physical Home key is gone, however, in favour of on-screen controls, while the fingerprint scanner has been moved round the back, sitting adjacent to the camera sensor. There is also a new dedicated key on the side of the phone for the Bixby AI assistant and the Galaxy S8 series retains its waterproofing certification from the last generation.
While LG has dabbled in the past with various "alternative" designs (stuff like leather back panels) the LG G6 is conforming a little more to the trends in being possibly the most metallic LG flagship to date. It's looking quite similar to the LG G5 in terms of shape and overall design, but much sleeker and shinier, and without the modular aspect. It also has an extremely large display with the thinnest of bezels around the outside.
The LG G6 is the first LG flagship to sport IP68 water and dust proofing certification. It's made from aluminium but has a glass back panel made from Gorilla Glass 5, while the front screen is protected by Gorilla Glass 3. The phone has plastic inserts inside the frame intended to help with shock resistance, and the corners have been specially designed for durability. The handset retains a 3.5mm headphone jack and has a Type-C USB port, as well as a rear-mounted fingerprint scanner/power key. Volume controls are now on the side.
Samsung Galaxy S8 vs LG G6: Features
A key feature of the Samsung Galaxy S8 series is the debut of Samsung's much-rumoured Bixby AI assistant, based on its acquisition of Viv Labs and its own AI development projects. Bixby is pretty damn advanced, far outpacing rivals such as Siri. LG, on the other hand, is falling back on Google's own Google Assistant AI as seen on the Google Pixel, although it's understood that it won't be as extensively featured as aboard Google's own hardware.
While the Galaxy S8 series, specifically the Galaxy S8 Plus, was originally rumoured with one of those fancy dual-camera sensors that are currently all the rage, we're stuck with a more basic, more-or-less a repeat of the Galaxy S7's 12MP Sony camera sensor but with a tweaked software package. Still, that's a plenty capable camera, make no mistake. The front-facing secondary is the first to feature built-in autofocus, however. The camera also integrates with Bixby allowing you to do things like point the camera at a product and then buy it online via Samsung Pay.
The LG G6 sports an updated camera from the LG G5 and LG V20's hardware, with both of its dual-sensors being rated at 13MP. One is a wide-angle lens with an f/2.4 aperture while the other is a regular lens using an f/1.8 aperture with optical stabilisation – the duo uses laser autofocus too.
Samsung Galaxy S8 vs LG G6: Verdict
A very tough one to call to be honest. I think design wise there's not a lot in it, with both phones featuring gorgeous metal and glass exteriors with sweeping curves and massive displays dominating the front fascia. On a practical point they're both sealed unibody devices with IP68 water and dust proofing, which is great to have, and each has both a Type-C USB port and 3.5mm headphone jack. So far, it's a tie.
The Samsung Galaxy S8's camera is seriously impressive and goes to show that a single sensor can still pack a hell of a punch. However, having seen what good quality dual-sensors are capable of, I have a feeling the LG G6's dual-sensor setup is going to outclass the Galaxy S8's imaging capabilities time after time. I think the LG G6 wins out on photography.
Swinging back in the Samsung Galaxy S8's favour are a couple of key points though. Firstly, the superior qualities of Super AMOLED technology; there's a good reason why as many OEMs are switching over to OLED as can afford it, and why Samsung is a market leader in this regard.
Secondly, Samsung really has a massive advantage here in the processor department, with a far better and more up-to-date CPU, featuring more cores on a more modern, more efficient architecture. There are some differences in battery size but I have a feeling the use of a more efficient CPU and Super AMOLED tech in the Samsung Galaxy S8 may offset the LG G6's bigger battery cell being drained by a noticably thirstier processor and screen combination.
I think at this point the Samsung Galaxy S8 just about edges in front, not by a huge amount, but for the most part this is due to the processor technology at play here. The LG G6's Snapdragon 821 is last year's technology, it's still viable now, but it'll age quicker than what Samsung is offering.
["Source-knowyourmobile"]