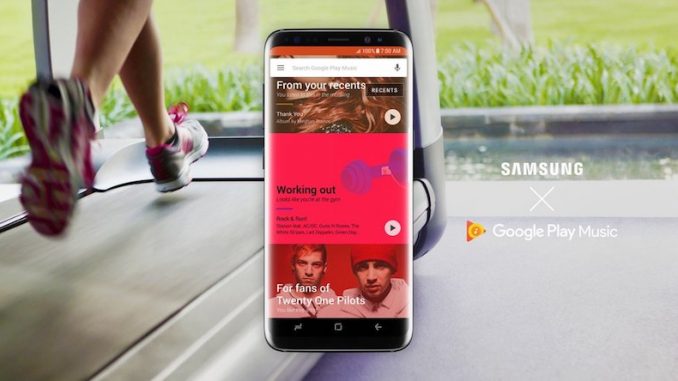 Samsung and Google have jointly announced a new partnership that will make Google Play Music the default music player and streaming service on Samsung mobiles and tablets. The announcements coincides with the global retail launch of the Galaxy S8 and Galaxy S8+, Samsung's latest flagship smartphones.
The deal also benefits Samsung users as they'll be able to upload 100,000 of their own songs to Google Play Music for free, double the limit for owners of non-Samsung devices. Additionally, new Samsung phones and tablets will come with a free three-month trial of Google Play Music. Post the trial period, those who plan to subscribe for it will get over 40 million songs on-demand and access to YouTube Red (where available), just like other subscribers of the service.
Google in November launched a revamped Play Music service that is powered by Google's machine learning and contextual tools. Machine learning allows the service to understand the music the user likes based on location, time, weather, and activity, to name a few.
Google's Play Music service competes against the likes of Spotify, Apple Music, Pandora Premium, and others. The tie up with Samsung, one of the leading smartphone manufactures in the world, will help Google expand its reach and give it the right amount of boost it needs to take on other streaming giants.
Having Google Play Music as a default music player means Samsung will not have to worry about dedicating resources towards developing its own music player, though it's still available to download from Google Play Store. Samsung has tried in the past to get into the music streaming game with Milk Music, but its attempt at competing against Spotify and Apple failed, and the company in August decided to kill off the service.
Interestingly, Google's Play Music service will support Samsung's own personal assistant software, Bixby. Users will be able to ask Bixby to look up a song and play it similar to how it works with Apple's Siri. The Bixby support will kick in once the digital assistant comes out later this spring for Galaxy S8 and Galaxy S8+.
Samsung's latest flagship Galaxy S8 and Galaxy S8+ will go on sale in India from May 5.
[Source:-ndtv]