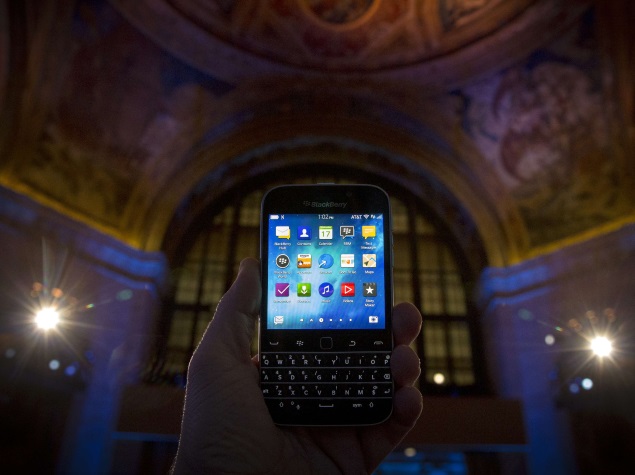 A possible bid for BlackBerry by Samsung Electronics Co Ltd would be unlikely to raise Canadian government security concerns, sources familiar with Ottawa's thinking said on Wednesday.
"I don't imagine that there'd be any security roadblocks," the source said, reacting to a Reuters story that Samsung had recently approached BlackBerry Ltd about buying the smartphone maker.
A second source familiar with government thinking said previously expressed concerns about a Chinese firm possibly buying BlackBerry would almost certainly not apply to South Korean companies.
Any foreign bid for BlackBerry would automatically have to be reviewed by the federal Industry Department to determine whether it is of net benefit to Canada, and it would ultimately go to cabinet for approval.
The sources made clear that the fact that Samsung was South Korean should not in and of itself be an issue.
"There's never been any suggestion that South Korea would be an obstacle," the first source said. "I don't think anybody would question Samsung."
In 2013, the Conservative government had strongly hinted to BlackBerry that any sale to China's Lenovo Group would be rejected due to security concerns, sources told Reuters at the time.
Canada has had a fractious trade relationship with China but there are no such problems with South Korea, which Ottawa sees as a key partner and a gateway to Asia.
A free trade agreement with South Korea – the first of its kind between Canada and an Asian-Pacific nation – came into effect on Jan 1 this year.
"With this landmark agreement now in force, our government is committed to supporting our companies as they seek to boost their exports to South Korea and throughout Asia," Trade Minister Ed Fast said on January 1.
Fast will lead a trade mission to South Korea – one of Canada's priority markets – from Feb 8 to 13.
© Thomson Reuters 2015
["Source-Gadgets"]