Last month, Lollipop finally crossed the 20% mark in Google's Android distribution chart. That means that as of the beginning of September, 21% of all active Android devices ran one of the two versions called Lollipop.
One month later, Android 5.x keeps climbing, though it's not a fast ascension, that's for sure. In the just published chart for the beginning of October, Google reveals that 23.5% of all active Android devices now run Lollipop.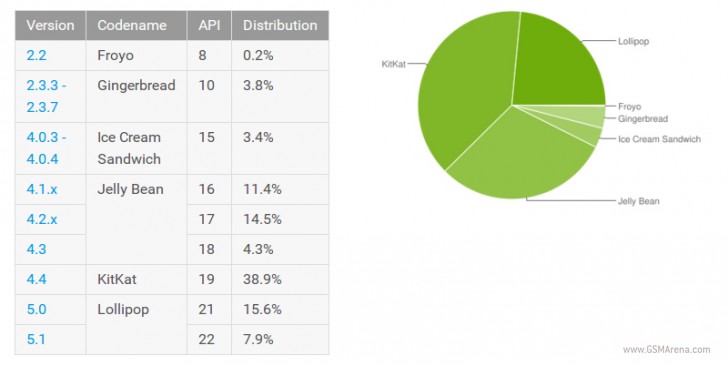 KitKat is down slightly, to 38.9% from 39.2% last month. The three iterations of Jelly Bean combined now have 30.2% market share, down from 31.8%. Ice Cream Sandwich falls to 3.4% from 3.7%, and Gingerbread goes to 3.8% from 4.1%. Oddly enough, Froyo is still stuck at 0.2% of installs, just as it was in September.
Older versions aren't part of this report because it's generated using data gathered from the new Play Store app, which only works on Android 2.2 Froyo or later. Next month we should see Android 6.0 Marshmallow in the chart for the first time, now that the new version is making its way to Nexus and Android One devices.
["source-gsmarena"]