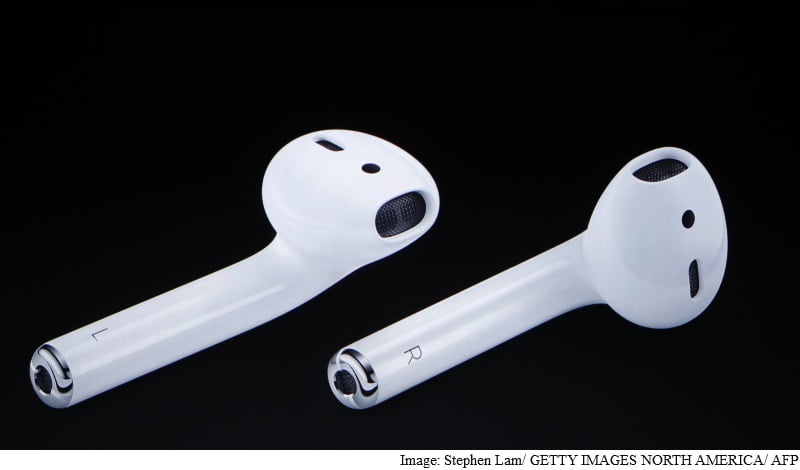 HIGHLIGHTS
Apple introduced wireless AirPods at its event on Wednesday
AirPods are powered by Apple's new W-1 chip inside
AirPods will be shipped in October and will cost $159 (Rs. 15,400)
After Apple's big announcement of the iPhone 7 lineup on Wednesday, there's probably one major question that's lingering in the minds of Apple fans: How will my life change without the iPhone headphone jack?
To be clear, users will still be able to use their older headphones thanks to an adapter that will be included with every iPhone. But it will be an odd vestigial tail, either sticking out of their phones or on the end of their headphones.
(Also see: iPhone 7, iPhone 7 Plus Price in India and Release Date Announced by Apple)
Apple, of course, has its own slick solution to the problem: AirPods – the company's new $159 (to cost around Rs. 15,400 in India) wireless ear buds – which look almost exactly like the company's current headphones but without the wires. In an ears-on demo, I was impressed with the design of the AirPods. It seemed a lot of thought went into making the little earpieces, which sit snugly in a case that doubles as an external battery.
(Also see:  Dropping the 3.5mm Headphone Jack Was the Right Move by Apple)Pairing the AirPods was very easy. An Apple employee at the demonstration table held a pair, in their case, next to the iPhone 7 I was holding. A notification popped up on the phone. I tapped to approve the connection. And that was it. There was no entering a Bluetooth code or listening for beeps, as is the case with other Bluetooth headsets.
(On other non-Apple devices, you will have to go through a normal Bluetooth set-up process.)
With the AirPods still in their case, we started playing a song through the iPhone speakers. When I popped the buds into my ear, the music immediately began to play through the headphones. When I took them out again, the music went back to playing through the phone – a seamless transition that should also work if you switch from using your iPhone to your iPad or Mac. It was all in all a very neat trick.
(Also see: iPhone 7, iPhone 7 Plus Say Goodbye to the Headphone Jack)
Double-tapping on one bud called up Siri, which was able to understand what I was saying even in a very noisy demonstration room. Sadly, it was hard to judge sound quality in a noisy room, but the headphones did an admirable job of blocking out a lot of noise while they were in my ears. The headphones also stayed put after a few jumps and head shakes, though I certainly didn't simulate any sort of vigorous activity, such as running, that could really knock them loose.
Despite being impressed with the AirPods, I'm worried about getting them after thinking about my own headphone use.
(Also see: Apple Is Betting Big on a Wireless World)
The headphones I use daily are not the ones that came with my phone – I bought these after misplacing my first pair in the chaos of a big move. In the past, losing a pair of headphones was annoying, but easily remedied with a sigh of regret, $15 and an airport magazine stand. Failing to keep track of the AirPods and their case would be a different story.
Even as I was typing up my impressions of the event, someone walked by and asked me a question. I popped one side of my headphones out by reflex and let it hang – an almost involuntary response that would send $80 of my money plummeting to the ground with an AirPod.
All in all, there was nothing wrong with the AirPods in the short demo I had. I'm not sure, however, if I would personally spend $159 for them – the convenience they offer for me is eclipsed by the fact that I don't trust myself with nice things. The AirPods are well-designed, but they're also perfect candidates for getting lost.
It's not them, it's me. But, I suspect, it's a lot of you out there, too.
© 2016 The Washington Post
Tags:
["source-ndtv"]