It's that time of year again in the mobile realm, when we wait impatiently as each major chip vendor unwraps its latest and greatest creation that could be powering your future flagship device. This time around promises and stakes are high, which is why we can't wait for a battle royal to take place, so we can crown a benchmark king (at this point it is likely we are more in it for the numbers and "bragging rights", rather than usability, but it is what it is).
The next big five we have our sights on are all here – Apple's A9 has been around for quite some time, due to the different release schedule, and still packs quite the punch. And, in camp Android, Samsung's Exynos 8 Octa 8890 is already official and so are the Qualcomm Snapdragon 820 and Huawei's new hope – the Kirin 950. Last, but not least, the Mediatek Helio X20 has also been here for a while.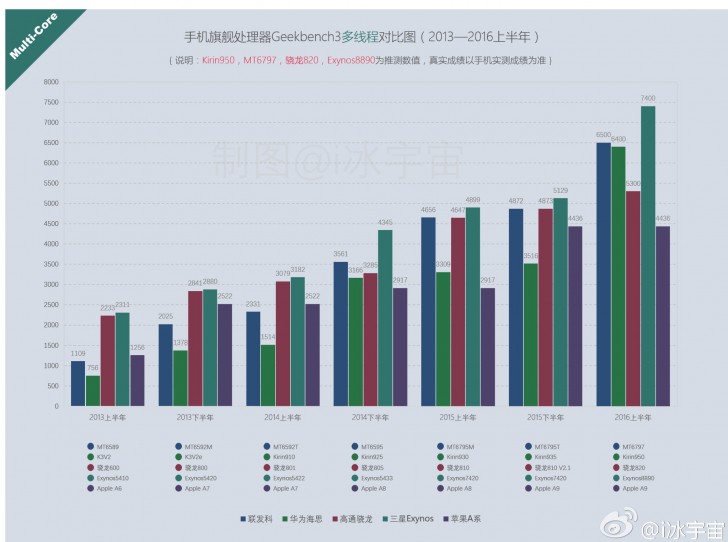 Benchmark scores have been flying all over the place, but it has been rather hard to pinpoint one set of comparable data. A new Chinese source claims to have done just that and the results spell out one thing loud and clear – the Exynos 8890 is the ultimate multi-tasking monster this generation has to offer.
The aggregated numbers come from Geekbench3 and present a neat and clear overview of how the top chip manufacturers and their respective creations stacked-up throughout the years. This time around, we can see that Samsung has a sizeable lead in multi-core performance with a whopping 7,400 points. Mediatek is runner up with 6,500 points and close by is the Kirin 950 with only a hundred less at 6,400. Apple's A9 is definitely lacking in this department scoring just 4,436.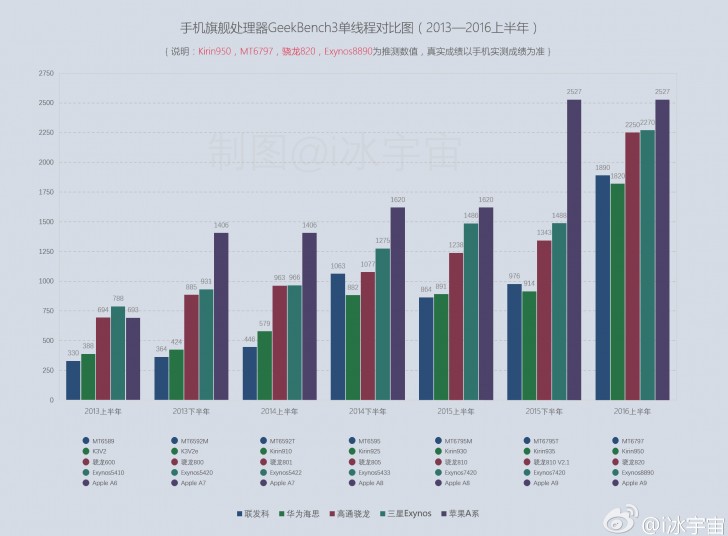 Still, don't be too quick to throw out your iPhone, as the Cupertino flagship may have only two cores, but they pack an incredible punch. An earlier chart, courtesy of the same source puts that in perspective, claiming that the A9 is capable of churning out 2,527 points on a single core, whereas Samsung's new custom-build cores can only reach 2,270.
But putting the endless Android vs iOS flame war that such data inevitably fuels, the fact is that it is still way too early to judge any kind of real-world performance on any of the next-get chips. All we can do is play the waiting game and see what each one delivers to end users in its future host devices.
["source-gsmarena"]