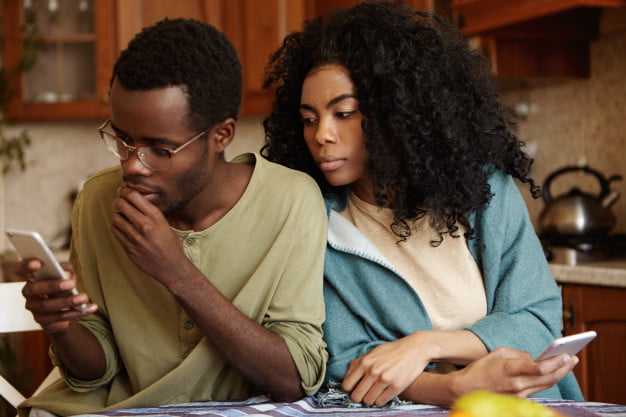 These days individuals know about how to use spy apps for getting boyfriend or girlfriend red-handedly in the wake of becoming more acquainted with around a couple of their certain swindling signs. The most recent spy administrations have solid highlights including call monitoring, internet use, text message, GPS tracking, social media spying, and numerous other successful highlights. Be that as it may, it's difficult to pick the best telephone tracker to discover deceiving boyfriends/girlfriends, as unmistakable programming has different highlights. We should examine on best spying programming beneath. So, see below how to spy on girlfriends phone…
How To Spy On Your Girlfriend's Cell Phone?
spy on girlfriends phone without touching it appears to be subtle however, all things considered, it is ideal for getting a tricking girlfriend. On the off chance that you have attempted to follow a portion of the strategies referenced above and have seen that there are some questionable signs, at that point you are prepared to continue to the following stage. Use apps to spy on girlfriends phone, a surveillance couple tracker application, to spy on girlfriends phone without her knowing it. This way you get all the data you need, and on the off chance that incidentally, doubts just existed in your mind, at that point maybe nothing has occurred and all things considered, it has done no hopeless harm. spy on girlfriends phone
There is some incredible girlfriend spy app for this reason as it is very covert and absolutely imperceptible while promises you full admittance to your girlfriend's cell phone! spy on girlfriends phone
How To Spy On Your Girlfriends Phone App Works?
In the event that you speculate your girlfriend might be undermining you, on the off chance that she unexpectedly began to worry and spend time with her companions, at that point you ought to be ready. Vulnerability is one of the most exceedingly awful emotions out there, so on the off chance that you feel something isn't right, you should attempt to get your girlfriend in the demonstration. Peruse on to figure out how to spy on your girlfriend mobile phone. Let's be honest, a PDA today is an inconceivable individual fortune. In the event that you spy on your telephone utilizing a spy application, you'll think pretty much anything you need without being found.
Track Your Girlfriend's GPS Location:
At whatever point she out of nowhere leaves, use Spy app for girlfriend to follow her area. Where is she going so late around evening time? Who are you meeting? You will have all the responses to every one of these inquiries as quickly as time permits. spy on girlfriends phone.
Track Your Girlfriend's Messages:
In the event that she's brilliant enough, she'll make certain to erase all conceivable incrimanotic messages from your telephone. Yet, the magnificence of Spy app to see my girlfriends texts is that it shows the total log of all messages sent, gotten, or erased, so you approach all that she's attempting to cover up. This applies to all stages of girlfriend whatsapp, Instagram, Snapchat, Messenger, and so forth. spy on girlfriends phone
Access To Your Girlfriend's Multimedia:
View all the pictures and recordings she has sent, gotten, or erased from her telephone. On the off chance that she has been trading sex with somebody, you will know. spy on girlfriends phone
Check Your Girlfriend's Call Logs:
Who has she been conversing with suspicious murmurs? For what reason is the work environment expected to consistently call you? You can hear her out telephone and see all the subtleties of her calls, who she's conversing with, the span and area of the calls, in a real sense everything. spy on girlfriends phone
View Your Girlfriend's Contact Details:
In the event that she has a man on the opposite side of the messages and calls that are continually appearing, you will thoroughly understand him! spy on girlfriends phone
Block Number:
On the off chance that you actually don't have any desire to say a final farewell to your girlfriend because you don't think you have enough motivation to make such an extraordinary move, you can take other, milder strides to ensure you never get paid again. nothing of that person. You have all the ability to obstruct the subject totally from the cellphone. So regardless of the number of texts he may send, or how regularly you attempt to contact your girlfriend, she won't get any messages or calls and in the end, you may lose intrigue and the other way around.
Apps To Spy On Girlfriends Phone:
Here I am giving information about some free app to spy on my girlfriends phone that will help you in spying girlfriend's phone and distantly making it simple for you to follow him from anyplace. These apps are the most useful and work expertly. You may effectively get a brief look at the exercises running on your girlfriend telephone with these apps. spy on girlfriends phone
Spyier:
This is another spy application that lets you watch out for your girlfriend's iOS or Android gadget. You can use it by following a couple of basic orders. The evaluating plans are great and financially savvy. Spyier has an electronic interface that lets you use this application with the assistance of any program. The simplicity of use is an extraordinary thing about this application. This is one of the how to spy on girlfriend. spy on girlfriends phone
Minspy:
Minspy works for the two iOS and Android working frameworks. This is truly sensible at cost and you won't discover anything better than this instrument with regards to performance. The client assistance group is truly useful and you can reach them about your quarries whenever of the day or night. spy on girlfriends phone
Spyic:
Probably the most ideal way that can be depended on is to go for Spyic as this cell phone monitoring application is perhaps the best one everywhere in the world. There are a large number of clients that are utilizing this radiant application because it has various highlights that very few other spy apps have to bring to the table.
Spyine:
The simplicity of use is the best thing about this application. By utilizing it you can without much of a stretch spy on your girlfriend's telephone at whatever point you have to. It is 100% safe to use and the orders are truly easy to execute. spy on girlfriends phone
Spyine offers more than one membership plan for users so go for the one that you think would be best as per your spying needs. It works in covertness mode so you are protected with this application. spy on girlfriends phone
FlexiSpy:
FlexiSpy is a useful application to have an eye on your tricking boyfriend or girlfriend. It is a huge online tracker that is bundled with all the basic and reformist highlights to spy your BF/GF, however, this administration isn't open for PCs and workstations. They are appropriate just with Android, iOS, Blackberry, and Symbian gadgets. FlexiSpy covers GPS following, call following element, Viber, covertness structure, BBM spy, Viber, and so forth For the membership of 1, 3, and a year, FlexiSpy is accessible at a cost of $69, $99, and $149. spy on girlfriends phone
Win Spy:
Win Spy telephone tracking application can discover effectively the contact subtleties, text messages, call logs, telephone accounts, Skype areas, calls, photographs and recordings, program history, and WhatsApp exercises of your boyfriend or girlfriend at just $39.95 every year. As of late Win Spy expressed about its arrangements to start selling numerous bundles, hence you can hand over a specific individual with a PDA that has the product preloaded in it from previously. spy on girlfriends phone
Neatspy:
This is the last application that can be used with regard to spying on your girlfriend's telephone. It is a user-accommodating application that works for any sort of working framework. Neatspy has unimaginable highlights that you won't discover anyplace else at this cost. This application is 100% secure for everybody to use. spy on girlfriends phone
Spyera:
Spyera is loaded up with great highlights including VoIP, message, call spy choice, display tracker, and social media, which will help in getting your backstabbing girlfriend or boyfriend. It is viable with Android gadgets (cell phones and tablets), iOS gadgets (iPad and iPhone), and Blackberry, Windows, and Symbian telephone gadgets. This application is renowned because of its incredible help for particular IM, WhatsApp, Facebook Messenger, BBM, Hangouts, Snapchat, and iMessage that is used by your accomplice and can easily detect your BF/GF's duping signs. Spyera's PC is accessible for $50, $60, and $70 for 3, 6, and a year correspondingly. Its wireless rendition starts from $150. spy on girlfriends phone
XNSPY:
Xnspy is the most impressive and non-meddling versatile spy application that encourages you in monitoring the exercises of your swindling spouse. With the most developed highlights, you can see call history, text messages, contact lists, messages, photographs, and recordings at just $4.99 every month. You can get to visits and multimedia records shared on texting apps, as Facebook, Skype, WhatsApp, and parts more. You can tune in to their call chronicles and encompassing, as well. Presently, you can follow the GPS area of your deceiving accomplice as well as even make a geo-wall for a closer watch. Xnspy sends you moment alert on your "Watchlists" for words, contacts, areas, and email locations, and hence you can screen all the exercises of your accomplice's telephone without telling them! spy on girlfriends phone
Couple Tracker:
Couple Tracker is accessible on Google Play Store. Both Boyfriend and girlfriend should agree to leave their advanced action alone checked, so they can without much of a stretch screen calls, texts, GPS area, and Facebook exercises of one another from afar separation. Here one thing to note is that the two of them have a way to deal with the initial 30 characters of one another's texts; in this way, they can follow their GPS areas in a short time. This is one of the apps to spy on girlfriends phone.