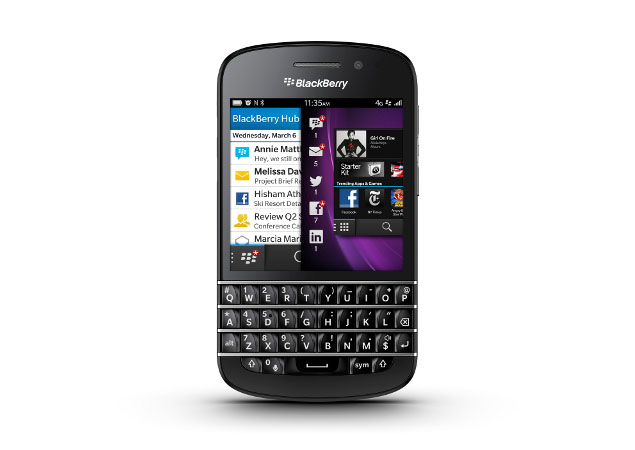 BlackBerry OS 10.1 details leaked ahead of its release
BlackBerry had recently launched a brand new operating system BlackBerry 10 (Review) and launched an all-touch smartphone based on this operating system – BlackBerry Z10 (Review | Pictures). The company is said to be rolling out an updated BlackBerry OS 10.1 version to coincide with the launch of BlackBerry Q10.
Folks at bbin have posted purported pictures of what this update will look like and also detailed what new features will be available through this update. BlackBerry Q10 seems all set to start shipping in the UK. It is expected to be available to UK customers by the end of this month.
The new features that will be allegedly introduced via BlackBerry 10.1 include Type N Go, Word Prediction, Mnemonic Phone Dialing, BlackBerry Mobile Voice System Support, Dark Theme Support, Out-of-Box-Experience and Smartcard Support.
As per the website, the new Type and Go feature will take the universal search to the next level. To use the Type and Go features, the users will have to press spacebar to initiate the search, followed by command. The command includes sending BBM, BBM Videocall, email, SMS, MMS, call or updating Facebook/ Twitter status message or creating a note.
Word_Prediction_Q10_Z10_Comparison.jpg
The Word Prediction feature in the BlackBerry Q10 will work almost like that on the Z10. The three the predicted words will appear on the screen just above the physical keyboard and the user can tap the words as they appear.
With the help of Mnemonic Phone Dialing users can punch in the name or number of the person they desire to speak with.
The BlackBerry OS 10.1 will support BlackBerry Smart Card Reader 2.0. However, all the previous versions of the BlackBerry Smart Card Reader will not be supported. This operating system is also expected to arrive with BlackBerry Balance, Cross Domain Email Warnings and Corporate Liable features.
The company has indicated that some of these features will behave differently on BlackBerry Q10 vis-a-vis Z10 because the former comes with a physical keyboard. Blackberry has already made the BlackBerry 10.1 SDK available for download through its developer website.
Tags: BlackBerry, BlackBerry 10, BlackBerry 10.1, BlackBerry Balance, BlackBerry Mobile Voice System Support, BlackBerry Q10, Corporate Liable Feature, Cross Domain Email Warnings, Dark Theme Support, Keyboard Shortcuts, Mnemonic Phone Dialing, Q10, Smartcard Support, Type N Go, What's New, Word Prediction
["source-ndtv"]