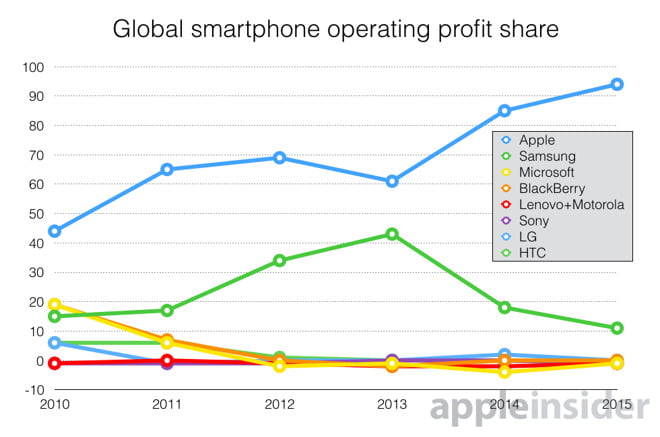 In Q3 2015, of the total smartphone industry profits, Apple's share stood at a whopping 94%, according to a latest report by market research firm Canaccord Genuity. That's up from 92% last quarter and 85% a year ago.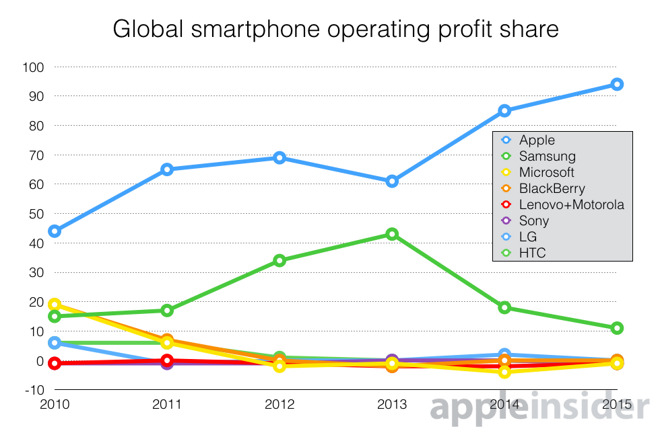 While Apple's share speaks for itself, what makes it even more remarkable is the fact that the Cupertino-based company's contribution to the smartphone market stood at just 14.5% (48 million units). FYI, the average selling price of iPhones in Q3 this year was $670, which translates into a 37% operating margin.
Samsung, which shipped a total of 81 million smartphone units in Q3 (24.5% of the total units shipped in the quarter), was a distant second with 11% share of the total profits. The average selling price of the South Korean company's phones was just $180 in the quarter.
While the combined profit share of Apple and Samsung exceeds 100%, the net figure comes back to 100% considering the losses reported by other major players – including HTC, BlackBerry, Sony, and Lenovo – in the high-end smartphone segment, the report notes.
["source-gsmarena"]