Once upon a time Doom was installed on more computers than Windows 95. Microsoft tried porting the game to boost the popularity of its new OS (an effort lead by one Gabe Newell), but Doom would be ported to just about every platform you can think of – including many phones.
Our story begins before app stores were popular and worse, there were so many mobile operating systems. So this was a bit more complicated than putting a game up on the Google Play Store and the Apple App Store.
CDoom was one of the earlier ports, published in 2001 for the Nokia 9210 Communicator (9210i and 9210c as well). Owners enjoyed the early 90's graphics on the large (for the time) 4.5" screen with super high 640 x 200px resolution.
The 52MHz processor and limited RAM meant that the game ran at just 3 fps and used up almost all the available memory. There was no sound and no multiplayer. Despite a laptop-like form factor with a full QWERTY keyboard plus a D-pad, controls were hardly comfortable.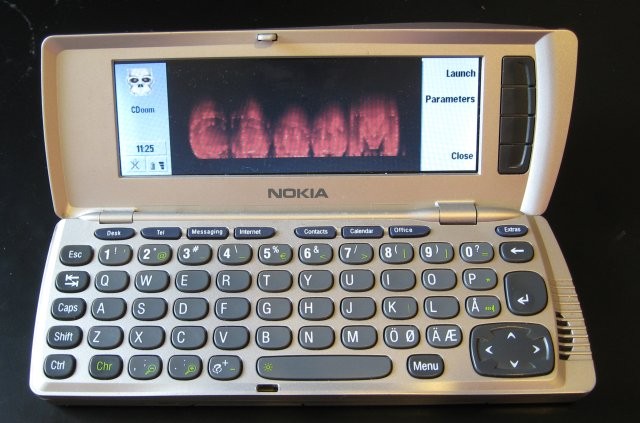 Cdoom running on the Nokia 9210 Communicator
There was a sequel called C2Doom. This did have multiplayer that ran over Bluetooth as well as audio.

Sony Ericsson phones had their own port, SeDoom, which ran on feature phones like the W810, T700 and others. This port (and many others) supported custom WAD files – id Software's custom map and character storage file – so the game could be skinned to look like ports of Quake, Wolfenstein and even non-id games.

Then there was 2005's Doom RPG – not the original game, but a turn-based RPG set in the same universe. There was a J2ME implementation, the prevailing featurephone platform at the time, but also versions for BREW and BlackBerry.

When the iPhone came out in 2007, a Doom port appeared quite quickly – the phone was released in June, the game arrived in August.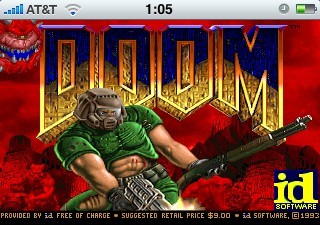 There was also Rockdoom, which was made for MP3 players. It supported 5th generation iPods, but also players from iriver, Sandisk and others.
Microsoft's Zune players got two Doomports. You could use either touch controls (which cramped the screen)or the accelerometer.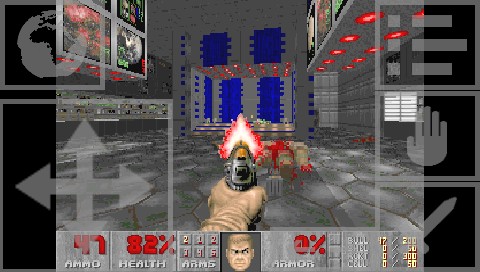 In 2010 an intrepid XDA member ported Doom Blood to Windows Mobile so you could play on your HTC Touch Pro (complete with slide-out QWERTY keyboard), HTC Diamond or other handsets.
Naturally, there are Doom ports on modern platforms like Android and iOS. Someone even made a Doom-themed live wallpaper. But those lack the double dose of nostalgia of playing the seminal first person shooter on a mobile phone barely fast enough to live up to the performance of an early 90's PCs.
["source=indiatoday]