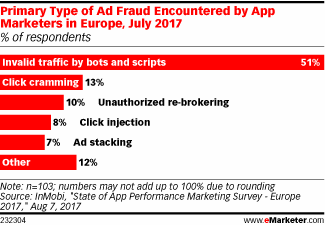 Ad fraud's tendrils have snaked their way into pretty much every corner of the online world. Research from InMobi found that even in Europe, nearly three-quarters of app marketers polled in July 2017 believe ad fraud presents a serious problem to their operations.
The survey found that ad fraud was the second most widespread concern that app marketers have to deal with, behind only attribution. But only 44% of app marketers in Europe said they had a strong understanding of ad fraud and its potential impact on campaigns.
The respondents identified invalid traffic from bots and scripts as the most commonly encountered ad fraud practice. Click cramming, unauthorized re-brokering, click injection and ad stacking were all also reported as problems, but to a lesser degree.
So what's the answer? It appears to be finding trustworthy partners. Sixty-two percent of the app marketers surveyed said they would sign up with trusted ad networks, the most popular response. In addition, almost one-third would forge direct relationships with publishers to avoid fraudulent traffic and problems, while nearly the same number would require full transparency and reporting from their digital ad partners.
A majority of app marketers in Europe feel the industry has not done enough to address the issue, and nearly 40% said that no amount of mobile ad fraud is acceptable.
That's a lofty goal, especially considering that a study conducted earlier this year by Adloox for The&Partnership estimated that digital ad fraud will cost advertisers $16.4 billion globally this year, up from $12.5 billion in 2016.
source:-emarketera