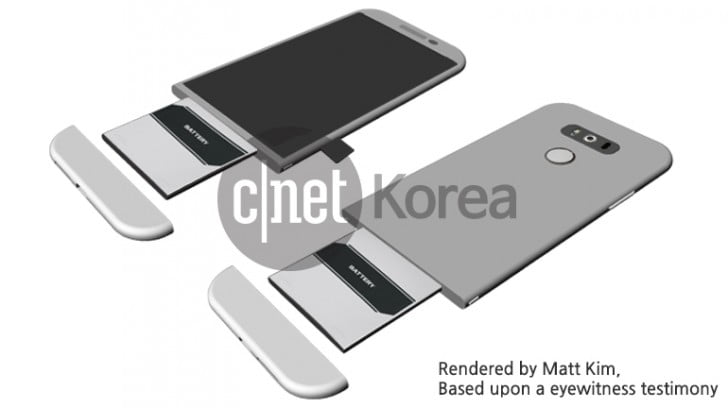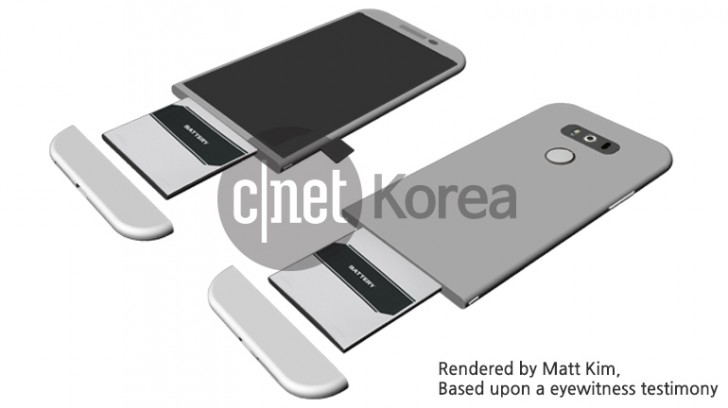 Quite a lot has been said about LG's upcoming G5 and rumors are only intensifying now that the MWC is only hours away. But perhaps the most outlandish concept of them all, was a modular design, of sorts, that would be put in place in order to preserve the removable battery of the handset. While not unheard of, the idea did seem quite unrealistic back in January, when it was initially leaked in renders, but now, oddly enough, a new photo seems to definitively prove its existence.
The shot looks to depict a box, quite possibly for the LG G5 itself. The graphics on top clearly show a user-removable battery, held in place by a removable bottom segment of the phone. The G5 marking is also clearly visible and so is a slogan – "Life's good when you play more", which all leaves no doubt that the module belongs to the new flagship.
But, LG's ambitions apparently didn't stop at merely a swappable battery without a bulky back cover. You might remember that back in December 2015, we reported on a rumor for the G5, hinting at something called a Magic Slot, which would allow some expansion with hardware modules. It appears that the sliding mechanism is actually what LG is referring to and batteries aren't the only things the OEM is planning to put inside. Various rumors hint that LG is working on a number of Magic Slot accessories, including a specialized photography grip and an advanced DAC.
The former will allegedly be called the LG Cam Plus. The bulky contraption will offer a nifty handle and balance point for improved hand-held photography, as well as convenient hardware buttons for shutter release, zoom and flash toggle. Also, an additional 1100 mAh battery is said to fill the space inside. As for the DAC, industry sources believe it is developed together with Bang and Olufsen and will be called the LG Hi-Fi Plus with B&O Play.
Of course, if the module system is as powerful as these rumors lead us to believe, more interesting concepts are sure to come as well. And best of all, you can just pop any of them out and store them when not in use, to end up with the stock LG G5, which even minus the accessories is already said to have a few interesting features of its own.
Just as a reminder, the G5 will be unveiled on February 21 and its expected feature highlights include a Snapdragon 820 SoC, 4GB of RAM and 64GB of storage and a 5.3 or 5.6-inch QHD display. A 16MP plus 8MP dual rear camera setup should also be part of the mix and last, but not least – a secondary always-on display, laid out on top of the main one.
["Source-gsmarena"]