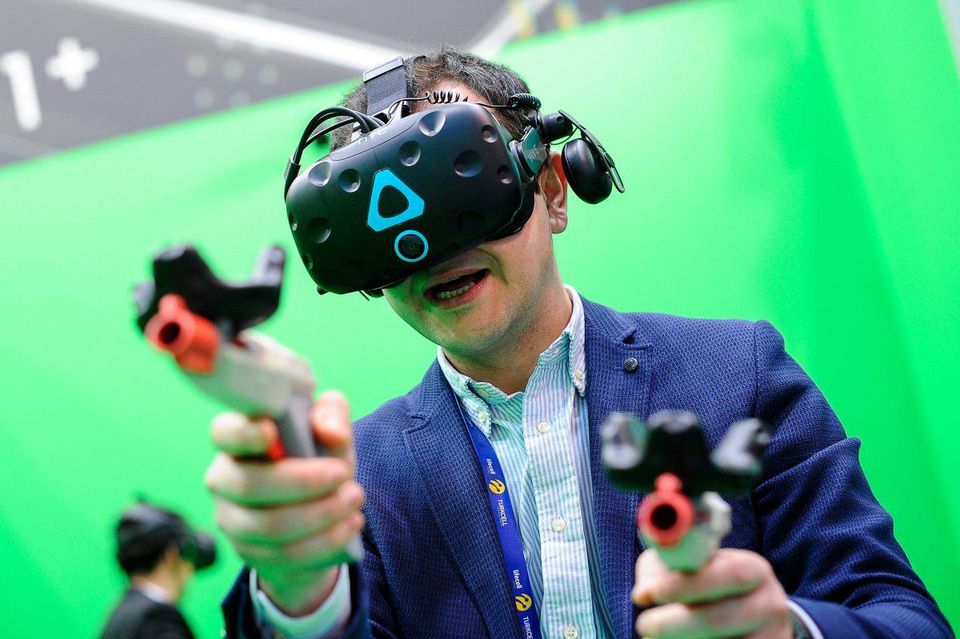 HTC posted yet another loss last quarter. The smartphone maker reported Monday that it had a net loss of NT$2.6 billion ($84.7 million) in the third quarter, as investments in virtual reality gear and a blockchain phone had yet to start paying off for the company. HTC has reported a string of losses in recent years, including a loss of NT$2 billion in the prior quarter.
The Taiwan-based company has been seeking to diversify its revenue stream due to rising competition from other Android handset producers and a global slump in handset sales. The company said it revenue came in at just over NT$4 billion for the same period covering July through September.
"HTC's smartphone market share remains not far from zero in most of the entire world," says Neil Mawston, executive director of wireless practice with Strategy Analytics in the United Kingdom. The 21-year-old firm lacks critical exposure to customers, he suggests.
HTC's market share had peaked at 10.7% in 2011. And market research firm IDC now estimates that it's fallen to 1%, as a result of competition that has eaten into its sales channels through marketing and carrier deals. Smartphone shipments will fall 1.3% across brands this year — an industry first — compared to 2017 as consumers buy pricier models but wait longer than before to replace them, Counterpoint Research says.
New technology, low demand
Last quarter, HTC debuted its Exodus 1-model blockchain phone and announced the U12 Life handset. The U12 Life is supposed to stand out from the competition due to its high-end specs being offered at a mid-range price. The U12+ from the same handset series distinguishes itself for its camera features, but so do its peers. These flagship models, while considered technologically sound, still lack a strong following among consumers.
"Smartphone shipments continued to tumble for HTC with its latest phones such as the U12+ not being able to create any dent in the market, to the extent that HTC has started exiting many markets globally," says Kiranjeet Kaur, a research manager with IDC's Asia Pacific Client Devices group. For example, HTC reportedly pulled out of India earlier this year.
More on Forbes: Is Sony Quietly Giving Up On PSVR?
"HTC continues to launch gimmicky models, like the Exodus 1 blockchain phone, without addressing its core problems of limited distribution channels, a deflated sales force and a shattered brand name," Mawston says.
Cher Wang, HTC's chairwoman, has said that she wants the company to focus on developing new products for the mid-tier smartphone market, and that she hoped to improve the company's image overseas. China still represents a major mid-tier market, but domestic Android brands now dominate it.
As a testament to HTC's woes, it laid off one-fifth of staff this year and sold another 2,000 to Google. It reported a net loss of NT$16.9 billion in 2017, its third straight year of failing to turn a profit.
Heavy spending in the third quarter
HTC's latest quarterly loss was attributed to its recent heavy spending. It reported a gross margin of 4.7%, the third consecutive quarterly increase, but an operating loss of NT$2.79 billion with operating margin of -68.9%. An operating loss means expenses exceed gross profit.
The company aims to "continue investments" in "future technology," it says in a November 12 statement.
It kept pumping money into its Vive-branded virtual reality gear including software platforms, the statement says. Vive may help HTC survive. HTC will keep "streamlining its operations," Kaur says, but virtual reality gear is "is doing reasonably well" in Asia. It's often ranked as a top brand along with brands owned by Sony and Facebook.
HTC would agree. "VIVE has paced at its highest sales velocity of all time, for weeks on end, and we sold out," it said here in July. "For a consumer electronic product in its third calendar year, this continued trajectory is nearly unheard of."
["source-forbes"]