With the HTC 10 getting long in the tooth, and 2017 fully underway, it's time to look forward to the next big thing from HTC.
HTC has already started making waves, with the launch of the HTC U Ultra and the HTC U Play. Although the U Ultra has flagship specs, it's not actually HTC's flagship device for 2017, with a higher-spec device expected during the year.
So what can we expect from HTC's next flagship handset? We're sifting through the rumours to build a picture of HTC's next superphone.
HTC Ocean: The name
The HTC Ocean first appeared when a video surfaced showing an HTC handset with no physical controls, instead relying solely on gestures, touch and voice. No sooner had Evan Blass shared the HTC Ocean concept video, but another familiar name in HTC leaks joined the party. In isolation, a single leak could be dismissed, but with @LlabTooFeR adding three codenames to the mix, it made things more real.
The Ocean Note launched as the HTC U Ultra and the HTC U Play was codenamed Alpine – perhaps one of the other devices on this list, but HTC Ocean still exists.
As for the final go-to-market name, we don't know officially yet, but Chialin Chang, HTC's president of smartphone and connected devices business, confirmed in an interview with Engadget that it wouldn't be called HTC 11.
There have been plenty of suggestions that it will be called the HTC U though, adopting some of the features of the U devices that have already launched. This name is further supported by an invite from HTC with a "U" being the main focus.
More recently however, Evan Blass of VentureBeat has claimed sources have said the new device will be called HTC U 11, tying the two names together. It goes slightly against what Engadget reported in that HTC 11 wouldn't be a market name but HTC U 11 is a little different so still plausible.
There has also been a HTC Vive branded handset appearing in what appears to be an HTC promo video however, which might suggest that HTC is making a bigger play to VR with its flagship handset, so the name is currently still unconfirmed.
HTC U Ultra preview: Premium phablet packed with power
HTC U Play preview: Mid-range specs, but plenty bling
HTC U 11: Touch navigation and a new UI
Touch sensitive frame
Sense Edge feature
AI supported interaction
The original leaked video purports to demonstrate the "Sense Touch" user interface and was discovered on Danelle Vermeulen's website. Vermeulen is a visual and motion designer, although it is declared that the phone is a concept, raising some doubts as to how much can be drawn from this video in terms of design.

The video suggests that there will be touch-sensitive zones around the phone and demonstrates a heavier use of voice than we might typically go for. Although this looks like a concept, regular leaker Evan Blass took to Twitter again to say that HTC Ocean exists in late 2016.
More recently, this Sense Touch UI has seen a second appearance in another video. This appears to be much more professionally produced and is obviously an HTC handset, from the on-screen icons and the 10:08 time on the display, HTC's signature.
The interesting thing about this second video is that it shows people doing something with the handset, swiping down the edges to scroll through apps. This is said to be thanks to a touch-sensitive frame, according to detail leaks from Venture Beat.
What perhaps pulls the video leak down is that the rear of the phone, seen out of focus in several shots, looks a lot like the HTC One A9, so it's probably a dummy being used and not too useful from a design point of view.
However, this "edge" feature has appeared again, shared by @evleaks.
View image on Twitter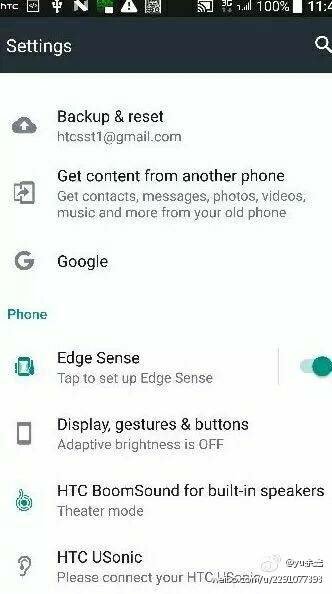 This leak appears to show a menu option for Edge Sense, suggesting that this is how you'll control that edge feature. It's starting to look and feel a lot like the Edge Screen feature offered by Samsung, but here triggered though the touch-sensitive frame.
The invite release by HTC itself also hints at the touch-sensitive frame, with the words "squeeze for the brilliant" at the top and the "u" we mentioned previously with slightly caved in sides. It's a huge hint at the new technology reported to be coming, as is a tweet with a video also released by HTC at the time of the invite.
HTC U 11: Design
Metal likely
IP57 rating expected
Touch-sensitive frame
As this is an HTC flagship, we'd fully expect a full metal unibody and the recent launch of the HTC Bolt (Sprint) or HTC 10 Evo (everywhere else) introduces another missing feature and that's waterproofing. We'd expect HTC flagship to carry an IP57 rating, but we'd also expect it to lose the 3.5mm headphone socket in the process – with the U Ultra and U Play launching without a 3.5mm headphone jack, that's pretty much guaranteed.
Photo leaks have been few and far between, though Evan Blass did recently tweet a couple of pictures showing what is claimed to be press shots of the HTC U 11. It appears to show a glossy finish, a capacitive button on the front and a circular camera lens on the rear with a flash on the left. Blass has also suggested the device will come in five colours.
In the tweet from HTC announcing the event date though, the video posted shows a device with a screen that seems to take up the entire front of the device, putting into question the button seen on the shots from Blass. In the video, the hand holding the device gives it a small squeeze indicating something will happen but it doesn't show what.
There has also been an interesting video that focuses on personalisation, showing off three different design approaches, called chemical, fabric and litmus.
Previously leaked photos showed off the HTC U Ultra so we're waiting to see a few more leaks on top of Blass's tweet for the new device. All we know at present, is that the rumours suggest a 5.5-inch size, along with that touch sensitive frame that will allow you to squeeze and swipe with customisable gestures.
HTC U 11: Hardware and specs
Qualcomm Snapdragon 835 predicted
64GB storage + microSD expected
USB Type-C and no 3.5mm headphone socket
HTC used the SD821 in the U Ultra, but also said to us that this wasn't the flagship, suggesting there's a 2017 device with higher spec coming, likely to be the Qualcomm Snapdragon 835. There's an interview with Chialin Chang, HTC's head of devices, in which the exec says: "When the next flagship CPU comes, HTC will be one of the very first tier doing that."
The SD835 has been suggested by Venture Beat and the timing makes us think this is correct. We'd expect at least 4GB of RAM and storage from 64GB, with support for microSD card expansion.
These stats are also repeated in an AuTuTu screenshot appearing in Weibo, but we've seen plenty of AnTuTu screen being faked in recent times.
We've mentioned USB Type-C already and that's a certainity. Having developed its excellent USonic Hi-Res USB Type-C headphones and the funky auto-tuning feature, we'd expect this and BoomSound HiFi edition on board. It's also thought 3D audio recording will be on board thanks to four microphones placed around the device.
So far HTC's 2017 handsets have placed a fingerprint sensor on the front, as per 2016, and we'd expect the HTC U 11 to be the same.
Samsung Galaxy S8: Release date, specs and everything you need to know
HTC U 11: Display
5.5-inch 2560 x 1440 pixels likely
Could have curved edges
HTC opted for a 5.2-inch 2560 x 1440 pixel resolution on the HTC 10. There's a question over whether HTC will opt for LCD; AMOLED was used for the Pixel, and HTC used AMOLED in the One A9 too.
A rumour suggesting details of the display says it will be 5.5-inches, with a 2560 x 1440 pixel resolution. So far, so Pixel XL. With HTC putting that display into Google's phone, it's no surprise to see it mentioned again. However, the interesting suggestion is that it will be curved, i.e., fairly close to the Samsung Galaxy S7 edge. That would be a change of direction for HTC, but might allow some of the smart interaction that's being demoed in those videos – the Edge Sense.
This size has been suggested by Venture Beat too, so we're pretty confident this is what you'll get.
HTC U 11: Software
Android Nougat and HTC Sense 9
Google Assistant
HTC Sense Companion
Edge Sense
One thing that's certain is that HTC's next flagship will launch with Android Nougat. For the HTC 10 the company took a lighter approach, stripping away a lot of the additional bloat for a cleaner Android experience, turning to stock Android apps rather than duplicating with its own and that's the software build on the HTC U Ultra and U Play.
We'd expect that to include the full Google Assistant. The talk from that concept video revolves around some of the things that Google Assistant already offers and with HTC Sense Companion, a new app designed to make your phone more personal using AI, all these things fit together nicely.
As menu support for the new Edge Sense feature has already leaked and there's more established discussion about the touch-sensitive frame, this looks like HTC's major push on this handset.
What is Google Assistant, how does it work, and when can you use it?
HTC U 11: Cameras
12-megapixel rear camera, 1.55µm pixels, f/1.8 likely
16-megapixel front camera with UltraPixel mode expected
HTC's track record with cameras has been a little rocky over the past few years. Currently, there's no indication of where the company might turn. The leaked video, however, did feature a dual camera setup on the rear of the HTC Ocean. A dual camera also appears on the rear of the Vive handset.
HTC was one of the first companies to put a dual camera on a smartphone with the HTC One M8. That wasn't a huge success, but things have moved on and recently we've seen the likes of Apple adding a dual camera to the iPhone 7 Plus, although, we still think that dual cameras aren't perhaps worth the return.
With HTC fitting the Google Pixel with a pair of excellent cameras, however, it would be no surprise for HTC to use the same hardware again. That's suggested in a rumour appearing on Weibo, saying that "HTC 11" will have a 12-megapixel rear camera and 8-megapixel front camera, the same as the Google Pixel, although the U devices opted for a 16-megapixel front camera with a pixel combining UltraPixel mode.
It's this latter arrangement – 12MP rear and 16MP front – that's supported by Venture Beat, who also adds that it will have a newer Sony sensor than the HTC U Ultra. The U Ultra camera is good, so the HTC U should be a good performer too.
["Source-pocket-lint"]