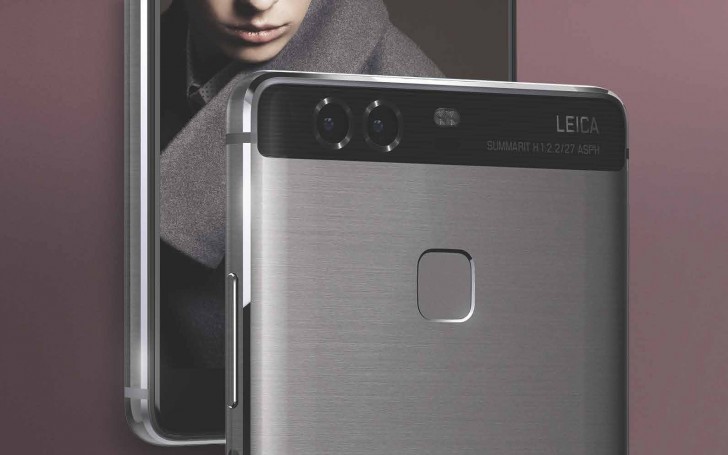 After a buildup lasting several months, with leaks and rumors coming in almost daily, the Huawei P9 is now finally official, announced at a dedicated event in London. And alongside the
The Huawei P9 is the regular-sized flagship, though we're inclined to call it the small-sized one – it has pretty much the same footprint as an iPhone 6s. Display diagonal is 5.2 inches, resolution is 1080p, and it's an IPS LCD panel.
It's the in-house Kirin 955 chipset powering things, a modified version of the Kirin 950 inside the Mate 8. Its octa-core CPU is set at 2.5GHz for the quad-Cortex-A72 cluster and 1.8GHz for the quad-Cortex-A53.
There will be two versions – the lower-specced one containing 3GB of RAM and 32 of storage, and the better-equipped one with 4GB and 64GB storage. A microSD slot provides an option for expansion.
It's all about the camera though, the dual setup being the headline feature. Co-developed with German optics specialist Leica, the P9's rear shooter consists of two 12MP units, one capturing color, the other seeing only black and white. And varying levels of gray, naturally. They work in unison to deliver more detailed shots in good light and significantly reduce noise in low light.
For those fond of numbers, lens aperture is f/2.2, and the field of view is equivalent to a 27mm lens in 35mm terms. Autofocus relies on a combination of laser, contrast and depth calculation (likely an algorithm based on the differences between what the two cameras are seeing).
There's a dual-LED flash to help in the dark, but the big omission here is OIS. We figure it's impossible to stabilize both cameras identically, and with the monochrome one helping in less than ideal conditions, the lack of stabilization shouldn't be missed.
The body is made from aluminum, and resembles the existing Huawei-made Nexus 6P, especially the camera strip on the back. The fingerprint sensor is on the back, for immediate access with either forefinger.
The P9 packs a 3,000mAh battery, and changing takes place via a USB Type-C connector.
P9 we're also being treated to a P9 Plus, instead of the previously rumored P9 Max.
["Source-gsmarena"]