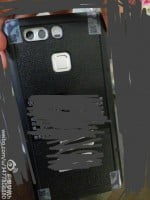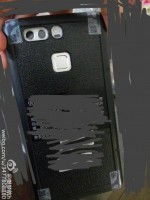 The Huawei P9 hasn't exactly been the best kept secret, with images detailing its dual-camera setup dating as far back as October. Schematics of the smartphone came out last month followed by full-color renders, but it is only now that we get to see the P8 successor out and about.
The couple of live images serve to confirm the arrangement on the back with the pair of lenses sharing a single glass panel in one, and then seemingly separate ones in the other. The dual-LED flash and possibly a laser autofocus window are both revealed, and a fingerprint sensor is where we've come to expect it from Huawei. However, the phone is fitted in a case on both occasions, so design details have been kept from prying eyes.
  Not so with the other leak, which allegedly shows the P9's outer frame in the latex-clad hands of an engineer/assembly worker. Controls and ports placement checks out with existing P9 cases, so we are likely looking at the real deal.
["Source-gsmarena"]