A total of 355.2 million smartphones were shipped worldwide in Q3 this year, which is the second highest number on record, according to a latest report from market research firm IDC. When compared to Q3 2014, that's a 6.8% growth – a total of 332.6 million units were shipped in that period.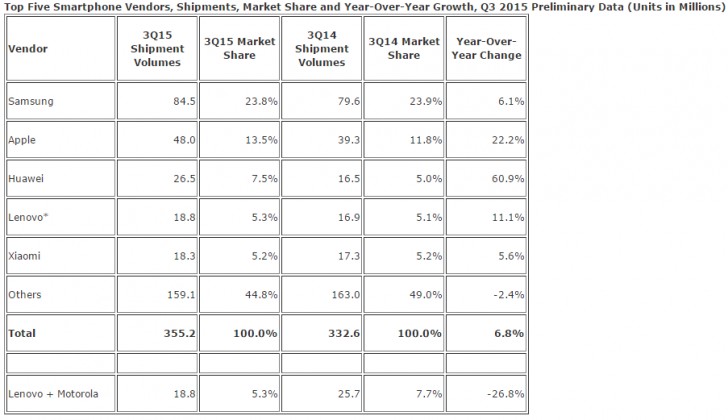 The total number of smartphones shipped in Q3 this year, however, was less than what was predicted (363.8 million) by IDC, which blamed slightly lower than expected iPhone shipments and pricey Android flagships for it.
As for individual smartphone vendors, Samsung again topped the list with 84.5 million units shipped, up 6.1% from last year, while Apple came in second with total shipments of 48.0 million units, up 22.2% from the 39.3 million units last year. Chinese companies Huawei, Lenovo, and Xiaomi rounded up the top five.
It's worth mentioning here that IDC's estimate for Huawei's Q3 shipments (26.5 million) is less than what the Chinese company itself revealed yesterday.
"The vendor landscape and product offerings are really unique at the moment as many markets are seeing consumers become more aware of alternative buying options when it comes to paying for their smartphone," said Ryan Reith, Program Director with IDC's Worldwide Quarterly Mobile Phone Tracker.
"In mature and subsidized markets, we now have a wide range of operators offering equipment installation plans (EIP), as well as early trade-in options. At the same time the number of unlocked/off-contract offerings has increased significantly and it's slowly starting to resonate with consumers. Within these markets these moves will put pressure directly on Android OEMs with offerings that are greater than $500."
["source-gsmarena"]