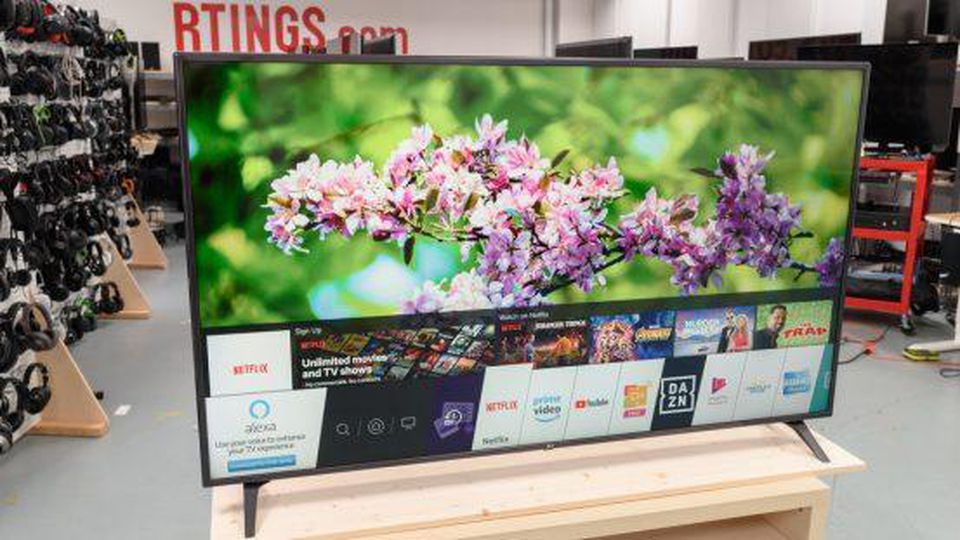 The LG UM8070 is a good 4k TV with decent picture quality, great overall motion handling, and excellent low input lag. It has a great contrast ratio and great black uniformity, but it lacks a local dimming feature, so dark-room performance isn't perfect. Unfortunately, it can't get very bright in HDR, and it can't display a wide color gamut, so HDR content doesn't look as good as it should.
Note that we tested the 82" version, which has a VA panel. The 86" model has an IPS panel, which likely has better viewing angles but worse dark room performance.
Pros
+ Very low input lag
+ Excellent response time
Cons
– Limited HDR performance
– No local dimming
Design
Type: LED
Sub-Type: VA (82″), IPS (86″)
Resolution: 4k
This TV has a basic design. It's supported by two feet placed at opposite ends of the frame, so it requires a very large table if you're not VESA mounting it. The borders are a bit thick, but given the size of the TV, they don't stand out that much. Unlike higher-end LG TVs, there is no cable management at all, and the inputs face out from the TV, which isn't ideal. Overall though, it has decent build quality, with a metal back and sturdy design, and there are no obvious weak points or issues with the design.
Picture Quality
The UM8070 delivers overall picture quality. It has a great contrast ratio of 4173:1, so blacks look black in a dark room instead of gray, and it has great black uniformity, but there's no local dimming feature. In SDR, it reaches a peak brightness of about 234 cd/m², which might not be bright enough if you're in a bright room, and HDR real scene peak brightness is only 270 cd/m², which is far too dim, and highlights won't stand out at all in HDR.
It has decent gray uniformity, but there is noticeable dirty screen effect, so this might not be a good TV for sports fans. The 82" model has mediocre viewing angles, as it uses a VA panel, but the IPS panel on the 86" model likely has much better viewing angles. This TV has good accuracy with our pre-calibration settings, though, so most people won't have to worry about having it calibrated. This TV has excellent gradient handling, which is great for movie-lovers, as there is very little banding in areas of similar color.
Motion
Overall, the LG UM8070 has great motion handling. The average 100% response time is only 8.9 ms, which results in very clear motion, with very little blur behind fast-moving objects. This lack of blur isn't great for watching movies, though, as this results in stutter, which is especially noticeable in slow, wide-panning shots. There's an optional motion interpolation feature, which can help to reduce the amount of stutter, but in busy scenes there are some noticeable artifacts. It can remove judder from all 24p sources, though, which is great for watching movies. The UM8070 doesn't support any of the variable refresh rate technologies, like AMD's FreeSync, which might disappoint some gamers.
Inputs
The LG UM8070 has outstanding low input lag of around 15ms in most modes, which isn't as fast as high-end gaming monitors but still delivers a responsive gaming experience. Even outside of game mode, the input lag is very low, at around 35ms, which is low enough for most casual gamers. It supports most of the common supported resolutions, including 1080p and 1440p @ 120Hz, which is great for gaming.
It has a great selection of inputs, with four full-bandwidth HDMI 2.0 ports, but it doesn't support any newer technologies like eARC or HDMI 2.1. Like most of LG's lineup, this TV supports Dolby Vision and HDR10, but it doesn't support HDR10+.
Sound Quality
Unfortunately, the UM8070 has mediocre sound quality. The low-frequency extension (LFE) is high at about 150Hz, so the bass has no thump or rumble, and almost no punch. Above the LFE, the response is relatively flat, resulting in clear dialog. It gets decently loud, but it might not be loud enough for a noisy environment. For better sound, a dedicated speaker system or soundbar is recommended.
Features
Like the other LG TVs we've tested, the UM8070 runs LG's WebOS smart interface. The interface is fast, easy-to-use, and well-organized, and it has one of the widest selections of smart apps available. The included remote is extremely easy to use. It can be used as a virtual pointer, so menus are extremely easy to navigate.
Unfortunately, there are ads throughout LG's smart interface, including on the home menu, and in the content store. These ads can't be disabled, and there's no option to opt-out of suggested content, either.
Who Should Buy It?
The LG UM8070 is a good TV for most uses. It doesn't deliver a very enjoyable HDR movie or gaming experience, but it's a great choice if most of the content you watch is in SDR. It has excellent low input lag and a fast response time, making it a great choice for SDR gaming. It's a good TV for watching TV shows, as LG's WebOS has an impressive selection of streaming apps, great for cord-cutters, but the narrow viewing angles and low peak brightness aren't great for daytime viewing.
["source=forbes"]