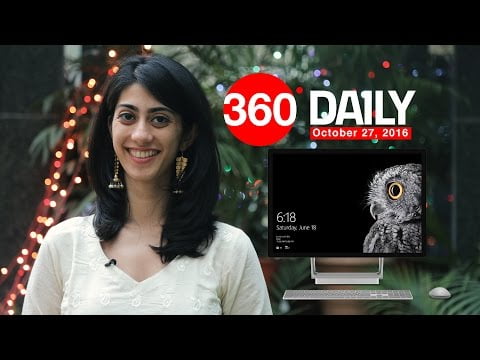 HIGHLIGHTS
Microsoft unveiled Windows 10 Creators Update for creative professionals
Samsung's probe for cause of Galaxy Note 7 fires moves beyond batteries
Micromax, Intex, Lava smartphone shipments slip in Q3
Microsoft targeting creative professionals, Samsung expanding its probe for cause of Galaxy Note 7 fires, and delayed AirPods shipments, here's your 360 Daily roundup of today's biggest technology news.
Microsoft targets creative professionals with new range
Keeping creative professionals in mind, Microsoft announced the Windows 10 Creators Update, which offers a 3D framework designed around Microsoft's HoloLens and other VR experiences; improved streaming and cooperative features for gamers; and tighter integration of contacts for easier sharing. The company also announced a revamped Paint app that now allows users to draw in 3D, Surface Studio All in One desktop PC at $2,999 (approximately Rs. 2,00,500), and a bunch of accessories.
Samsung looks beyond batteries for reason of Galaxy Note 7 fires; profit drops 30 percent
Samsung on Thursday said it will examine every aspect of the Galaxy Note 7, including the hardware, software and the manufacturing process, to determine the root cause of the fires that led to the smartphone's explosions. The company also announced today that its Q3 operating profit decreased by 30 percent, an expected drop; the mobile unit's quarter-over-quarter profit also went down almost 98 percent.No more porn on Patna Railway Station's free Wi-Fi
Authorities at Bihar's Patna Railway Station have blocked access to select porn sites on the free Wi-Fi service available there, and plan to block all such websites gradually. The development comes 10 days after it was revealed that Patna Railway Station tops in terms of Internet search, using the free Wi-Fi service, but mostly to view porn.
Qualcomm to buy NXP Semiconductors for $47 billion
Qualcomm on Thursday agreed to buy NXP Semiconductors NV for an enterprise value of about $47 billion (roughly Rs. 3,14,208 crores), as it seeks to expand the reach of its chips from phones to cars. The combined entity is expected to have annual revenue of more than $30 billion (roughly Rs. 2,00,566 crores), according to an official statement.
Micromax, Lava, Intex smartphone shipments fall in Q3, Lenovo and Xiaomi gain
Home-bred brands Micromax, Intex, and Lava saw their smartphone shipments slip in the third-quarter, while Chinese manufacturers Lenovo and Xiaomi made major gains, according to market research firm Canalys. On the other hand, Samsung maintained the top position in Q3 shipments with a 20 percent lead over rivals.
Apple delays shipment of wireless earphones
Apple on Wednesday said that its wireless AirPods earphones, which were supposed to hit the market in October, will be delayed; the company did not specify the reason for the delay. The AirPods, priced at $159 (Rs. 15,400 in India), were launched alongside the iPhone 7 and iPhone 7 Plus as a replacement for the standard earphones with 3.5mm jack.
OnePlus 3T price leaked; likely to be costlier than OnePlus 3
The rumoured upgraded version of OnePlus 3, said to be named OnePlus 3T, will reportedly be priced at $479 (roughly Rs. 32,100), making it more expensive than the company's current flagship ($399 in the US and Rs. 27,999 in India). The OnePlus 3T is rumoured to be powered by a Snapdragon 821 processorinstead of the Snapdragon 820 seen on the OnePlus 3. It is also expected to run on Android 7.0 Nougat-based OxygenOS out-of-the-box and have a LCD screen instead of the current model's Optic OLED panel.
LG X Power with VoLTE, 4100mAh battery launched at Rs. 15,990
LG on Thursday launched its 4G VoLTE-enabled X Power smartphone in India, priced at Rs. 15,990; the highlight of the handset is its 4100mAh battery with fast-charging technology. Other key features of the smartphone are the 5.3-inch HD (720×1280 pixels) In-Cell Touch display, Android 6.0 Marshmallow operating system, 1.3GHz quad-core MediaTek MT6735M processor, 2GB RAM, 16GB inbuilt storage, microSD card support, 13-megapixel rear camera, and 5-megapixel front camera.
Tags:
["Source-Gadgets"]