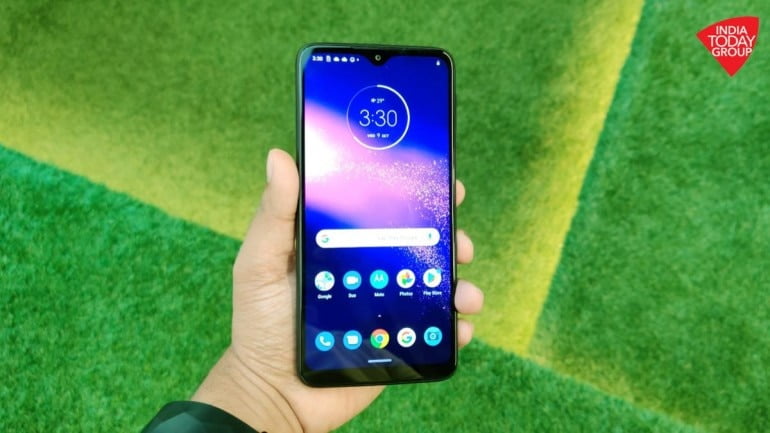 Motorola has been throwing up an exciting show in 2019 when it comes to launching budget smartphones. Barring the Moto E6s that was simply average, the One series of phones has offered some great phones across varied price points. I loved the Motorola One Action which at Rs 13,999 offered a unique 21:9 display, a fun action camera and a clean build of Android. For those wanting a 48-megapixel camera with OIS and a great Night mode, the One Vision is a great option at Rs 14,999.
However, Motorola isn't done yet with its Android One series for the year as we already have the One Macro – a budget Android phone under Rs 9,999. And as with all One series phones, Motorola says the camera is the main highlight of the One Macro. And this time, instead of a night mode specialist camera or an action video camera, the One Macro comes will focus on macro photography. The macro camera isn't new but it seems that it's going to be the buzzword in the sub-Rs 10,000 segment.
But is the macro camera enough to make the One Macro an alternative over other smartphones in its price range? Is it good enough that you can consider it over a Realme 5 or Xiaomi Redmi Note 7?
Macro camera makes for interesting perspectives
Motorola is marketing this phone as a camera phone meant for taking macro photos and hence, it only makes sense to talk about this first. The One Macro has a 2-megapixel macro camera accompanied by a 13-megapixel main camera and a 2-megapixel depth camera at the back. For selfies, an 8-megapixel camera does duty at the front. The macro mode is available for both the still and video mode.
Initially, I assume that the macro mode on this phone will be a gimmick and it will hardly prove itself to be useful. However, over my time with the One Macro, I always looked for reasons to use the macro camera. Whether its daylight or under artificial light, the macro camera on the One Macro takes quite detailed photos. The colours are vibrant with good contrast levels and high brightness. There isn't a lot of post-processing with the colours which means you mostly get what you see. The 2-megapixel sensor capture impressive details and the lower 2cm focal length means that you can go quite close to your subject to get the photo you wanted. I was always happy to use the camera and most of the times, I managed to get some impressive photos.
I wish that Motorola could have tuned the main camera in a similar way. All I can say about this camera is that the photos from this are just average. In daylight, the photos wear a warmer tone and most of the details are softened. The dynamic range is average which is why the colours appear dull. However, landscape photos are sharp and you can use them on social media with light editing. As light levels fall, the camera starts struggling with exposures and sharpness. The portrait mode impresses with good levels of edge detection as well.
IMAGE SAMPLES
The front camera also suffers from the same issues but the images turn out to be fairly good, especially when you consider what this phone costs. The warm colour tones and the softened details do take away from the overall quality.
However, if you love taking close-up photos, then I recommend the Motorola One Macro for its impressive macro camera. No phone in its price category can do what the One Macro can.
Built well but looks slightly weird
With all the budget phones these days, you can expect a plastic built with a glossy finish that loves smudges. The One Macro offers exactly that – it looks good when kept clean but quickly turns messy when you grab with oily hands. There's a slight gradient that could have looked good on a non-glossy surface but apparently, this is what consumers want according to Motorola.
The rear looks reminiscent of the Huawei P20 Pro with an oddly arranged triple rear camera setup. The macro camera gains prominence on top while the autofocus sensors and the LED flash have been carefully implemented within the main camera module to give the quad-camera effect. The fingerprint sensor still carries the cool Motorola batwing logo and it is one of the standalone highlights of this design.
The front doesn't have anything distinctive like the One Action. There's a standard affair narrow-bezel display with a thick chin and a waterdrop notch holding the front camera. You'll also find a USB-C port and a headphone jack on the frame.
Despite the plastic chassis and the ultra-glossy design, the One Macro feels well built and it can surely survive a few knows and drops without the case.
A surprisingly fast performer
The One Macro is meant to focus on macro photography and hence, it was easy for Motorola to put performance on the backseat. But that's not the case. Someone at Motorola knew that a budget smartphone needs to be powerful enough to meet modern performance expectations. Hence, this phone gets a MediaTek Helio P70 chipset, which is a fairly capable chipset that compares with the likes of Snapdragon 665's performance. Motorola goes more generous by offering 4GB RAM and 64GB storage as standard. And with a HD+ display, all of this already sounds good.
Motorola has been good at optimising stock Android for its phones and I am happy to report that the One Macro is surprisingly fast for a phone of its category. The Helio P70 is plenty powerful for everyday tasks and with stock Android 9 Pie to deal with, this phone doesn't shows signs of lags or stutters even while juggling between a few apps at a time.
The interface is mostly stock with minor Motorola additions and all of those make the user experience even better. I love the Moto navigation gestures as well as the Moto Display, both of which make it easier to live with when compared to any other stock Android phone. It would have been nice for Motorola to launch this phone with Android 10 but it is said that the Android 10 update is coming soon. I even tried my hands at PUBG MOBILE and Asphalt 9, and the phone performed on par with what you expect from any other phone with a Helio P70 chipset – smooth gaming at medium graphics with decent frame rates.
However, what helps the performance is the HD+ display and it's a pretty good one. The display measures 6.1-inches and for a phone of its price, it looks quite good. The panel produces bright and vivid colours, making it great for watching videos on YouTube. Viewing angles are decent whereas sunlight legibility could have been better. But for a budget phone, this phone has a pretty good display that's up with the best in the segment.
The One Macro only has to make do with a single loudspeaker but with the Dolby Atmos tuning, it is good enough for short YouTube sessions.
All-day battery life guaranteed for active users
Budget phones are getting better with battery life and the One Macro is a fine example of that. Motorola has stuffed a 4000mAh battery and that combined with the optimised Android OS as well as the low-power HD+ display means you can easily stretch this up to 2 days on a single charge.
I used the One Macro as my primary phone for a few days and I used it incessantly for texting, calling (audio and video), short gaming sessions, half-an-hour of photography and streaming music throughout the day. And I was able to manage up to more than a day's backup easily. The 10W fast charger is a nice addition but Motorola could have pushed for a 15W TurboPower charging.
Conclusion
The last budget phone that Motorola made (Moto E6s) left me quite disappointed but with the One Macro, Motorola finally has a budget phone that I can happily recommend under Rs 10,000. The One Macro is meant to offer good macro photography and it does that with flying colours. If you are a photography enthusiast interested in close-up photos, this is the phone you should choose.
However, Motorola has also got everything right when it comes to the usual smartphone stuff. Hence, as a phone, the One Macro is highly impressive. It's got a fairly capable chipset that will keep gamers happy, a big battery that will keep power users happy, and a stock Android interface that will keep Android purists happy. To sum it up, it has everything that a budget smartphone user looks for in a new smartphone.
Overall, the Motorola One Macro is an impressive phone from the Lenovo owned brand and this should be on top of your list while choosing a new phone for yourself under Rs 10,000.
["source=indiatoday"]