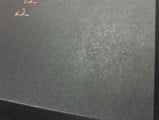 The Pro 5 is shaping up to be Meizu's next big announcement. We first saw a glimpse of the alleged device last week, along with some specs and a possible explanation for the lack of any apparent Meizu logos on the package. Apparently, the Chinese OEM is trying to launch a new premium sub-brand, named simply "Pro" in an attempt to differentiate it from the existing MX models. The Pro 5 is said to be the ambassador to this new effort and from the looks of things it definitely has the potential for a flying start.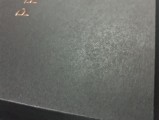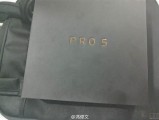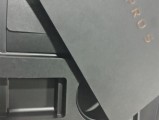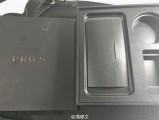 Meizu PRO 5 retail packaging
After a grand photo tour of the luxurious retail box, today a few more live photos have surface online that seem to show a working Pro 5 unit in the flesh. Despite the low quality, the shots do give away a fair amount of info. The handset's design is quite reminiscent of the current MX5, meaning that the PRO line will keep the signature Meizu look and feel, at least for now that is. We can also clearly make out the metal unibody shell on the Pro 5, as well as the 2.5D curved glass effect on the front.
Another interesting observation to be made is that the Meizu Pro 5 doesn't appear to be running on the company's own Flyme OS, but rather a quite vanilla Android build. This could be interpreted as a sign that the Pro 5 will run on stock Android or possibly have a "pure" edition of sorts, but it seems highly unlikely for Meizu to give up on its custom Flyme after investing so much effort into it. A far more likely explanation is that we are looking at an early prototype that simply has a basic Android build loaded for development.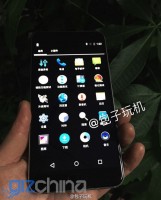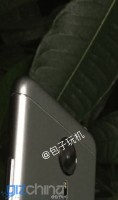 Meizu Pro 5
As for the alleged specs of the Meizu Pro 5, it is shaping up to be quite a powerhouse, even allegedly surpassing the Samsung Galaxy S7 in benchmarks, also said to already be in development. The PRO 5 will come in two versions, powered by either an Exynos 7420 chip, or Mediatek's much-hyped Helio X20 that boasts the first deca-core CPU, both reportedly benchmarked earlier. Meizu's VP has explicitly stated that we won't be seeing a Snapdragon 810 SoC inside a PRO 5, with some pretty harsh words on the chipset being uttered to justify the decision.
By now it's also been confirmed that the smartphones will come with a 1080p display, likely with a 5.5-inch diagonal. Previous reports outlined different specs for the Exynos and Mediatek versions, but something along the lines of 3GB/4GB of RAM, 32GB of storage and a 21MP primary camera, is to be expected.
We can't really say whether the cited hardware is true, but in any case, the wait shouldn't be too long, as according to Meizu's official schedule, the Pro 5 will be unveiled on September 25. A price around the CNY 3,000 ($470) ballpark has been rumore
["source-gsmarena"]