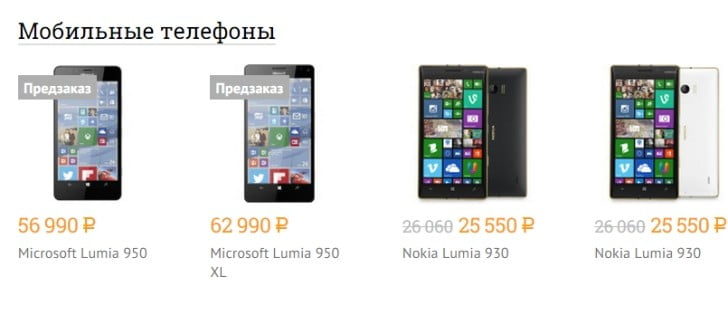 Few devices have been getting quite as much attention lately as the Lumia 950 and 950 XL and we can definitely understand why. A new proper flagship in the Windows realm has been long overdue and fans are understandably excited. The duo should be officially released on October 8, which is still a few days away, but that hasn't stopped at least a couple of retailers from leaking details about said smartphones.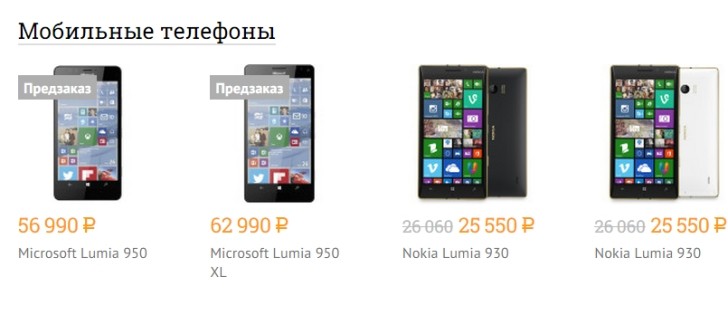 Today, however, a Russian online store by the name of Bayon might have officially become the first one to offer pre-orders on both models. This confirms the specs sheets for the duo yet again and also gives us some perspective on the Russian pricing.
Interestingly enough, there is one extra detail revealed – the 950 XL seems to be available in Dark Blue, as well as the classic Black and White colors. The smaller Lumia 950 is listed for 56,990 rubles ($865), while the bigger XL one goes for 62,990 rubles ($956). That is quite a hefty price to pay, but it is also worth noting that we are talking about the dual-SIM variant here and also local Russian prices for handsets do tend to be slightly higher than most other places.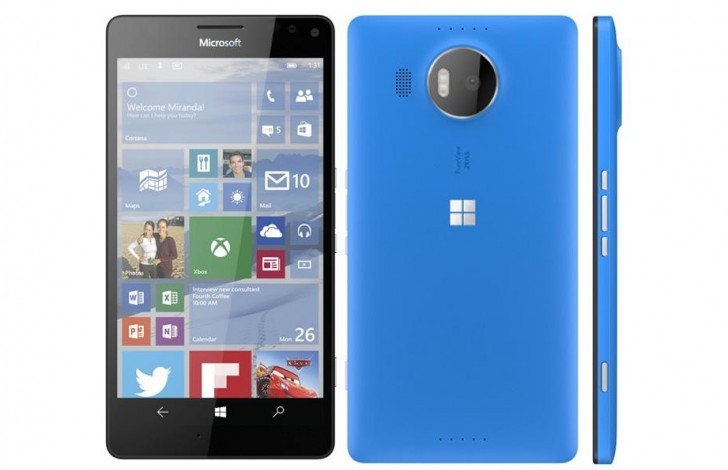 However, the numbers aren't that much off, compared to what we have seen from a recent Spanish leak – €749 ($838) and €659 ($738), respectively for the dual-SIM Lumia 950 XL and Lumia 950. As for the specs, the Lumia 950 and Lumia 950 XL have a 5.2″ and 5.7″ displays, both at QHD resolution, 3GB of RAM and 32GB of expandable memory. The first has a more powerful Snapdragon 810 chipset and a 3,300mAh battery, while smaller Lumia 950 has a slightly less powerful Snapdragon 808 chip and a smaller 3,000mAh battery. Both phones will share a 20MP PureView camera with triple-LED flash.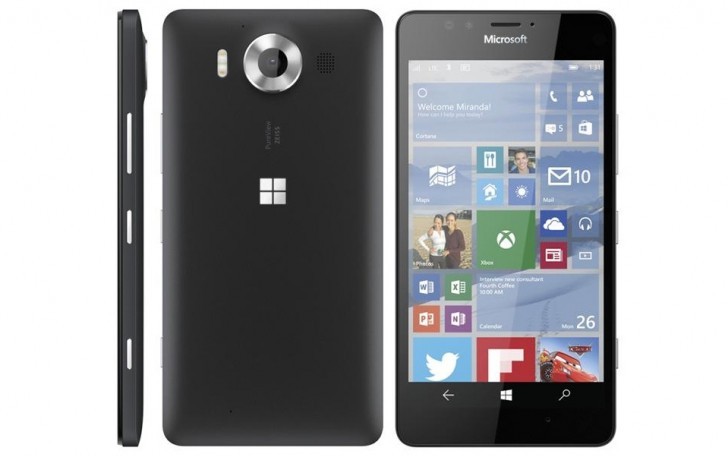 Interestingly both the Lumia 950 and Lumia 950 XL have USB Type-C cables and Microsoft plans to use the combined data-transfer and video out capabilities of the new connector along with the Windows 10 Continuum feature to turn the handsets into portable desktops.
["source-gsmarena"]