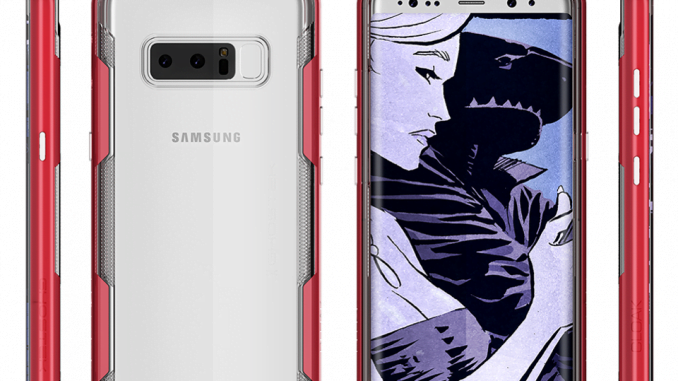 The Galaxy Note 8 is going to be massive. I've stressed this with exclusive renders and Samsung has even bragged about it. But with the launch date so close, Samsung has now gone a step further and 'accidentally' leaked this massive smartphone on its own website…
Spotted by eagle eyed tech YouTuber Tim Schofield, Samsung published the Galaxy Note 8 on its US website only to remove it shortly afterwards. I was able to verify the listing before Samsung took it down and yes, it gave away all the biggest hardware changes.
Breaking these down, the obvious starting point is the design. Samsung's Galaxy Note 8 listing showed the company is indeed completely overhauling the hardware introducing a huge Infinity Display with new 18.5:9 aspect ratio, dual camera and a (still idiotically placed) rear fingerprint sensor and frustratingly locked Bixby button.
Samsung is also increasing the Galaxy Note 8's internal storage to 64GB (microSD remains), though a higher specced 'Emperor Edition' is unlikely to make it to the US. As is customary with Galaxy Note phones, the Samsung listing also confirmed there will be a stylus (something never in doubt).
All of which means Samsung has little left to surprise uswith other than software and (hopefully) a last minute battery upgrade. Consequently all attention is likely to remain on the company's core message for the Galaxy Note 8: it's size. Or as Samsung markets it "Do bigger things".
This makes sense given the Galaxy Note 8 will be substantially bigger than even the Galaxy S8 Plus, as these proportional renders created by my regular design partner Benjamin Geskin illustrate:
Geskin extrapolated this scale from Samsung's own promotional materials as it is repeating the same silhouette marketing it used for the Galaxy S8 and Galaxy S8 Plus. Those silhouettes were proportionally correct to one another so by applying the same scale to the Galaxy Note 8 it reveals a whopper notably larger than its minor increase in screen size (remember: it has to house the stylus).
Of course the size of the Galaxy Note 8 is not the only massive thing, it's price tag is huge too. As such, while I suspect most users interested in Samsung's monster will embrace its larger display (this is what made the Galaxy Note range iconic after all), some may draw a line at its retail price.
Then again for users determined to live on the bleeding edge, they will have little choice. Apple's equally big iPhone 8 price increase suggests a wallet bending trend you won't easily escape.
["Source-forbes"]