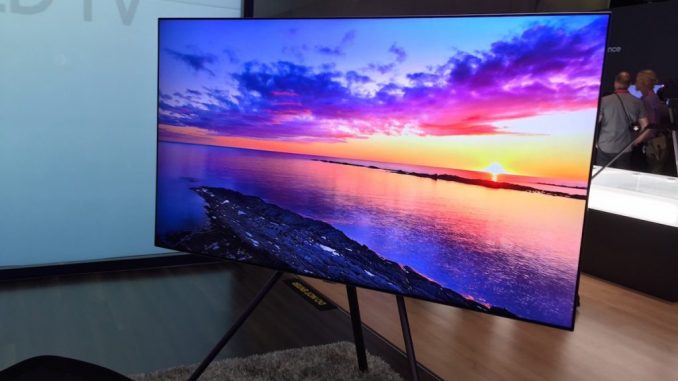 Samsung QE65Q8F hands-on: is Samsung done with curved TVs?
Samsung's decision to make the Q8F series its TV highlight for IFA 2017  initially seems a strange one. After all, Samsung has been the biggest cheerleader for the supposed benefits of curved screen TVs for years now. Yet the newly unveiled Q8F is essentially a flat take on the existing curved Samsung Q8C.
Has Samsung finally started to lose confidence in its curved crusade? Maybe. Or maybe the company just realised offering consumers more choice can only be a good thing in terms of cold, hard sales. Especially with what Samsung has told me is its most important 'QLED' series.
There's one further possibility I'm going to offer up: that the flat Q8 delivers better pictures than its curved counterpart.
Samsung QE65Q8F – performance
The Samsung Q8C I reviewed a while back had a problem with backlight clouding. This saw a number of distinct pools of light spreading for a good few inches into the picture from its top and bottom edges.
My suspicion then was that this was an unwanted side effect of the screen's curvature. After all, controlling light – especially edge-mounted light of the sort you get with the Q8 range – is harder when you're having to bend all the many layers that go into an LCD display.
The QE65Q8F seems to confirm my suspicions. Checking out two different units on Samsung's stand using a combination of video game footage  and Samsung demo reel, I couldn't see any trace of the curved models' clouding issues. Instead, the screen's black levels seemed impressively uniform by the standards of edge LED TVs – albeit inevitably more infused with greyness than those of a typical OLED TV.
Backlight uniformity sorted, the Q8F can enjoy some of the strengths we've seen on the familiar Q8C. The screen still explodes with colour and brightness to a degree rarely matched anywhere else at IFA – except for the Samsung Q9F flagship QLED TVs.
The gaming and native 4K video demo images on show also looked almost preternaturally sharp and detailed. This is, I think, is partly thanks to QLED's ability to open up subtleties of tone and shade in high brightness areas, and partly thanks to Samsung's processing engine doing a strong job suppressing motion blur and judder.
Of course, it's hard to judge properly on a showroom floor where you have no control of lighting conditions or system settings. Check back soon for a full review.
Samsung QE65Q8F – design
The Samsung Q8F's design is also a feast for the eyes. I'd even say it looks more glamorous than its curved counterpart. Maybe it's because on the flat screens the gorgeous brushed silver finish on the rear and bezel looks even more like it's been chiselled out of a single hunk of precious metal.
It probably didn't harm the QE65Q8F's aesthetic appeal at IFA that Samsung had made certain that wherever the TV appeared on its stand it was in the middle of an open space, so that no passing punter could fail to notice its 360-degree charms. Out in the open, you can really appreciate Samsung's an external connections box and nifty cable management system, which minimises the potential for cable spaghetti.
Early impressions
Read more at http://www.trustedreviews.com/reviews/samsung-qe65q8f#QHZL1Jr9yQWEcCII.99Samsung's Q8C was an excellent TV in many ways, but its lighting issues are hard to ignore. Thankfully, it appears Samsung has fixed that by flattening out TV to make the Q8F. A proper test is required before it's possible to put down a solid verdict, but for now it seems that Samsung has headed in the right direction.
Source:-.trustedreviews