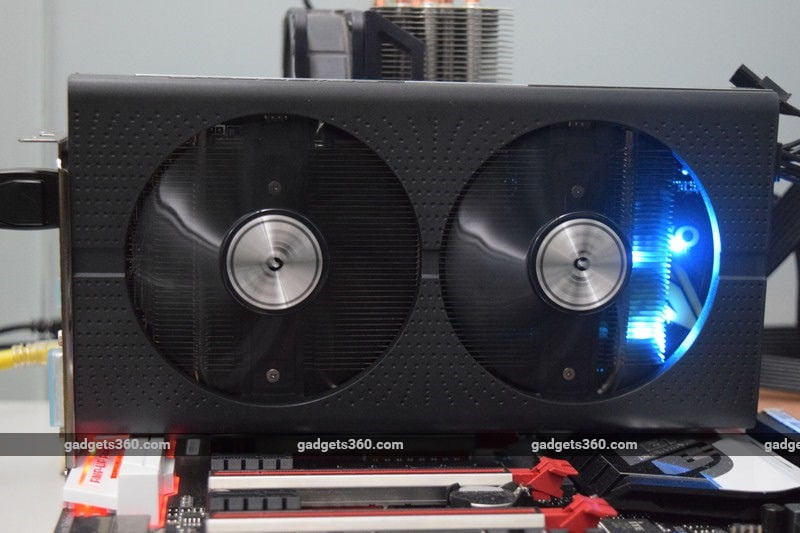 HIGHLIGHTS
The Sapphire Nitro Radeon RX 460 OC (4GB) is slightly overclocked
It runs cool and quiet, and has very modest power requirements
Performance is adequate for 1920×1080 gaming at medium to high quality
AMD's three-pronged attack on the mainstream graphics card market this year consists of the Radeon RX 480, RX 470 and RX 460 GPUs. All three are based on the same new architecture, codenamed Polaris, and are built using a modern 14nm process. However, while the former two are different retail versions of the same chip, codenamed Polaris-10, the RX 460 is different. This GPU was designed separately, with the specific goals of being small and consuming less power.
When we reviewed the Radeon RX 480 and RX 470, we found both to be strong competitors to Nvidia's blockbuster 10-series, though pricing in India was and remains unfavourable. Those two cards are aimed at serious gamers who want to push high resolutions and quality settings in the latest releases. The more modest Radeon RX 460 is more for casual users who aren't interested in spending a lot of money on a graphics card, and have no real desire for massive monitors. AMD has identified e-sports enthusiasts as its ideal target market, but as we'll see, just about anyone could get a lot of use out of one of these cards.
Today, we're reviewing a Radeon RX 460 graphics card from Sapphire, one of the oldest brands around. It might not have as much recognition as Asus and Zotac do in India, but it's one of AMD's most important global partners. Our sample was sent to us by AMD in lieu of a reference unit, as there is no reference design for the RX 460.
The AMD Radeon RX 460 GPU
After years of releasing incremental refreshes of the same old products, this year's Polaris lineup has given AMD a much-needed boost in the graphics market. Of the three new products, the Radeon RX 460 has the widest appeal thanks to its relatively low price. The Polaris-11 chip is physically smaller than the Polaris-10 and has far fewer resources. Architecture-wise, there are 896 execution units called "stream processors" organised into 14 clusters. The base clock is 1090MHz and it can ramp up to 1200MHz, when under load, which isn't a huge difference. That results in a total bandwidth of 2.2Teraflops, as opposed to 49 for the Radeon RX 470 and 5.8 for the RX 480.
One big difference between Polaris-10 and Polaris-11 is that the smaller chip supports only a 128-bit memory bus as opposed to 256-bit. On the other hand, power consumption is rated at only 75W which means that Radeon RX 460 cards can run off a PCIe slot's power rails without needing additional connectors.
The cards themselves are also more likely to be small – AMD's own images depict a relatively squat card, roughly the size of AMD's own six-inch Radeon R9 Fury Nano, with just one fan. However, this reference design isn't being sold, and of course board partners are free to either stick to the basics or tweak speeds and use their own coolers if they see fit.
Official pricing starts at Rs. 10,490 for 2GB cards and Rs 11,490 for 4GB cards (down from the original launch prices of Rs 11,990 and Rs 13,490 respectively), and we're seeing lower on the streets and in retail online. With such a small price gap between variants, it might not seem sensible to buy a 2GB version, but obviously, AMD knows that there are customers for whom even Rs. 1,000 makes a difference and it isn't willing to lose out on them. More to the point, AMD has to compete with juggernaut Nvidia's brand new GTX 1050 and GTX 1050 Ti as well as the GeForce GTX 750 Ti which continues to be popular even years after it first launched, so every little bit counts.
sapphire nitro radeon rx460 rearback ndtv radeon_rx460
The Sapphire Nitro Radeon RX 460 OC
Sapphire's Nitro series models are more premium than the standard lineup, which doesn't have any specific sub-brand. Nitro cards have beefier coolers and more durable power regulation components. As the OC suffix suggests, this card runs its GPU clock at between 1175MHz (base) and 1250MHz (boost).
One of Sapphire's most interesting innovations is its fan design. This card features two 90mm fans with fins designed specifically to reduce noise. The company also says its fans repel dust, which is a difficult claim to substantiate. Finally, you can pop each fan out of the shroud in order to clean the blades and heatsink fins, and also to make replacements easier should there ever be any need to do so. The fans stay idle when core temperature is below 52 degrees C, and even when they do spin up, they make hardly more than a light hum.
We've seen a lot of blinged-out graphics cards with lighting effects and brightly coloured shrouds. This particular model is actually quite sober, with a nice matte black finish and rounded edges. However, Sapphire obviously couldn't resist having a little fun. The card itself could have been much shorter than the 8.7-inch cooler, but Sapphire extended it for no reason other than to display an etched Nitro logo on the back that lights up in green. There are also two blue LEDs on the front of the card which shine out the end, illuminating half of one fan, for no apparent reason.
All of this results in the Sapphire Nitro Radeon RX 460 OC requiring one six-pin PCIe power connector to keep it running smoothly. The company recommends at least a 450W PC power supply. While most consumers shouldn't have any problem with this, it means that this particular card isn't as versatile as other RX 460 options.
Speaking of versatility, you get only one dual-link DVI-I, one HDMI 2.0b, and one DisplayPort 1.4 connector on the backplate, for a maximum of three simultaneous displays. Sapphire has thoughtfully provided plastic dust-caps, but we would have liked a little more flexibility.
sapphire nitro radeon rx460 toprunning ndtv radeon_rx460
Performance
Our review sample arrived in a simple black box with only a driver disc and a few leaflets. We had no trouble with installation, and users with even the smallest PC cases will be fine. We ran all our benchmarks and games using an open test bench, with the following components:
Intel Core i7-6700K CPU
Gigabyte Z170X-Gaming 7 motherboard
2×8 GB Corsair Vengeance LED DDR4-3200 RAM
256GB Samsung SSD 950 Pro
Cooler Master Hyper 212X cooler
Corsair RM650 power supply
Asus PB287Q 4K monitor
Windows 10
After installing AMD's latest drivers, version 16.11.5, we set about running the usual synthetic benchmarks. 3DMark's Fire Strike and Fire Strike Extreme tests gave us 5309 and 2561 points respectively. We also ran Fire Strike Ultra, which gave us a score of 1351. Given that this GPU is targeted at 1920×1080 gamers, that's not a surprise. More interesting was the 3DMark Time Spy test, which is the first to measure DirectX 12 performance, and gave us a score of 2003. It will be interesting to see how these compare to Nvidia's GeForce GTX 1050 and 1050Ti.
sapphire radeon nitro rx460 valley ndtv radeon_rx460
We then ran the Unigine Valley simulation at 1920×1080 with 8xAA using the High preset. The average was 26.7fps, and there was mild but consistent choppiness throughout. Moving on to the more intense Star Swarm, we noted 33.36fps in DirectX 11 mode and an immediate jump to 42.57fps in Mantle, the precursor to Vulkan.
Ashes of the Singularity is useful for its DirectX 12 benchmark. We ran it at 1920×1080 with the Standard quality profile and the result was an average of 35.6fps with mild stuttering – still useful for gameplay. Moving up to the Extreme profile took that down to 23.3fps, and stepping up to 2560×1440 at Standard quality gave us 29.7fps which isn't as much of a performance penalty.
sapphire radeon nitro rx460 ashes ndtv radeon_rx460
Deus Ex: Mankind Divided is more recent, and we used its internal benchmark to see how it performed. The average was 37.7fps, using the medium quality preset at 1920×1080. Switching from DX12 to DX11 caused a dip to 33.3fps, and output on screen was visibly less smooth.
Rise of the Tomb Raider did very well in DX12 mode at 1920×1080 using the High quality preset, and its internal benchmark gave us 42.77fps overall, though with significant variation between 123.12fps at best and 13.63fps at worst. Raising the resolution to 2560×1440 took us down to an average of 28.31fps. In manual runs, FRAPS recorded averages of 34fps and 25fps, and we could see significant tearing in places.
sapphire radeon nitro rx460 rottr ndtv radeon_rx460
GTA V required a lot of manual tweaking in the settings before it ran smoothly enough for our liking. We were eventually able to settle in at an average of 56.01fps with all the individual quality controls turned down to High or Normal. Metro 2033: Last Light Redux also gave us an average of 56.90 but dropped as low as 23.85fps in some sections of its benchmark run.
DOOM is one of a very small number of games which can use AMD's Vulkan API, similar to DX12 in its ability to tap into the hardware of a GPU at a very low level. We played through the first two levels at a buttery smooth average of 58-60fps using the Ultra quality preset at 1920×1080, and that dropped only to about 38-42fps at 2560×1440. Scores were noted manually using the game's own diagnostic display and the new OCAT reporting tool which supports DX12 and Vulkan.
sapphire radeon nitro rx460 fc4 ndtv radeon_rx460
Far Cry 4 also ran beautifully at 1920×1080 using its Ultra preset. This is a slightly older game and runs in DX11 mode, but still looks good. FRAPS showed us an average of 44fps with smooth frame delivery which stayed consistently below 33ms. We were expecting good performance in Battlefield 4 as well, considering how well it runs on older hardware. However, at 1920×1080 and using the Ultra preset, we only got 34fps on average, with the frame pace varying quite drastically and crossing 40ms. The quality had to be reduced in this case.
sapphire radeon nitro rx460 bf4 ndtv radeon_rx460
It's clear that the Radeon RX 460 GPU meets its target of allowing gamers to enjoy most current-day titles at 1920×1080. Many games will run at their highest quality settings, but not all, and this means that new games a year or two down the line will stress this GPU out. The ones that did run best tended to be a little older, or specifically optimised for AMD – only in the rarest of cases was there enough headroom to allow us to push to 2560×1440. Anyone who wants to max out all quality settings, or is thinking of upgrading monitors in a little while, should buy something with a little more grunt.
Verdict
Sole competitor Nvidia is firing on all cylinders and doesn't seem likely to slow down anytime soon. We haven't yet tested the GeForce GTX 1050 and 1050Ti, which are positioned directly against the Radeon RX 460 in terms of pricing, but we're expecting good performance. Nvidia has an advantage in India when it comes to pricing and market penetration, but AMD has been fighting very hard, so this should be an interesting match.
As we saw with our gaming and benchmark test results, the Radeon RX 460 will make a lot of budget-conscious gamers happy. It's also nice that RX 460 can easily be slotted into older PCs with weak power supplies. You have to decide whether you're going to be happy with this level of performance, because the 3GB GeForce GTX 1060 and the 4GB Radeon RX 470 both raise the bar significantly, and aren't very much more expensive.
We like the Sapphire Nitro Radeon RX 460 OC 4GB card we tested, which offers a small clock speed bump and a very polished cooling system at Rs. 12,199 (street price) which is a premium of just Rs. 600 over the bare minimum price. However, if you need an upgrade for a PC without a suitable power supply, you'll need a more basic model.
Finally, we have to note the tantalising possibility that the Radeon RX 460's low power draw and modest cooling needs will enable it to fit into slim gaming laptops. AMD hasn't announced any mobile RX4xx parts, but we expect to see this GPU or something very similar give the market for portable gaming machines a big boost.
Price: Rs. 12,199
Pros
Runs cool and quiet
Good performance at 1920×1080
Low power consumption
Cons
Requires a power connector
Cheesy LED lighting
Ratings (Out of 5)
Performance: 3
Value for Money: 4.5
Overall: 3.5
Tags: AMD, AMD Radeon, AMD Radeon RX 460, Sapphire, AMD Radeon RX 460 review, AMD Radeon RX 460 performance, AMD Radeon RX 460 price in India, Sapphire Nitro Radeon RX 460 OC, Sapphire Nitro Radeon RX 460 OC review
["source-ndtv"]