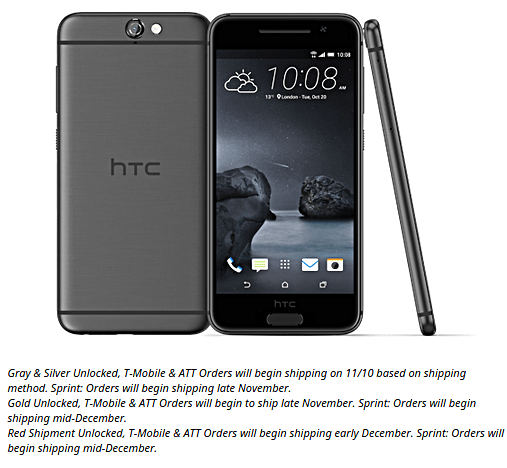 HTC was supposed to begin One A9 shipments in the first week of this month. However, a quick look at the device's official online listing reveals that some color variants will be delayed.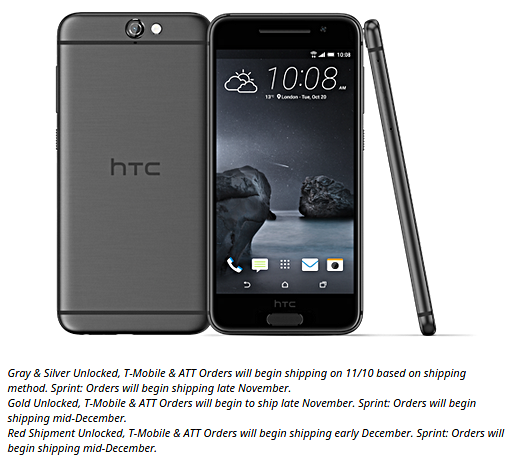 As you can see in the screenshot above, HTC says that T-Mobile & ATT orders for Gray & Silver unlocked variants will ship on November 10, while Sprint orders for the models will begin shipping later in the month.
Similarly, Gold unlocked One A9 for T-Mobile and AT&T will start shipping in late November, but the Sprint model will arrive only in mid-December. And finally, Red unlocked model for T-Mobile and ATT will begin shipping early December, while Sprint orders for the variant will ship in mid-December.
Apparently, HTC is compensating users for the delay – according to a tip we received, the Taiwanese company sent out emails announcing the delay in shipments, and saying that they are making up for it by offering "25% off of accessories to protect and personalize your new phone." However, we aren't sure whether it's an isolated case or not.
If you're planning to purchase the handset now, keep in mind that its price has been revisedstarting today – available for $499 now, up from its promotional price of $399.
Thanks John for the tip!
["source-gsmarena"]