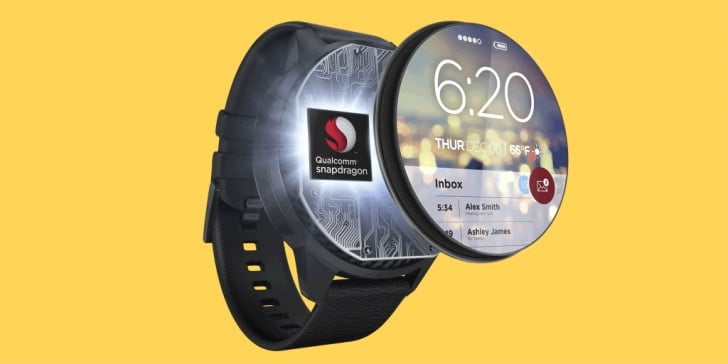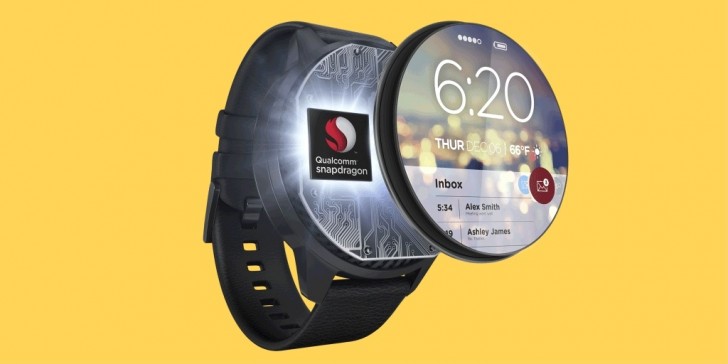 Qualcomm's on fire today. Not only has the US chipmaker announced 3 smartphone SoC's, but it's also followed up with a brand new platform for wearables, dubbed the Snapdragon Wear. The sole chip in the new range at this point is the Snapdragon Wear 2100, bringing significant improvements over the so far default smartwatch choice, the Snapdragon 400.
The dedicated solution for smart devices you'll be strapping to you wrist or chest this year is 30% smaller in physical size than the S400, enabling more compact designs and thinner wearables. It also boasts 25% better power efficiency than the old model.
The Snapdragon Wear 2100 chipset packs a quad-core Cortex-A7 CPU clocked at up to 1.2GHz, and its Adreno 304 GPU (featured in some of the 200-series chips) can feed displays up to 640×480 pixels at up to 60Hz. Two versions of the chip will be available, one tethered (Bluetooth/Wi-Fi only), the other – connected, with full 2G/3G/LTE cellular connectivity. The chip also supports NFC and GPS, and comes with Quick Charge 2.0 capabilities.
LG was also keen to point out the collaboration between the two companies in the field. Wearables branch vice president David Yoon indicated that the Korean giant is already working on smartwatches, but also other wearables, to be launched later this year.
["Source-gsmarena"]