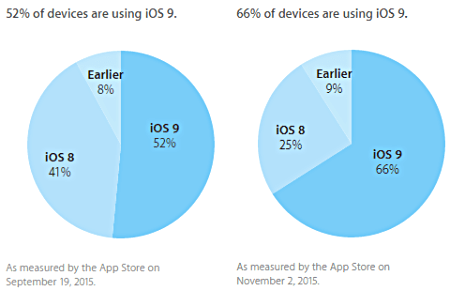 According to latest numbers from Apple, the iOS 9 adoption now stands at 66%, which means two out of every three mobile devices from the company are currently running the latest iOS operating system.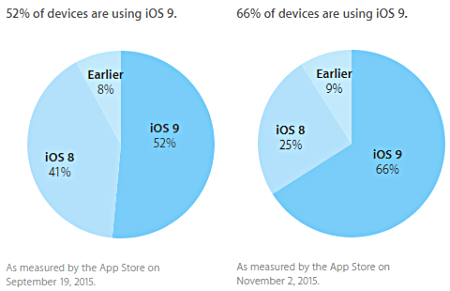 That's quite impressive and certainly faster than iOS 8, given that it's not been even a couple of months since iOS 9 was released. Apple has already said that iOS 9's adoption rate has been the fastest ever seen by the company for a new OS iteration.
Keep in mind, however, that the current iOS 9 share includes the iOS 9.1 update which rolled out last month and brought along over 150 new emojis and better Live Photos functionality.
For the remaining 34% share, last year's iOS 8 claimed 25%, while earlier versions were collectively at 9%. For those who aren't aware, these adoption numbers are calculated based on the usage of the Cupertino-based company's App Store.
["source-gsmarena"]