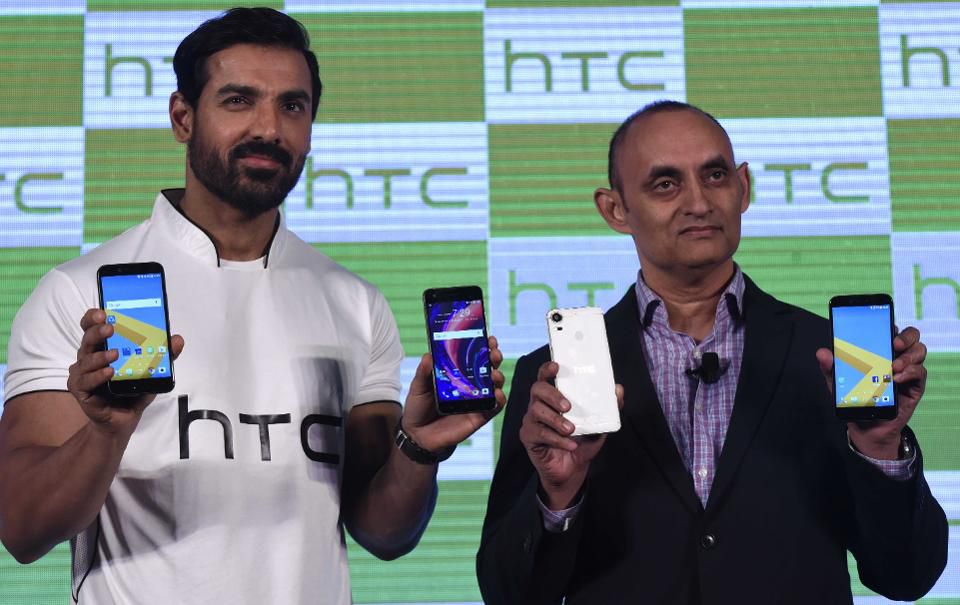 India has one of the world's fastest growing smartphone markets. It just so happens that HTC, a Taiwanese smartphone brand that has lost global market share since a peak in 2011, wants to make a comeback wherever it can. On that note, HTC returned to India this month just one year after it exited the same market, according to media from India and news outlets specialized in tech. To wit, HTC's Indian licensee InOne Smart Technology launched the lower-end HTC Wildfire X smartphones in India in mid-August.
HTC "is always looking for ways to bring innovative mobile experiences to consumers across the world," the company said, when asked about its plans for India.
The handset developer is trying again because of the sheer number of Indian phone users, a figure that grew 7.1% in the first quarter, the growing ease of selling through e-commerce and a unique licensing agreement with an Indian company, analysts believe. "HTC has probably rethought its product and channel strategy for the India market," says Kiranjeet Kaur, research manager with tech analysis firm IDC's Asia-Pacific Client Devices Group.
Back in India after a rethink
HTC's last high-end model sold in India was the U11 model that it released in early 2018. After that, the company quit pushing new models there as competition overwhelmed it, media reports and analysts say. It was also over-dependent on offline sales, Kaur says, while its lower-end smartphones lacked the pricing and specs appeal of some competitors.
Some of India's own smartphone makers and the who's-who of Android-based handsets from China already compete head-on in India, making it hard for new entrants without a special edge.
"India is an extremely crowded market and HTC will struggle to stand out in a sea of lookalike Android smartphones," says Neil Mawston, executive director of wireless practice with Strategy Analytics in the United Kingdom.
More on Forbes: High Prices Are Forcing Americans To Keep Smartphones Longer, 33 Months On Average: Report
HTC needs the boost after a string of setbacks since 2015. The company reached a world market share peak of 10.7% in 2011 as an early adopter of the Android operating system before losing that edge to peers with stronger marketing, distribution and supply chains. IDC placed its 2018 market share below 1%. Last year, the company laid off one-fifth of its staff and 2,000 engineers moved to Google when HTC sold its smartphone design business to the search giant. It had reported a net loss of NT$16.9 billion in 2017, its third straight year of missing a profit, but announced a pickup this year.
Net profit of 14.7% in Q1 rose to 20.3% in the second quarter, the company said in an e-mail to reporters.
Irresistible India
India makes sense again for HTC, market analysts say, because the number of smartphone users should reach 859 million by 2022. India's user count comes in second only to China.
A focus on low prices in the still largely impoverished market favors companies such as HTC, which has specialized over its 20-plus years in making phones that cost no more than $500. "Right now, India consumer appetite is biggest for the low-end to mid-range devices for the mass market as well as a good substitute for the very expensive flagships from Apple and Samsung," Kaur says.
Consumers also buy a lot through e-commerce, meaning HTC won't need to rely as before on offline sales, Kaur says. "The eTailers have provided a strong platform to many players to succeed," she says, naming some of the Chinese Android phone brands as examples.
HTC hopes that Flipkart, an Indian e-commerce service, can get its phones "out into the wild at breakneck speed and promote and distribute them to millions of Indian consumers like never before," Mawston suggests. "India has in recent years become one of the world's top-three most advanced smartphone markets for online distribution."
HTC's India plan of action
HTC won't give details on its 2019 foray into the country with 1.34 billion people.
The company will probably do a lot through its licensing deal with InOne Smart Technology, predicts Eddie Han, a senior industry analyst with Market Intelligence & Consulting Institute in Taipei. "This time it aims to enter the market with its licensing plan, which targets mainly the entry-level market," Han says.
It might pay HTC to launch 5G-optimized phones in India timed for the mobile technology's takeoff there in 2021, Mawston says. It will need some kind of standout strategy to sell against Android competitors, he cautions. "India is a huge and growing smartphone market that can quickly deliver game-changing revenues for HTC if successful," he says.