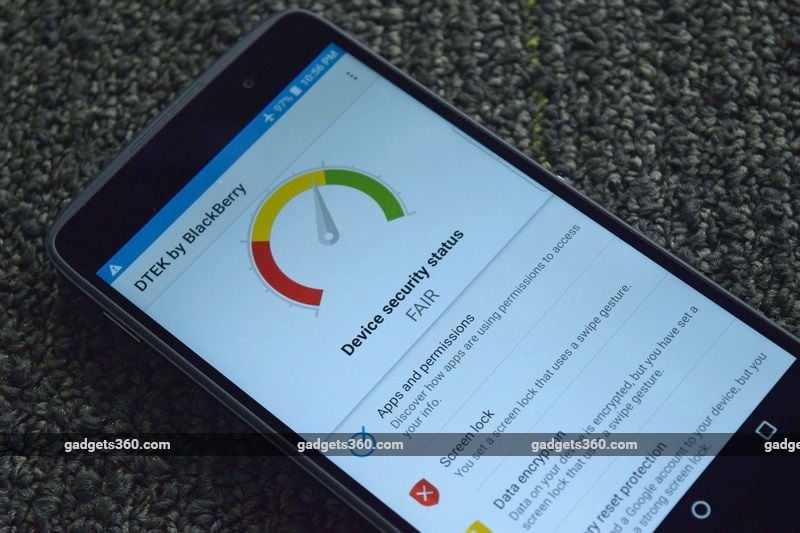 BlackBerry DTEK50 Review
HIGHLIGHTS
The DTEK50 is designed and manufactured in collaboration with TCL
It has better hardware than BlackBerry's previous low-end offerings
Its main selling point is BlackBerry's productivity and security software
As expected for many years now, BlackBerry has announced that it will no longer build smartphones itself. Phones with BlackBerry's branding will be designed, manufactured and marketed by partners while the company itself focuses on software. The last phones that BlackBerry itself launched were the DTEK50 and DTEK60, both based on Android and designed to appeal to buyers who don't necessarily want a physical keyboard, but value BlackBerry's business and security features.
However, it feels as though BlackBerry has already begun its outsourcing operations with these two new phones. They're manufactured by China's TCL and are nearly identical to the Alcatel Idol 4 and Idol 4S respectively, which TCL is responsible for. So is there more to these phones than just modified software and a sticker slapped on the back? Or is the BlackBerry we've known for so long effectively dead already? We're reviewing the smaller and more affordable model, the DTEK50, in order to tackle those very questions.
BlackBerry DTEK50 look and feel
In terms of design and aesthetics, the DTEK50 has a bit of a split personality. The front face is mostly glass and the sides are metal with shiny bevelled edges, but the rear is plastic with a hard, grainy texture, which feels extremely unusual. The rim of the phone protrudes beyond the top and the bottom, making space for stereo speaker grilles. It looks like two shapes have been jammed together.
While easy to grip, the DTEK50's dull grey rear panel reminded us of the bottom of an anti-slip mat. It just doesn't make for a good-looking phone, and if BlackBerry was trying to make the DTEK50 feel rugged, this doesn't do the trick. The similarly priced BlackBerry Leap (Review) looked and felt way better than this.
There's no branding on the front, and if fact it's totally plain thanks to the use of on-screen Android navigation controls. The power button is on the upper left, which is going to be difficult for anyone to get used to, while the volume buttons are on the left with BlackBerry's programmable "convenience key" below them. Of course, thanks to its positioning (and similarity to some other companies' designs), we kept hitting it when we wanted the power button. There's a 3.5mm audio socket at the top and a Micro-USB port at the bottom.
The SIM and microSD card tray was clearly intended to sit flush with the rest of the phone's rim, but at least on our review unit the edges didn't line up, making it stick out like a sore thumb. Finally, we come to the back where there's only the camera and flash in one corner, and a large BlackBerry logo in the centre. The battery isn't removable.
Overall, we're underwhelmed by the DTEK50's look. It's the most generic design we've ever seen from this once-famously unique brand, and it just doesn't have much of an identity. We also have to point out that the parts of the metal rim which extend beyond the rest of the body are rather sharp, which makes this phone uncomfortable to hold up to an ear while talking. On the plus side, weight is manageable at 135g, and it's relatively easy to hold and use this phone with one hand.
BlackBerry DTEK50 camera ndtv Dtek50
BlackBerry DTEK50 specifications
We've been annoyed with BlackBerry in the past for releasing phones with low-end specs at high-end prices. Both the Leap and Z3, which were launched at around the same price as the DTEK50, were shockingly underpowered and underwhelming. Thankfully, that isn't the case anymore. BlackBerry seems to have come to terms with what it's up against and so the DTEK50 has at least relatively modern internals.
The Qualcomm Snapdragon 617 processor is a bit old, but still competent. It's more typical of sub-Rs. 15,000 phones, and if figures that BlackBerry would go with this positioning since it's using its software and brand power as the main value propositions. The Snapdragon 617 is an octa-core SoC with integrated Adreno 405 graphics and wireless communications. The 3GB of RAM is generous, but only 16GB of storage is quite ordinary. Expansion of up to 2TB is supported, if and when microSD cards ever reach that capacity.
BlackBerry has gone with a full-HD display, which is a first in this price class for the company. The screen measures 5.2 inches diagonally resulting in a high density of 424ppi. There's a 13-megapixel camera on the back and a fixed-focus 8-megapixel one in front. Both support 1080p video recording at up to 30fps.
LTE is supported on Indian bands. This is a single-SIM phone even though the SIM tray has a hybrid design with a cutout for a second SIM, likely because TCL didn't change this when adapting the Idol 4. There's also Wi-Fi 802.11ac, Bluetooth 4.2, A-GPS, NFC, and FM radio.
BlackBerry DTEK50 right ndtv Dtek50
The DTEK50 doesn't have a fingerprint sensor though its sibling, the DTEK60, does. The battery is relatively small at 2610mAh. Quick Charge 2.0 is supported but just like with the BlackBerry Priv (Review) you'll need to buy an aftermarket charger because the one in the box can't deliver enough power.
The main attraction of the DTEK50 is that it runs Android with BlackBerry's security features. Our review unit was running version 6.0.1, which is not the latest version, and therefore not the most secure. BlackBerry promises to roll out security patches faster than the industry standard, but this is not a strong start.
The DTEK50's software looks a lot like what we saw on the Priv, but it's unlikely that a lot of people have used that model thanks to its prohibitive price so we'll go over the experience again. Android users should feel right at home because while BlackBerry has tried to emulate some of its legacy OS's visual touches, the UI customisations don't go all that deep. You get the standard Android home screens and app drawer, notifications shade, Settings app, and of course the Google Play store. All navigation controls and conventions are absolutely standard Android.
One of the things we liked most on the Priv was that home screen widgets could be called up by swiping up or down on an app's icon, which is still the case here. There are also one-touch shortcuts, which are homescreen icons for specific actions such as toggling Wi-Fi or dialling a specific contact.
BlackBerry DTEK50 lowercorner ndtv Dtek50
We disliked the fact that app notification counts had been replaced by BlackBerry's own red "splat" icon. Unfortunately, not only is that still the case, but it seems that BlackBerry has dispensed with the row of category icons on the lock screen that let us see how many notifications we had on the Priv. We're also not fans of the app switcher which shows running apps as different-sized tiles in what seems like a random order, making it harder than usual to jump from on app to another.
What BlackBerry has done to make its Android phones stand out is add a whole lot of its own software, in the form of the BlackBerry Hub, Messenger, Search, and the eponymous DTEK app. These aren't deeply integrated into the launcher, so for example the BlackBerry Hub is a separate app, it isn't just a swipe away at any time like it is on BB10 devices. The one nod to BB10's gestures is that you can swipe upwards from the bottom of the screen and then right to launch the Hub, or left for Search.
You'll have to grant a whole lot of Android permissions the first time you use any of BlackBerry's apps. The Hub is exactly the same as it has always been. You can use it to quickly sort through communications across various messaging and email services. If you're an email warrior who isn't fussed about physical keyboards, the Hub alone could make a BlackBerry phone worth its cost.
The DTEK app is meant to help you keep track of what your apps are doing and what information they might be leaking. At first, it comes across as no different from the "system optimiser" type of app that several other manufacturers preinstall, and which claim to do everything from speeding up your phone to protecting your privacy. However, the interface is pretty simple and well organised. you can check all your apps' permissions and set up notifications for when they access the phone's various subsystems. There isn't a whole lot that you couldn't do on any other Android phone if you know your way around the OS, but this dashboard-style security overview might help people feel more safe.
BlackBerry DTEK50 performance
As expected, the DTEK50 works as well as any mid-range Android smartphone. Its components are powerful enough for all common tasks and even some gaming. The big, sharp screen makes all kinds of content look good, and the stereo speakers really help make videos and games feel immersive. We found that other people sounded a bit distant when we were on calls, but usage was generally pleasant otherwise.
Benchmark tests showed good results, with the DTEK50 scoring 41,631 points overall in AnTuTu and 1,978 in Geekbench's multi-core test. 3DMark Ice Storm Extreme gave us 5,326 points and GFXbench ran at 18fps. We were also happy that the phone didn't get hot while in use.
Tap to see full-sized BlackBerry DTEK50 camera samples
Camera quality came as a pleasant surprise. Images taken in daylight were nicely detailed, with vivid colours and macros looking especially good. Focusing was quick, though the autofocus wasn't 100 percent accurate all the time. Low-light shots were a bit blotchy, and the DTEK50 struggled a bit with bright and dull areas in the same frame.
On the other hand, battery life was a huge letdown. We could barely make it through one day with moderate use of the camera and a bit of video streaming over 4G. Even when in standby, the battery seemed to deplete faster than most other phones. We got only 6 hours, 57 minutes in our HD video loop test – well below par for phones at any price level today.
Verdict
No matter how outlandish, impractical, or overpriced, each of BlackBerry's phones over the past few years has at least been memorable. Some, such as the Priv and Passport (Review), might even be considered iconic. While the DTEK50 offers far better hardware than previous budget BlackBerries, it just isn't in the same league. It seems as though TCL slapped the BlackBerry logo onto one of its own products. When it comes down to it for most buyers, this is just another Android phone.
Sure, it isn't woefully underpowered and frustrating like the Leap. It offers solid performance and has a good screen as well as good cameras. But that isn't enough to stand out against our current top picks in the sub-Rs. 20,000 price bracket, especially when something as fundamental as battery life is so weak. If this phone finds any takers, it will be corporates who buy in bulk to give their employees secure access to company BlackBerry DTEK50 Reviewdata, or maybe the odd die-hard fan in India or Indonesia who wants to try reliving the old days.
BlackBerry DTEK50 BlackBerry DTEK50Rs. 21,900
REVIEW
KEY SPECS
NEWS
Design
Display
Software
Performance
Battery life
Camera
Value for money
Good
BlackBerry Hub and DTEK apps
Good screen and speakers
Decent camera quality
Well built
Bad
Awful battery life
No fingerprint sensor
Unappealing overall look
Read detailed BlackBerry DTEK50 review
BUY AT
Amazon
Blackberry DTEK50 (Carbon Grey, 16GB)
Rs. 21,900
Tags: BlackBerry, BlackBerry DTEK50, DTEK50, BlackBerry DTEK50 review, BlackBerry DTEK50 price, BlackBerry DTEK50 price in India, BlackBerry DTEK50 performance, BlackBerry DTEK50 camera, TCL, Android
["Source-Gadgets"]