With the new Nexus pricing revealed, it became abundantly clear that Google is asking a pretty penny for its new smartphone duo. The pricing seems particularly steep In Europe. In the UK, for example, a 16GB Nexus 5X base model will set you back £339, which is dangerously close to the kind of cash a Galaxy S6 32GB costs – £380 on Amazon UK.

That price point alone might be enough to discourage a lot of prospective buyers, but if, for some reason, you just can't resist the allure of the vanilla-Android device, getting it from Google might not necessarily be the best choice. Carphone Warehouse is selling the much more functional 32GB version of the handset for a mere £10 more, at £349.99. And if you are content with 16GB, then the UK vendor also seems to have a better deal at £299.99.
That is for a SIM free device. As for other markets, the Nexus 5X seems to be overpriced all across Europe, but perhaps not quite so much in the US, where the phone runs for $380, but with the added bonus of $50 Play Store credit, if that is your thing, of course.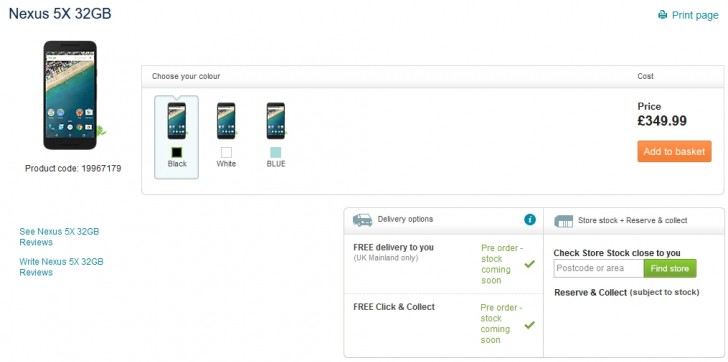 For that hefty price tag, the Nexus 5X offers nice specs, albeit nothing really spectacular or that much of an improvement over the Nexus 5. It gives you a 5.2″ 1080p display, Snapdragon 808 chip with a 1.8GHz hexa-core CPU, 2GB of RAM, USB Type-C, a 12.3MP camera and 16GB or 32GB of non-expandable internal storage.
For a more in-depth look on the handset, check out our LG Nexus 5X hands-on review.
["source-gsmarena"]