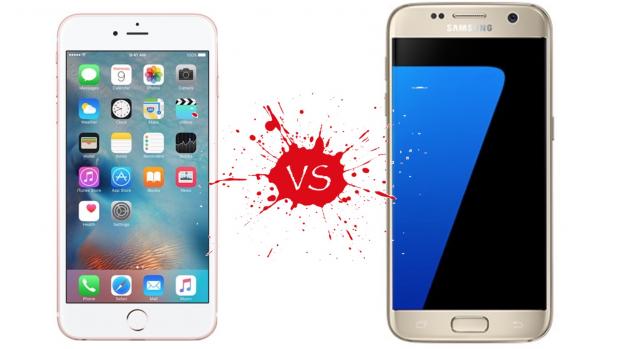 Apple and Samsung have an interesting relationship. On the one hand, Samsung is Apple's nearest and most direct rival in the mobile space, as well as being the chief rival from the Android sphere specifically. The two also have a history of legal battles over key smartphone features, technologies and design elements, with each alleging that the other has pinched ideas at one point or another. There's also been a lot of tit-for-tat one-upmanship in terms of key services and features, for example, Apple launches Apple Pay, then Samsung launches Samsung Pay; there are numerous similar examples over the years going both ways in terms of who came first.
But then on the other hand, Samsung is in partnership with Apple in some very important ways; it has had a major part in designing and manufacturing the majority of Apple's A-series processor chips for both its iPhone handsets and iPad tablets, and in the future it is expected that Apple will adopt Super AMOLED display technology for its iPhone handsets and is seriously considering hiring Samsung to produce these new panels. That's because Samsung is currently pretty much king of Super AMOLED displays, and they are the best displays on the market.
Samsung really brought its A-Game with the unveiling of the Galaxy S7 series (the Samsung Galaxy S7 and Galaxy S7 Edge) at MWC 2016 in February, by all accounts pre-order figures are through the roof and it's proving a very popular set of handsets with consumers. It probably has something to do with combining the amazing premium design of the Galaxy S6 series with re-introducing much-missed features such as microSD support and waterproofing.
Apple also upped the ante a bit with the iPhone 6s launch. Apple's "s" series devices are usually considered incremental, and we typically see the solid number models (iPhone 5, iPhone 6 etc.) making the big, bold changes and introducing cutting-edge new features. While that formula was broadly true of the iPhone 6s and iPhone 6s Plus, Apple did pull one or two extra punches which we wouldn't normally expect to see on an "incremental" model; things like the 3D Touch pressure-sensitive display panel, and yet more noteworthy camera tweaks.
But in actual fact it is likely LG's G5 that will be causing Apple more issues this year. LG has dominated proceedings at MWC, following the launch of its utterly unique LG G5. The Galaxy S7 was expected to be the show's big deal, but LG quietly swooped in and delivered an absolute knock-out punch to Samsung's hopes of being best in show.
Apple will return in 2016 with the iPhone 7 and iPhone 7 Plus, as well as a 4in iPhone known as the iPhone 5se, which is expected to launch alongside a revamped iPad Air 3 during Q1 — though nothing in regard to this is 100% official as yet. If it all pans out, though, this will be the first time EVER Apple has released three handsets inside a single year.
How much of an impact the smaller, likely cheaper iPhone 5se will have on the mobile space at large remains to be seen. But it is worth noting that Apple shifted around 20 million of its iPhone 5c and there is a very real demand for smaller smartphones out there. Why else do you think Samsung has gone with a 5.1 and 5.5in strategy this time around? The company, like Apple, with its three potential phones for 2016, is hedging its bets.
Still, the Galaxy S brand carries a lot of weight in the mobile space. And Samsung has made quite a few significant updates to the core Galaxy S experience. In this versus we're going to look at just the smaller flagships, so the Galaxy S7 and the iPhone 6s. We'll look at the Plus and the Edge in another versus coming shortly. Given that the Galaxy S7 is brand spanking new and the iPhone 6s is already almost 6 months old (Apple should be releasing its iPhone 7 flagship in September) it might be assumed that the Galaxy S7 is better in every way.
Reports have emerged in early April to indicate Samsung's Galaxy S7 is doing far better than anyone expected; analysts in the Asian supply chain believe the firm may have shipped as many as 10 million Galaxy S7 series units (Galaxy S7 and Galaxy S7 edge units appear to be lumped together – although we understand from earlier reports that the Galaxy S7 edge has seen more pre-order sales). That figure accounts for sales in the one month (March) since the phones hit the market, but previously analyst estimates predicted 7 million units for the opening month. While the reports are not based on information from Samsung, which so far has not disclosed sales and shipping figures, and has not commented on the reports, analysts have now adjusted their predictions for 2016 sales forecasts. Previously Samsung execs reported pre-orders were much better than the firm had expected and claimed the Galaxy S7 would out-sell its predecessors.
iPhone 6s vs Samsung Galaxy S7: Specs
Here's the specs for the iPhone 6s:
Display: 4.7-inch display with a 1334×750-pixel resolution at 326ppi, 3DTouch enabled
Dimensions: 138.3mm  x 67.1 mm x 7.1 mm
Weight: 143 grams
Storage: 16, 64, or 128GB
Memory: 2 GB RAM
Processors: A9 chip with 64-bit architecture and M9 motion coprocessor
Front camera: 5 MP
Rear camera: 12 MP photos. ƒ/2.2 aperture. 4k video
Battery: 1715 mAh
Colors: Silver, Space Grey, Gold, or Rose Gold
And here's the specs for the Galaxy S7:
Display: 5.1-inch display with a 2560×1440-pixel resolution at 577pp
Dimensions: 142.4mm  x 69.6 mm x 7.9 mm
Weight: 152 grams
Storage: 32 or 64, plus support for microSD cards up to 200GB
Memory: 4 GB RAM
Processors: Samsung Exynos 8890
Front camera: 5 MP
Rear camera: 12 MP, f/1.7 aperture, 4K video
Battery life: 3000 mAh
Colors: Dark Grey or Gold
Let's just start by saying that Samsung got storage right with the S7. First, it starts at 32GB (and comes in a 64GB version too). Second, it's expandable by another 200GBs thanks to its new microSD card slot. That compares to the iPhone 6s' PATHETIC 16GB entry option. Although I do like that the iPhone 6s offers a 128GB option as well, which the S7 does not. Samsung also got the RAM right, doubling what the 6s has with 4GB total.
As for processors, the raw specs don't tell an easy story. The iPhone gets that INSANELY powerful A9 chip, while the S7 gets Samsung's own Exynos 8890. Of course, as Apple knows, raw specs don't solely make a fast phone. It also depends how the software can utilize the RAM and processors. So we're very interested in seeing real world benchmark tests between the two devices.
Early reports indicate Qualcomm's Snapdragon 820 chipset is something of a monster. After a dismal year in 2015, the biggest Q in tech has come out guns blazing in 2016 with the 820 and the return of its own, custom KRYO cores — the Snapdragon used ARM ones.
Generally speaking, the Galaxy S7 has vastly superior specs to the iPhone 6s. But this was always going to be the case and no where is it more obvious than in the iPhone 6s' 750p display, which just isn't really good enough these days. Why no 1080p panel in the 6s, Apple? The short answer: the iPhone 7.
iPhone 6s vs Samsung Galaxy S7: Design & Build
The S7 — as with the iPhone 6s — kept, mostly, the same look as its predecessor. Both feature metal bodies with glass screens. You get twice as many color options with the iPhone, however. One thing Samsung did manage to do though is reduce the size of the camera bump on the S7.
Samsung also was able to make the S7 IP68 dust and water proof—something the iPhone 6s is not. You can actually submerge the S7 for up to 20 minutes and it will work just fine when you take it out. The iPhone 6s isn't waterproof, but it's rumored the iPhone 7 could be—and it may even go further: allowing you to use the phone's display with wet fingers.
As for size and weight the iPhone is still the thinner and lighter phone coming in at 7.1mm thin versus the S7's 7.9mm thickness and 143 vs 152 grams.
iPhone 6s vs Samsung Galaxy S7: Display and Battery
As for displays, the S7 features a larger one at 5.1 inches versus the iPhone 6s' 4.7 inch display. However, size isn't the only difference. The S7 kills the iPhone in screen resolution. It features a 2560×1440 pixel display at 577 dpi versus the iPhone 6s' 1334×750 pixel resolution at 326ppi. That being said, the S7 doesn't have any kind of pressure-sensitive 3D Touch display like the 6s does.
But when we get to battery, the S7's 3000 mAh battery trounces the iPhone's 1715 mAh pack. However—just as with RAM and processors—how long a phone's battery lasts has as much to do with the size of the pack as it does with how well the software works to conserve power.
iPhone 6s vs Samsung Galaxy S7: Cameras
We've already said Samsung was able to reduce the camera bump on the back of the S7 thanks to its new lens, but besides that, just based on specs, it looks like the cameras on each device are the same. Both have 5MP front and 12MP rear cameras. However, the S7 features a f/1.7 aperture versus the iPhone 6s' f/2.2 aperture. This means the S7 can take much better night shots. So it wins, hands down. It's also been reported that the S7's camera finishes focusing in on a subject before the iPhone 6s' camera is even close to doing so.
iPhone 6s vs Samsung Galaxy S7: Verdict
It goes without saying now that our phone choices are usually dictated by the software ecosystem we like best: Android or iOS. As with last time when I compared their previous flagships I don't think the changes Samsung has made to the S7 series will be enough to make iPhone fans switch, but they again have definitely lit a fire under Apple's ass to improve the hardware specs and add new features (like waterproofing) inside the iPhone 7.
Apple has made a lot of money peddling old hardware, souped up inside nice looking phones. You can't get away with this in the Android space. Well, you could, but you'd be releasing sub-£150 phones. The Galaxy S7 is much superior to the iPhone 6s. It beats it in almost every regard. But as we all know: iPhone users are different to Android users; they aren't fussed about QHD panels and 4GB of RAM inside their phones.
There is an element of this with Samsung's Galaxy S7 handset as well; sort of like it feels it did enough with the Galaxy S6 and now all it has to do is incremental refinements to certain specs and hardware and this is fine for a flagship handset in 2016. Personally, I don't think it's enough. Not with the LG G5 and certainly not with the iPhone 7 on the radar a bit farther down the line.
Samsung needed the S7 to be a great converter, a phone that'd suck in iPhone users left, right and centre. But instead it came to the table with a handset that looks and feels like last year's flagship. For me, if I was in the market for an Android handset in 2016 I would be looking at either the LG G5 or waiting to see what Google's 2016 Nexus phones are like.
That's not to say the iPhone 6s is better than the Galaxy S7; it really isn't — the Galaxy S7 surpasses it in almost every regard. I guess I'm just disappointed because it looks very similar to last year's model and that sort of detracts from the excitement of testing a new phone out, sort of like if all the new clothes you bought looked the same.
I like both phones, for instance, but neither release, for me, was as exciting as last year's models. This is mostly down to both the iPhone 6 and Galaxy S6 introducing big industrial design changes, but also because it is nice to see how the two biggest phone makers in the world approach big changes to user experience.
["source-Gadgets"]