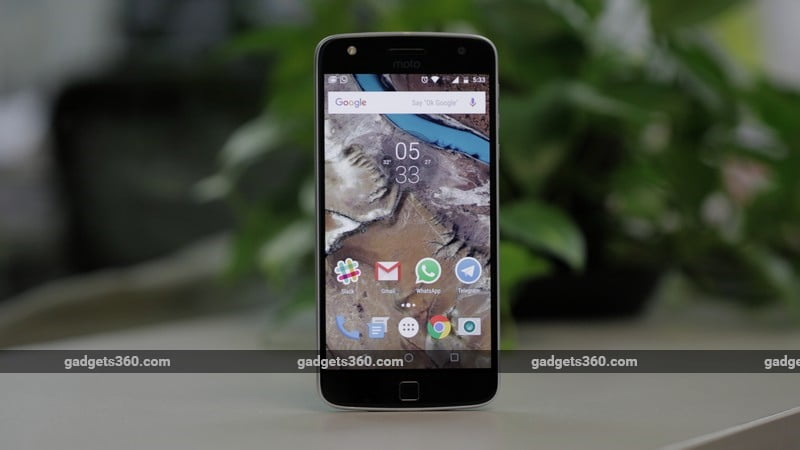 Moto Z Play Review
HIGHLIGHTS
The Moto Z Play is compatible with Moto Mods to extend its functionality
The phone performs well across the board but lacks Wi-Fi ac and is bulky
It is priced at Rs. 24,999
Motorola's Moto X Play (Review) was an exceedingly good phone for its time, and today, Lenovo hopes to rekindle the excitement it generated with the Moto Z Play. The Moto Z series is the company's new flagship range, replacing the X series models, which were the frontrunners thus far. Although Lenovo claims that the Moto X series isn't dead, it's clear that the Moto Z is the new face of Lenovo's premium-tier smartphones.
(Also see:Moto Z Review)
In that sense, the Moto Z Play can be considered a replacement to the Moto X Play, with the emphasis now being on the snap-on modules. We had a chance to play around with it at this year's IFA exhibition and now that's it has been officially launched in India, let's see how it fares against the competition.
Moto Z Play design and build
The Moto Z Play isn't as slim as its sibling, the Moto Z, but in a way that's actually a good thing. Personally, we prefer a bit of heft in a smartphone as it feels a lot more secure when you hold it or have it in your pocket, but your mileage may vary. The thicker sides also mean it's easier to grip when you're typing or just generally holding it. However, we do have a niggle with the length of this phone, as it tends to peek out of most pockets. The phone also feels naked without its Style Shell back cover, and is a lot more slippery due to the glass back. Thankfully, one Style Shell is included with the phone.
The Moto Z Play feels rugged thanks to the aluminium frame and build quality is excellent. It's a far cry from the Moto X design which we loved, but it isn't bad at all. The buttons have good tactile response but end up feeling a bit too small to be comfortable. Lenovo has added ridges on the power button to help distinguish it from the others but it would have been better to space them better, or use different sizes.
The SIM tray sits on the top, and can accommodate two Nano-SIMs as well as a microSD card (up to 2TB). There's a USB Type-C port and a 3.5mm headphone socket at the bottom. Around the back are the 16-megapixel camera, laser autofocus sensor, and dual-tone LED flash module. The protruding lens sits flush with the Style Shell if you use it, thereby helping protect it from scratches. There isn't any speaker grille because the earpiece doubles up as the loudspeaker.
(Also see:Moto Mods Review)
The 5.5-inch full-HD Super Amoled display delivers vibrant colours and sharp text. Outdoor legibility is particularly good even under direct sunlight. We also had no issues with the touch response, which works flawlessly. There are onscreen buttons for Android UI navigation, and a fingerprint sensor just below the screen, which can be used for locking or unlocking the phone. The hit-rate for recognition is good, although there were instances where it failed to detect our touches.
In the box, you'll find a USB Type-C cable, 15W wall charger, headset, SIM ejector, and instruction leaflets. The headset quality is simply not up to the mark for such a premium smartphone and we expected better.
Moto Z Play specifications and features
The Moto Z Play uses the same Qualcomm Snapdragon 625 SoC found in couple of Asus ZenFone models, including the ZenFone 3 (ZE552KL), which we reviewed recently. We realise that you can get phones with flagship Snapdragon 820 SoCs for the same or less these days, but in the end, it's all about how the phone utilises the power on hand more than just numbers. While this chip is nowhere near as powerful as Qualcomm's flagship offering in the Moto Z, it should be more than capable of handling most of the tasks you'd typically throw at it.
The native octa-core chip has eight ARM Cortex-A53 cores built on the efficient 14nm fabrication process. Along with 3GB of RAM, the snappy performance can also be attributed towards the Moto Z Play's lean software.
In terms of numbers, the Moto Z Play returned a respectable 61,777 points in AnTuTu, but the graphics processor is a bit weak. In GFXbench T-Rex test, we got just 23fps, which is a bit low when you consider a phone like the Xiaomi Redmi Note 3 managed 31fps. Gaming performance is still decent, as titles like Gods of Rome work pretty well.
The rest of the specifications include 32GB of storage, Bluetooth 4.0, dual-band Wi-Fi 802.11b/g/n, NFC, and USB OTG. 4G is supported on both SIM slots on band 2, 3, 4, 5, 7, 13, and 40. There's no specific mention of VoLTE support. FM radio is missing, and so is Wi-Fi 802.11ac support, which is a bigger disappointment to us.
Just like the Moto Z and every other Moto smartphone, Android is pleasant to use because there's no extraneous skin dragging it down. Multitasking is brisk, with no noticeable lag in the animations. On average, you always have about 1.1GB of RAM free at your disposal. Android Marshmallow is pretty much how it looks on any Nexus phone with the exception of a few apps like Moto Mods and Moto. The latter lets you set up gesture-based actions as seen on previous offerings.
Moto Actions lets you toggle hand gestures for triggering the camera, flashlight, etc. A swipe up from the bottom shrinks the screen to make it easier for one-handed use. Moto Display lets you glance at the time and notifications when the phone is in standby and you wave a hand over the display. This works well, although we found it a bit over-sensitive at times, where the display would intermittently light up even without any stimulus. Finally, Moto Voice lets you invoke actions by summoning the voice assistant with a trained phrase.
Moto Z Play performance
It's hard to complain about app performance on a high-end Moto phone and thankfully, nothing's changed much in the Moto Z Play. General performance is speedy and phone runs cool during active usage. We only found it getting a bit warm when charging, but with most kinds of usage including gaming and using the camera, we didn't encounter any overheating. The Style Shell sits snugly on the back with little to no movement during everyday usage. The phone is compatible with all the mods that work with the Moto Z, and the experience is similar to what you get with the more expensive Moto Z.
The Moto Z Play excels at multimedia playback thanks to the excellent display and good audio. You can set individual audio settings for the speaker and the headphones. High resolution videos play seamlessly, including 4K video files. With good aftermarket headphones, the soundstage is wide and immersive. The earpiece speaker gets decently loud without any distortion, even at high volumes.
The Moto Z Play features a quality 16-megapixel sensor with PDAF and laser autofocus. In daylight, landscapes shots pack in good level of detail with good colour reproduction. We noticed some barrel distortion in few of our shots but it isn't a consistent issue. Continuous focus is fairly quick although we had some trouble getting the focus to lock onto close-up subjects at times.
Macros are also very well defined. The details drop in low-light landscape shots and it's tougher to lock focus for close-up shots but overall, the pictures look good provided you don't crop them too much. The good thing here is that noise levels are kept in check so despite the drop in details, pictures still look very presentable. You can get much better results if you have the patience to manually tweak the settings in Pro mode.
Tap to see full-sized Moto Z Play camera samples
Video recording is very good at full-HD and 4K. The same goes for slow-motion videos, which are rendered at 120fps at 720p. The camera app is basic but still manages to cover the popular shooting modes like Professional and Panorama. The front 5-megapixel camera does a good job at selfies under good lighting, and at night, the front flash comes to in handy. The rear dual-tone flash is powerful enough to light up a small room.
Battery life is another area where the Moto Z Play really excels. With a 3510mAh battery under the hood, we managed to get a runtime of 17 hours and 4 minutes in our video loop test. With regular usage, we easily managed a day and a half. Quick charging is implemented in the form of Moto's TurboPower feature, which gets you to roughly 26 percent in about half an hour.
Verdict
At Rs. 24,999, the Moto Z Play is flying dangerously close to the current favourite, the OnePlus 3. Let's not forget the Asus Zenfone 3 and the Honor 8 too, both of which offer excellent all-round performance. The Moto Z Play does hold its own in all departments making it a very good all-rounder too. For the price, we could have used a more powerful processor and there's no excuse to ditch Wi-Fi 802.11ac in this day and age. It's also a bit on the bulkier side, even without the Style Shell. While we don't have a problem with a bit of extra weight and thickness in a phone, it's the length that could pose an issue for some.
The Moto Z Play does have one party trick that no other phone in this segment can match and that's its support for Moto Mods. There's a decent selection to begin with and if you plan on investing in this ecosystem, then the Moto Z Play is the least expensive way to do so.
Motorola Moto Z Play Motorola Moto Z PlayRs.24,999
REVIEW
KEY SPECS
NEWS
Design
Display
Software
Performance
Battery life
Camera
Value for money
Good
Sturdy construction
Crisp display
Good cameras
Long battery life
Compatible with Moto Mods
Bad
No Wi-Fi ac
Slightly unwieldy
Tags: Moto Z Play review, Moto Z Play specifications, Moto Z Play price, Moto Z Play price in India, Moto Z Play features, Motorola Moto Z Play review, Android smartphone
["source-ndtv"]